Salesforce.com Inc (NYSE:CRM) was among the leaders of the 2009-2010 bull run, rising more than 400% in the period. Being part of a cloud computing frenzy, it managed to bring in momentum and growth investors in that period. Much has changed since then, and the stock did not make much headway in more than two years. It has underperformed the market much of the time since late 2010. It still has above average growth levels, but that does not seem to support the current blown up valuation.
Positive developments
In September 2012, Salesforce announced several new products: Chatterbox, which competes with Dropbox and Box; a cloud employee solution Work.com; and Marketing Cloud, which ties together solutions from Buddy Media and Radian 6, and presents competition to Oracle (NYSE:ORCL).
Analysts are not shy about their opinion, with several upgrades and new coverage of Salesforce. There have been nine out of ten buy/outperform ratings, and only one neutral coverage since April 2012. William Blair's Laura Lederma said a month ago that her "channel checks" and also discussions with users, partners and sales reps suggest "demand environment remains strong and that very large deals are in the pipeline." Wedbush updated their outperform rating on 25th February citing several factors will drive revenue upside: increasing traction in the customer service market, continuing share gains in sales automation and large enterprise license agreements (ELAs).
The company's CEO Mark Benioff said in the latest conference call that they are going to be aggressive on the acquisition front. He was very optimistic, citing the company signed more than 150 multimillion dollar transactions in the quarter, and nine of them were 8-figure transactions. The company also raised full fiscal 2014 revenue guidance to $3.82 billion to $3.87 billion range.
Fundamentals and valuation
All of the optimism translates into an expected 27% revenue growth rate for this year, and a slower growth rate of 24% next year. Non-GAAP earnings have grown 17% in fiscal 2013, and are expected to accelerate to 20% this year, and to 27% next year. That leaves the company grossly overvalued, with a forward PE of 68, and the current price to sales ratio of 8.29. The growth levels are not near the level needed to accommodate such a hefty valuation.
A ten year chart below shows the quarterly revenue growth levels and the price appreciation of Salesforce. A massive growth deceleration trend stopped in 2010, and the revenue growth accelerated again, together with the rising share price. Revenue growth peaked roughly at the same time the price did, and they diverged in late 2012, when the revenue growth continued to decelerate, but the share price moved higher. Earnings were mostly in negative territory, so they are not of much use to put in the chart. The projected adjusted earnings growth is in the 20% to 27% in the next two years. That is not nearly enough acceleration to justify the current price.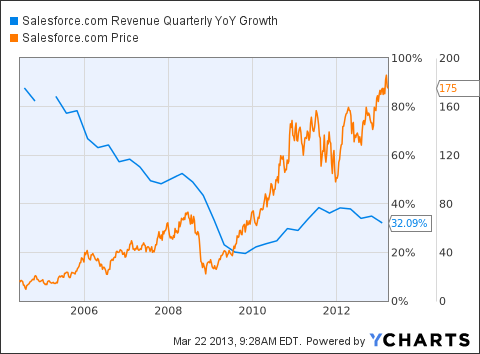 Competition
Early on, Salesforce enjoyed the first mover advantage in cloud computing. Much has changed since, and many large tech companies entered the field, and that is putting pressure on Salesforce, and will continue to do so, as more companies catch on. The big players are certainly there, with names as Oracle, IBM (NYSE:IBM), SAP (NYSE:SAP) and Microsoft (NASDAQ:MSFT).
Oracle has been aggressive in the cloud computing area, with its acquisitions of cloud companies: Taleo, RightNow Technologies and Eloqua. Combined with their own cloud solutions, the company expects that cloud offerings will contribute about 10% of more than $10 billion revenue from software license and subscription fees in fiscal 2013.
IBM announced in their earnings call in January that their cloud operations revenue was up 80% over the same period last year. According to IBM's 2012 Business Perspective, the company expects cloud revenue to reach $7 billion by 2015.
SAP has also aggressively entered the cloud field with two acquisitions: SuccessFactors for $3.4 billion and Ariba for $4.3 billion. The company said that the annual cloud related revenue reached $1.1 billion, with 95% of revenue coming from SuccessFactors.
As more competitors enter the field, they will put more pressure on Saleforce's margins, growth rate, and overall profitability and market share. I am not sure it is all factored into future expectations by overly optimistic analysts, and the company itself.
Price action
Salesforce's price action confirms the bullish expectations of analysts. It broke out to new all time highs in December 2012, after struggling to move higher since late 2010. The $160 level should serve as strong support. A move below $160 would confirm the possible weakness of the stock, and perhaps present a short sale opportunity.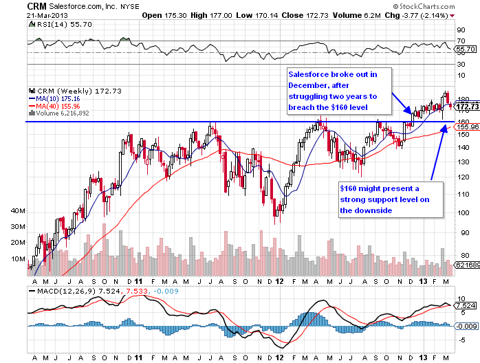 Source: Stockcharts
Conclusion
Salesforce is a weak growth story given the current fundamentals and valuation. In order to support the current valuation, it needs a much higher top and bottom line growth than it currently has. Given all the evidence currently available, it is a stock to be avoided on the long side, as there are much better opportunities elsewhere in the market.
Disclosure: I have no positions in any stocks mentioned, and no plans to initiate any positions within the next 72 hours. I wrote this article myself, and it expresses my own opinions. I am not receiving compensation for it (other than from Seeking Alpha). I have no business relationship with any company whose stock is mentioned in this article.