Rockwell Medical (NASDAQ:RMTI) is a fully integrated provider of products and services for patients with end-stage renal disease (ESRD) and chronic kidney disease (CKD) that require dialysis. Below is a summary of the company's pipeline and marketed products.
Soluble Ferric Pyrophosphate (SFP) (continuous dialysate iron replacement therapy) is currently being evaluated in a pair of pivotal Phase III (CRUISE 1&2) clinical trials (ClinicalTrials.gov IDs NCT01320202 and NCT01322347). Last month, RMTI announced positive Phase II (PRIME) clinical trial results, including a 37% reduction in the use of erythropoietin stimulating agents (ESA) (e.g., EPOGEN, PROCRIT, ARANESP) in dialysis patients while maintaining iron balance.
The company recently provided guidance (click here for Q4 2012 conference call, Seeking Alpha transcript) to report top-line results for the CRUISE-1 study in July and CRUISE-2 in October. In addition, the PRIME results suggest a high probability of success in the upcoming pivotal CRUISE trials ($7-8 target on positive results vs. $1-2 target on negative results with 80% estimate for success) since the placebo group in that trial required 37% more ESA to maintain hemoglobin levels (equivalent to a 1-1.5 gram decrease in hemoglobin if the ESA usage was not increased by 37%).
However, in the CRUISE trials, the ESA dose is not allowed to be adjusted, and the primary endpoint only requires a 0.5 gram change in hemoglobin to demonstrate the efficacy of SFP. So there is a high probability of success with very little risk of safety issues for SFP, as none have occurred in previous trials for what is basically adding iron to the dialysis mix for these patients, which is less invasive than the intravenous (IV) route for iron delivery.
Calcitriol (active vitamin D injection) is another pipeline product for which the company recently completed 90-day stability testing and plans to submit data to the FDA by the end of March with an expected 4-6 month review period. Calcitriol is used for the treatment of a condition (secondary hyperparathyroidism) that is common in dialysis patients. The company must receive FDA approval as an abbreviated new drug application (ANDA) supplement for this generic injected drug due to a change in manufacturing location, so this is a relatively low risk regulatory catalyst for RMTI with an expected decision during Q3 2013.
Below is a summary of the financial stats for RMTI based on recently reported Q4 2012 results:
- As of 3/8/13, RMTI reported 21.6 million (M) shares of common stock outstanding and no debt.
- RMTI reported 2012 sales of $49.8M that increased slightly (+1.8%) from 2011.
- RMTI reported a net loss of ($54M) in 2012 primarily due to research & development (R&D) expenses of $48.3M for SFP and to a lesser extent, Calcitriol.
- As of year-end 2012, RMTI reported $4.7M in cash, and expects to be cash flow positive in 2013 after excluding R&D expenses, which will decline sharply following conclusion of the ongoing Phase III CRUISE clinical trials.
- On 3/20/13, RMTI announced a common stock offering for the sale of 4.3M shares @$3 (priced at a significant discount, as the stock was trading in mid-$4s in the previous week) for net cash proceeds of approximately $12M, and resulting in about 26M shares of common stock oustanding post-offering.
The Company manufactures, sells and distributes a variety of dialysis concentrates and related products such as CitraPure® Citric-Acid Concentrate, Dri-Sate® Dry Acid, Renal Pure® Liquid Acid Concentrate, Dry Acid Concentrate Mixing System, RenalPure® Powder Bicarbonate Concentrate and SteriLyte® Liquid Bicarbonate Concentrate, which are marketed under FDA 510(k) clearance.
RMTI has the infrastructure to sell and distribute (Rockwell Transportation subsidiary) both SFP and Calcitriol if approved by the FDA, and estimates the U.S. dialysis market opportunities for these products at $600M and $350M, respectively. The company's largest competitor is Fresenius Medical Care (NYSE:FMS), which operates dialysis clinics in addition to producing its own dialysis machines, concentrates, supplies, etc. as a vertically integrated dialysis provider servicing over one-third of U.S. dialysis patients in approximately 1,800 clinics.
After terrible cash management by RMTI that resulted in a sharp decline in the stock price as the market anticipated a stock offering that resulted in weak pricing at $3; shares of RMTI have already began a strong oversold bounce (currently hovering around $4), and a more extended run-up into the initial Phase III results expected in July seems likely since the stock price has been cut in half following a spike to $8 last month after reporting positive Phase II results.
As illustrated on the six-month stock chart below, shares of RMTI remain extremely oversold with major pending catalysts expected starting in July, so I expect a run-up in shares to $6-7, which is in between the 50 and 200-day moving average stock prices of $5.44 and $7.41, respectively.
Finally, there is a huge amount of open interest in the $5 and $7.5 call options for RMTI in both May and August with very little open interest in the put options; although the short interest is relatively high at 3.2M shares -- suggesting the open call interest may be a hedge for short positions in the stock.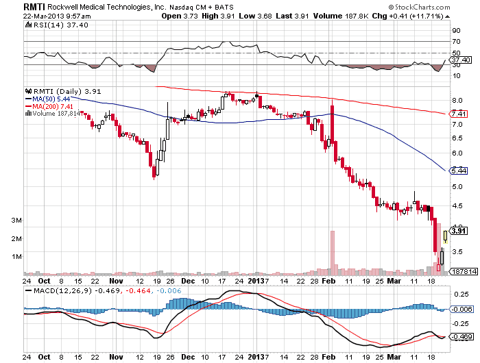 Disclosure: I am long RMTI. I wrote this article myself, and it expresses my own opinions. I am not receiving compensation for it (other than from Seeking Alpha). I have no business relationship with any company whose stock is mentioned in this article.