Panera Bread Company (NASDAQ:PNRA) owns and franchises 1,652 bakery-cafes (as of December 2012) under the Panera Bread, Saint Louis Bread Co., and Paradise Bakery & Cafe names. The company owns roughly half (809) of the cafes, with franchisees owning the remaining 843 of the cafes. In addition to startup costs, franchisees pay the company royalties which are generally 4 to 5 percent of net sales.
The cafes are located in urban, suburban, strip mall, and regional mall locations. The company's identity is rooted in artisan bread that they bake fresh every day. Their menus feature antibiotic-free chicken, whole-grain bread, and other offerings prepared with organic ingredients. Their target market is comprised of those who are seeking a healthier alternative to fast food, and are willing to pay "up" for it. The cafes are clean, comfortable and relaxing, and most feature free internet access.
Before You Buy a Franchise
Panera Bread doesn't let just anyone pay the fee and set up shop. The barriers to entry are...significant. They do not sell single-unit franchises - they sell market areas which require the franchise developer to open a number of units, typically 15 over a period of six years. Applicants must have experience as a multi-unit restaurant operator, have a net worth of $7.5 million, and liquid assets of $3 million.
Financial Highlights
Panera Bread reported net income of $52 million, or $1.75 per diluted share, for the 13 weeks ended December 25, 2012. These fourth quarter fiscal 2012 results compare to net income of $39 million, or $1.31 per diluted share, for the quarter ended December 27, 2011, and represent a 34% YOY increase in earnings per share. It should be noted that the fourth quarter of 2011 results include a one-time pre-tax charge of $5 million, but excluding this charge, 2012 diluted earnings per share for the quarter still increased a solid 23% YOY.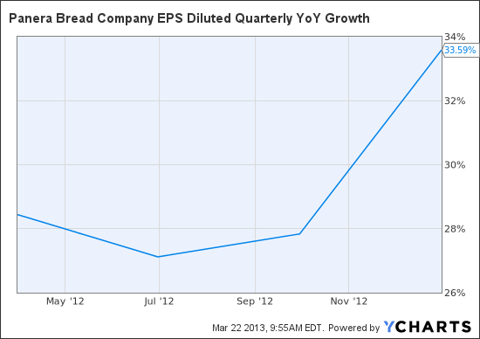 SOURCE: YCHARTS
In the fourth quarter FY 2012, comparable net sales increased 4.9% compared to the same period in 2011.
The company finished 2012 with a strong balance sheet, showing $297 million in cash and no debt. Current ratio is 1.7.
Valuation
Panera Bread has a P/E of 28, which isn't unreasonable given their prospects for growth. The struggling economy has not been a friend to companies who depend on the discretionary dollar, and Panera's ability to put up favorable YOY numbers is a testament to its staying power through difficult times. While it would be a stretch to characterize PNRA as a growth play, a 29% increase in diluted EPS (FY 2012 over FY 2011) would indicate the brand has solid demand and an expanding customer base.
How does the competition measure up? In the "special eateries" category, PNRA competes directly with Chipotle Mexican Grill (NYSE:CMG) with a P/E of 36, and Starbucks (NASDAQ:SBUX) with a P/E of 31. For a little better perspective, I've charted the PEG ratios of the three companies below.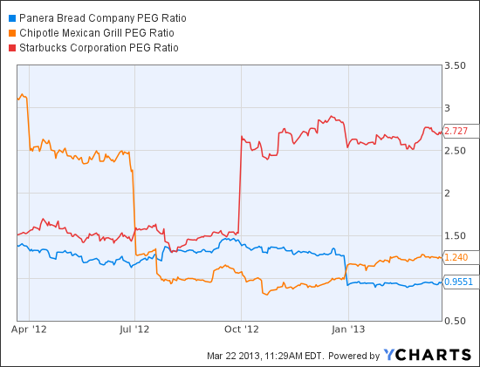 PEG ratios are based on projected growth, and past performance is no guarantee of future results, but it's worth noting that PNRA compares quite favorably with its peers in this measure.
And how does PNRA stack up against its less direct competition - against the pure fast-food plays? This is the arena of McDonald's (NYSE:MCD) with a P/E of 19, Burger King (BKW) with a P/E of 59, and YUM! Brands (NYSE:YUM) with a P/E of 21. Discounting Burger King's very high relative valuation, PNRA still comes in well above the median value of the three indirect competitors. In other words - not cheap. This may be attributed to PNRA's higher growth expectations.
The Effects of the Economy
It's hard to consider the growth prospects of eateries or fast-food restaurants without thinking about the overall economy, and how the economy affects companies that reside in these industries. To address this, I looked at revenue curves for three businesses over the last five years, and compared them to GDP over the same time period. The results may surprise you. (They surprised me.)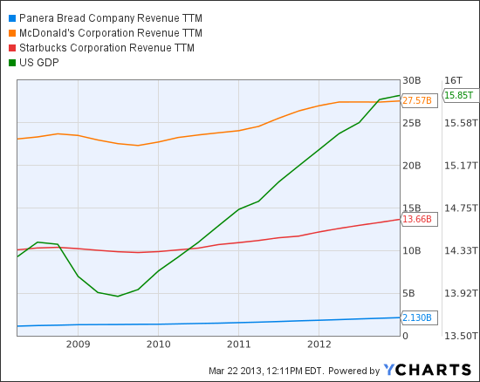 Note that as GDP dips in 2009-2010, revenues remain mostly flat. These are TTM revenues, so they are trailing indicators, but still they indicate pretty solid performance through difficult times.
Summary
Panera Bread has found a niche in providing a unique, high-quality product in an inviting and comfortable environment. They fulfill the demand for people who aren't in the mood for a burger and fries, and don't have the time or inclination for the traditional sit-down dining experience. Their business has proven to be resilient to fluctuations in the economy, and their solid earnings indicate that their model is working.
And what of the future? As a past ad campaign for a fast-food company so eloquently stated, "Ya gotta eat." History has shown that even in economic downturns, people will not resort to cooking all of their meals at home. They will seek take-out, drive-through, casual sit-down, and traditional sit-down. But they will demand value and increasingly, healthy choices. Panera Bread provides both, with a unique, fresh-baked-every-day mantra.
I like the cafes, I like the company, and I don't see anything not to like about the stock. I think it will rise.
Disclosure: I have no positions in any stocks mentioned, and no plans to initiate any positions within the next 72 hours. I wrote this article myself, and it expresses my own opinions. I am not receiving compensation for it (other than from Seeking Alpha). I have no business relationship with any company whose stock is mentioned in this article.