Introduction
J.C. Penney (NYSE:JCP) is a US retail store operator that is badly trying to save their iconic brand from bankruptcy. To do this, the company has been employing the services of Ron Johnson, former head of retail from Apple, Inc. (NASDAQ:AAPL), to rebrand and restore the layout of their stores. Johnson has, while burning through tons of cash, fired a couple thousand employees, rebranded their logo, and created mini-stores within their stores, each one focusing on a brand, as his main tenets for trying to save the company.
From their website:
J.C. Penney Company, Inc. boldly transforms the retail experience across 1,100 stores and jcp.com to become America's favorite store. Focused on making the customer experience better every day, J.C. Penney is dreaming up new ways to make customers love shopping again. On every visit, customers will discover great prices every day in a unique Shops environment that features exceptionally curated merchandise, a dynamic presentation and unmatched customer service.
My Background with J.C. Penney
It should come as no surprise that I'm penning another article on J.C. Penney. I have publicly been bearish on the company for months now, contesting that Ron Johnson is not doing an adequate job turning things around and that subsequently the cash burn without total rebranding and massive overhaul (not just changing things in store) would eventually lead to J.C. Penney's failure.
As the stock was around $21, I wrote another article advocating shorting both Macy's (NYSE:M) and J.C. Penney on February 26th leading up to JCP's earnings. I cited ongoing legal expenses and increased tension between the two companies as adding fuel to the fire for both companies cash burn. Penney was subsequently crushed on earnings.
The last article I wrote about J.C. Penney was a comparison of JCP with Eastman Kodak. I wanted to point out, before what I think will be Penney's impending demise, the similarities between what I feel are two iconic American brands that are both going to be facing the pitfalls of bankruptcy at one point or another.
This article is designed to do two things:
Create a compendium of, and editorialize on, all of my previous reasoning behind what I feel will be Penney's upcoming and unavoidable failure.
Introduce several new spins on arguments that have come to light since my last article several weeks ago.
This, is the comprehensive eight point path to J.C. Penney obsolescence.
1. J.C. Penney, as a Brand, is Past its Retail Prime
Remember this?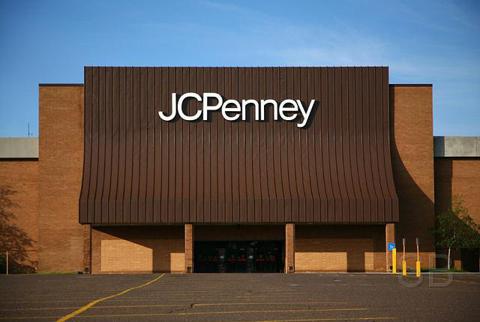 This image is what comes to mind when thinking about the J.C. Penney brand and their stores. Brown, bland, old, and past its time. The above picture might as well be how the stores look today, because the rebranding of the logo hasn't done enough to shake this type of imagery from former J.C. Penney faithful and people who lived through the company's heyday decades ago.
I took notice of this on several recent trips I made to the retailer. In a previous article, while comparing the vibe of J.C. Penney's stores with that of RadioShack (NYSE:RSH), I wrote:
J.C. Penney was the leading affordable middle class retail clothing vendor. Its stores were fresh looking, usually packed, and the company had supplemental sales coming from catalog orders. There was consistent hustle and bustle in its department stores long before internet shopping. J.C. Penney's stores are now often understaffed, undermaintained, deserted and sometimes simply look like demilitarized zones.
The fact of the matter is, some old brands never catch on at one point when the generations start to turn. Sears (NASDAQ:SHLD) will be one of them; other examples of defunct brands include Woolworth, MCI, and Oldsmobile.
Companies that have been around for many years, like Heineken (HEIA.AE) (140 years) and Lilly Pulitzer (Founded: 1959, Closed: 1984, Relaunched: 1993) both have one thing in common: They've resurrected or kept an old brand name running successfully by keeping it fresh to younger generations.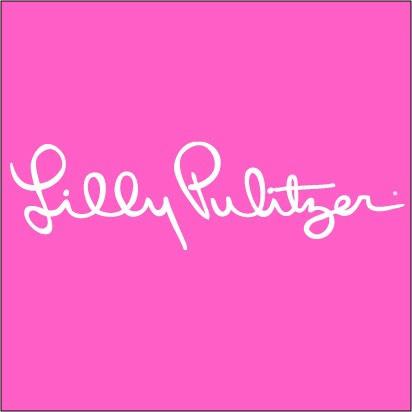 For Heineken, it was throwing millions and millions into advertising and sponsorships associated with sport and movie. For Lilly Pulitzer, it was a massive overhaul of the line of items they carried, which was expanded to carry housewears and bedding. These were large, paradigm shifting moves that jarred their respective companies into an area where their brand (not just their product) could be recognized by generations to come.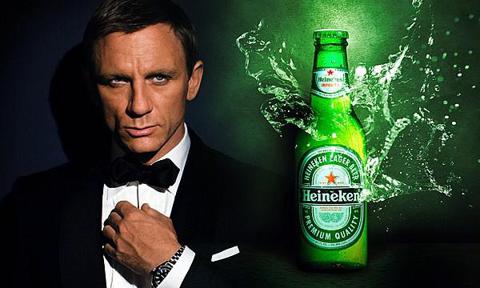 J.C. Penney needs to take on something massive with its rebranding, and it simply hasn't. For all intents and purposes, the store styles are the same, most brands carried are still the same, the logo is barely different, and the changes made are not monumental and paradigm shifting enough to knock Penney out of the rut that the store's brand has inadvertently fallen into.
Interior layout (including service people and specific service points in the store), price and brand all help factor into people's attitudes in the store. Forbes recently summed up a "store attitude" comp between J.C. Penney, Macy and Target (NYSE:TGT), that tells the story: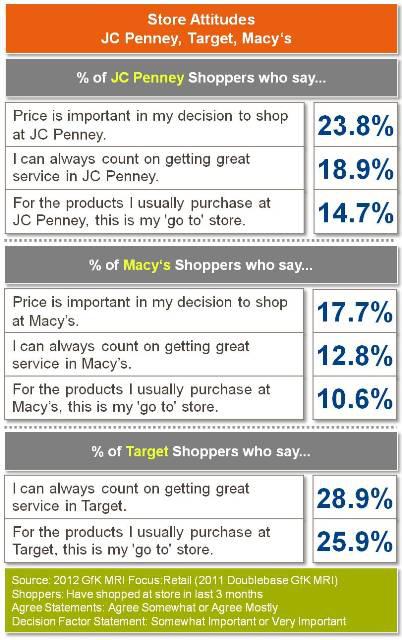 The fact of the matter is that J.C. Penney is still the same stale store, just with a layer of lipstick on it; lipstick that will soon wear off.
2. Johnson's Sub-Store Solution Is Not Enough
Ron Johnson's big move since he's come on has been to introduce brands; some already carried by Penney and some not, to have their own "store" within a store. There was a recent bump of positive news when Penney announced they were bringing the brand "Joe Fresh" on board.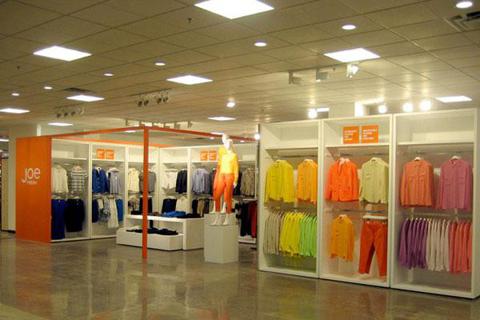 New York Magazine recently wrote:
After the Toronto-based brand announced plans to take over 1,000 to 2,500 square feet of floor space (for the next four years) in J.C. Penney stores last year, more than 650 Joe Fresh shop-in-shops opened over the weekend. The good news, from WWD: Shares of "J.C. Penney Co. Inc. jumped as much as 10.9 percent" on Monday and its "stock closed up 6.2 percent to $16.44." Analyst Brian Nagel of Oppenheimer described the mini-Freshes as "open and airy and brightly lit. Merchandise looks compelling and well priced. Traffic is difficult to measure, but customers do seem to be reacting positively."
Aside from Joe Fresh and hip brand Sephora, Penney has also included a number of non-earth shattering "past their prime" 90's style perfunctory brand names such as Levi and Liz Claiborne.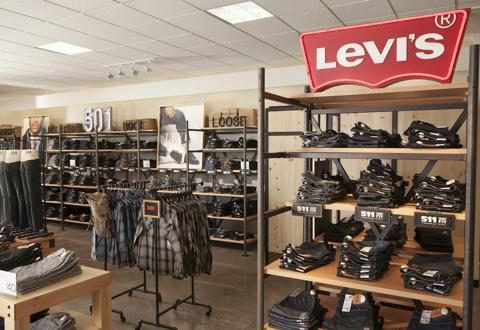 J.C. Penney's long-term hopes of success rely on Johnson's new plan to create sub-sections of the store in different departments. He's taking a huge risk in segmenting the stores by brand, giving major brands their own individual sections. Big risk sometimes pays off, and therein hangs the balance of the company's corporate strategy going forward.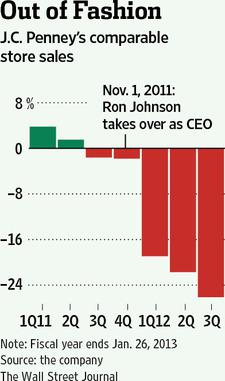 3. Horrifying Technicals
Here is the technical pullback that I said was going to happen in my article on February 26, 2013. Since then, Penney has been off nearly 25%.
I said:
J.C. Penney looks ready to make a technical pullback and faces the same long-term fate as the 50DMA and 200DMA get closer and closer to each other. We'll likely see a condensation between the averages, which will act as support and resistance, followed by a breakout to the downward side that will be substantially sustained, pending any news coming in the meantime from the company.
Below : Chart on Feb 26th ($21.43):
Below : Chart on March 21st ($15.56)
The chart below shows what happened right before the moving averages crossed and after Penney disappointed with earnings.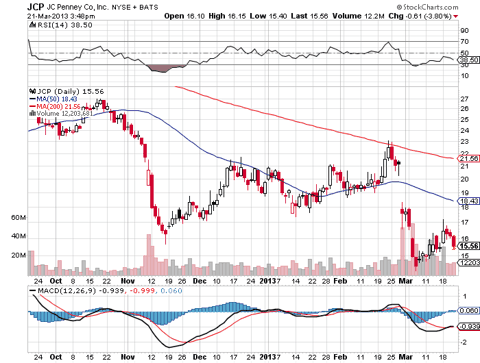 After their latest earnings disaster, I wanted to dive into whether or not it would be worth continue to short J.C. Penney based on technicals. Penney was already carrying a significant short position in their stock, so I was wary of a squeeze. I concluded that it would be prudent to short based on the following:
From a technical side, the short position holds a little water:

The recent sell-off was on considerable volume
The two moving averages look to be taking a parallel trip downward without getting even close to each other
The RSI, despite a monstrous drop in price, has barely touched below oversold (30)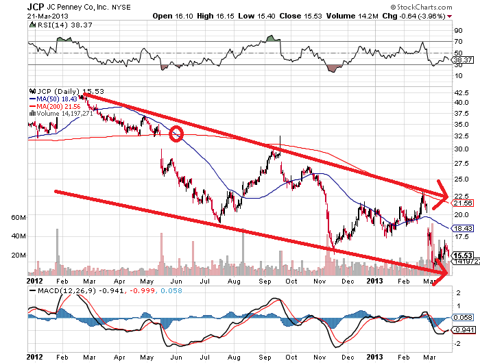 Above is the 1 year chart, below is the 3 year chart, and they're both anything but promising. The 50DMA plunging violently through the 200DMA has followed the price drop of over 55% since the stock's high in early 2012. It has been a brutal year for J.C. Penney.
On the three year chart below, notice how when the stock began to trend downward significantly that the volume and volume averages have correspondingly inched upwards. This is why the RSI, although touching the 30 line a couple of times, remains in what is otherwise healthy territory -- confirming that this move downward is from legitimate selling pressure.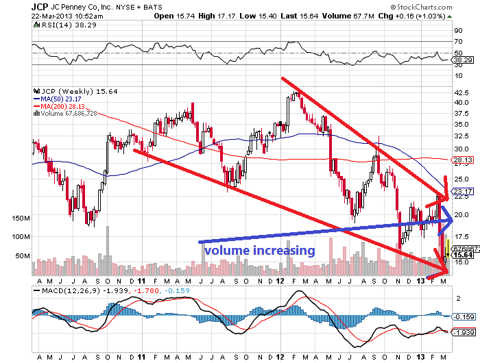 Also, take a look at how J.C. Penney has compared the last few years in the midst of an extreme bull market. You know the old adage -- equities that move against the market are notoriously unreliable. If Penney can't run when the market is running, it's surely not going to be able to run in the midst of what I feel is a coming correction:

Even the analysts that are making a case for Penney to not go bankrupt still postulate that the stock is by no means cheap. A "bullish" (if you want to call it that) analysis was just done beautifully, by the numbers, by Valuentum. Read the entire extremely well written article here. They state:
We estimate J.C. Penney's fair value at this point in time to be about $18 per share. As time passes, however, companies generate cash flow and pay out cash to shareholders in the form of dividends. The chart below compares the firm's current share price with the path of J.C. Penney's expected equity value per share over the next three years, assuming our long-term projections prove accurate. The range between the resulting downside fair value and upside fair value in Year 3 represents our best estimate of the value of the firm's shares three years hence. This range of potential outcomes is also subject to change over time, should our views on the firm's future cash flow potential change. The expected fair value of $24 per share in Year 3 represents our existing fair value per share of $18 increased at an annual rate of the firm's cost of equity less its dividend yield. The upside and downside ranges are derived in the same way, but from
the upper and lower bounds of our fair value estimate range.
4. The Retail Sector as a Whole Is Bearish
For a while I've been saying that retail, as a sector, is due for a correction. The above chart shows (NYSEARCA:XRT), a retail ETF outperforming the Dow averages by almost 90% over the last 4 years. With a beta of 1.86, J.C. Penney should be crushing the Dow Jones average percentage wise; exactly the opposite has happened. The volatility remains theoretically more significant against the market averages, but Penney has moved in the wrong direction.
Black Coral Research does a superlative job absolutely nailing this point. Their entire article is well worth a read. They say:
JCP's fourth-quarter gross profit margin fell 639 bps year-on-year to 23.8%, its lowest quarterly GPM, in at least 15 years as clearance items comprised 24.0% of sales (versus 14.0% a year ago). Total revenue in the fourth quarter fell by 28.4% to $3.88 billion. Comparable-store sales decreased 31.7%. Customer traffic for the fourth quarter was down 17% while conversion rate was down 10%. As a result, JCP stock is down approximately 50% year on year and has the worst one-year return in its peer group:

Broadline Retailers Stock Return, 1 Year

Savings initiatives and its shift to branded "shop in shops" might help recover JCP's sales productivity and strengthen its brand equity, but a likely downturn in consumer spending could be a significant headwind to JCP's stock. Overall, JCP seems like a clearance item you just might be better off passing on.

I've been contesting that there are tons of retail stores that are past their prime, including RadioShack and Sears . These stores are giving way to all-in-one discount stores like Target and Wal-Mart (NYSE:WMT); stores that have been consistently overperforming other retail stores and are focused on building their online business.
But, when companies like Wal-Mart start to botch sales on a grand scale, it's time to get extremely nervous about retail sales metrics across the board. From Wal-Mart:
We are confident that our low prices will continue to resonate, as families adjust to a reduced paycheck and increased gas prices," Simon said. "We see the underlying health of the Wal-Mart U.S. business is sound, and sales trends are similar to what we've demonstrated in the last few quarters.

However, February sales started slower than planned, due in large part, to the delay in income tax refunds. We began seeing increased tax refund check activity late last week in our stores, resulting in a more normalized weekly sales pattern for this time of the year.

Due to the slower sales rate in the first few weeks of this year's first quarter, we are forecasting comp sales for the 13-week period from Jan. 26 to Apr. 26, 2013 to be around flat. We continue to monitor economic conditions that can impact our sales, such as rising fuel prices, changes in inflation and the payroll tax increase.
If Wal-Mart is on its way to slowing down, there is no doubt to this investor that it's a precursor for the rest of the sector.
5. J.C. Penney is Throwing Away Money on Frivolous Legal Action that Ultimately Will Mean Nothing Because Wasting Money Fighting for the Martha Stewart Brand is in Precisely Zero Ways A Forward Looking Strategy
MSN Money reported on the recent Macy's/J.C. Penney lawsuit:
Macy's is trying to show that Johnson, a former Apple executive, schemed to lure domestic diva Martha Stewart away from her long-standing merchandising deal with the department store.

Johnson's emails paint him as gloating over his score against Macy's, reports The New York Post. Macy's attorneys are trying to prove that Johnson had a scheme to trick Macy's CEO Terry Lundgren into dropping its Stewart products.

"We put Terry in a corner," Johnson wrote to Bill Ackman, a hedge-fund manager and a major shareholder of Penney's, the day after he announced a $200 million licensing deal with Stewart.

Johnson also appeared to exult over his department-store rival, writing in the same email, "Normally when that happens and you get someone on the defensive they make bad decisions." He added, "This is good."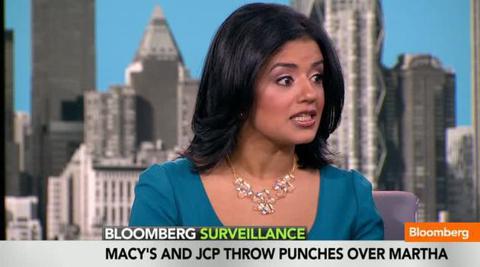 In a previous article of mine, I pointed out exactly how stupid and horrible for business it is to get tied up in litigation and make things personal between you and competitors:
How many times do you see startup or smaller companies lose their traction and burn through their capital, either going through legal battles or settling personal vendettas? The latter even holds true for one of two billionaires (billion, with a "b"), who is undoubtedly going to lose billions (billions, with a "b") playing a game of "who's got the bigger Ron Johnson" over Herbalife (NYSE:HLF). Folks, investors and hedge fund managers are guaranteed to lose billions (billions, with a "b"), over settling a personal score from many years back that's already been settled. Not exactly an efficient way to invest money and resources, right? Who could be this stupid? Macy's and J.C. Penney are heading down that same path.

These two companies are spinning their wheels here, kicking up money, time and resources like mud from underneath tires after it rains in Alabama ("Let me ask you a question: how do you get mud INTO the tires?"). What they're both failing to see is that the answer to success isn't going to lie in which of the two stores winds up with Martha Stewart -- these stores need radical rebranding and major internal changes to continue onward through 2013. The more time, money and resources these two spend battling each other, especially if this feud becomes even more personal between the two CEOs, make this a red flag for investors.

While I realize it's a "kill or be killed" mentality between the two CEOs right now, neither company has the capital allocation or time to focus on anything aside from changing their own corporate strategies to save their respective companies.
Martha Stewart, no Martha Stewart : dealbreaker for the company? Probably not. I realize that the Martha Stewart brand name captures a certain demographic of shoppers, and that they provide a significant revenue stream wherever they are sold, but again, we're missing the point.
Nobody in my generation or my child's generation is going to have the same fixation on Martha Stewart or her products. In the era of Target offering up hip and quirky looking styles and brands like Thomas O'Brien and Threshold, J.C. Penney is looking backwards, not forwards, by wasting time dealing with Martha Stewart's brand. The price points of the alternate, more stylish brands are what they need to be focused on to take these housewares into a new period for their respective stores. The styles that are selling for my, and future generations are along the non-gaudy yet still hip lines. This is why stores like Anthropologie continue their success while brands like Martha Stewart continue their slow, inevitable fade into oblivion.
Don't believe me? Check out one of my patented homemade archaic diagrams below and tell me which bedspreads you could see a Gen X'er or Gen Y'er using to outfit their homefront -- and which one looks like it belongs at a hospice or at your grandmother's retirement community.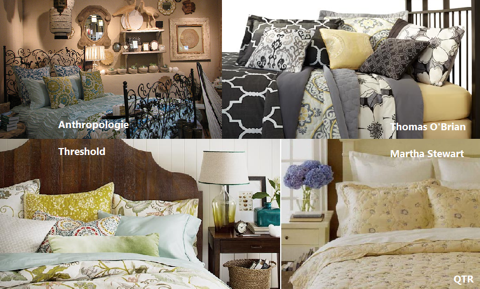 Still don't believe me? Want a taste of reality? Take a quick gauge on Pinterest (which can be considered a great litmus test for younger generations - your grandmother probably doesn't use it) and compare number of styles mentioned by above brand name. If I can sit here and produce this type of crude social "market research," why can't J.C. Penney grasp this?
6. J.C. Penney's "Iconic" Status Won't Save Them
I got started down this road earlier this month after reading an article in Forbes. I then took a direct jab at Forbes contributor Panos Mourdoukoutas, who penned an "article" about saving J.C. Penney. His basic, elementary style argument was that because J.C. Penney was an "iconic" brand, it would magically turn around.
In his article, he compares Penney to Kodak, which is what gave me the idea to do a side-by-side comparison of the two; simply to show him how dead wrong he was. I made the following sentiments:
From "J.C. Penney is the Next Eastman Kodak":
What this author fails to see is that "hoping" that Penney won't turn out like Kodak because they're both "iconic" brands is not going to be enough to save either company. Just ask the folks behind iconic brands Spiegel, Daffy's, Reader's Digest, Bennigan's, KB Toys or Hostess. J.C. Penney is going to be the next on the list, as much as he might not want to think about it. Hoping something will happen doesn't make things just spontaneously happen without taking action; otherwise I'd be 25 years old again with a full head of hair and minus about 40 pounds.
On to the meat and potatoes here: everyone knows that Kodak (EKDKQ.PK) failed due to its inability to recognize digital photography as a threat to business. In other words, it didn't change over with the times; it held onto its "iconic" business plan and stuck with its "iconic" products. Then, it went bankrupt.
Likewise, another (intelligent) Forbes article pointed out:
Kodak management's inability to see digital photography as a disruptive technology, even as its researchers extended the boundaries of the technology, would continue for decades. As late as 2007, a Kodak marketing video felt the need to trumpet that "Kodak is back " and that Kodak "wasn't going to play grab ass anymore" with digital.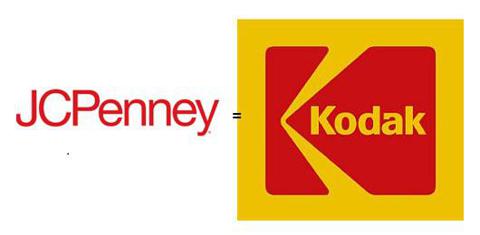 What J.C. Penney is doing with segmenting its stores is the same thing Kodak did with Advantix. Instead of completely letting go of the old and doing something totally paradigm shifting, they're trying to weld together the old failed model with some new ideas; in essence creating a hybrid mash of ideas that won't gel well together.
From the same article:
The choice to use digital as a prop for the film business culminated in the 1996 introduction of the Advantix Preview film and camera system, which Kodak spent more than $500M to develop and launch. One of the key features of the Advantix system was that it allowed users to preview their shots and indicate how many prints they wanted. The Advantix Preview could do that because it was a digital camera. Yet it still used film and emphasized print because Kodak was in the photo film, chemical and paper business. Advantix flopped. Why buy a digital camera and still pay for film and prints? Kodak wrote off almost the entire cost of development.
J.C. Penney fails to realize that online shopping is a threat, and without creating and re-branding to tailor more towards online shopping, they're going down the same road.
Kodak was helplessly married to an out-of-date business model. J.C. Penney has the same problem. Penney needs to rethink the entire sector of retail, not how to get their stores up and running again. The stores are the problem. It may sound extreme, but I'd even consider liquidating the stores and looking at totally different formats for sales; like being a strictly online company. While that may not be the solution, those are the magnitude of ideas that I think this company needs in order to re-find long term success and shareholder value.
7. The Remodels that Penney Has Done in the Past and is Doing Now Aren't Enough
The rebranding is a start, but it's not good enough. Here's a look at the "major overhaul" of the branding -- doesn't the difference just jump right out off the page at you?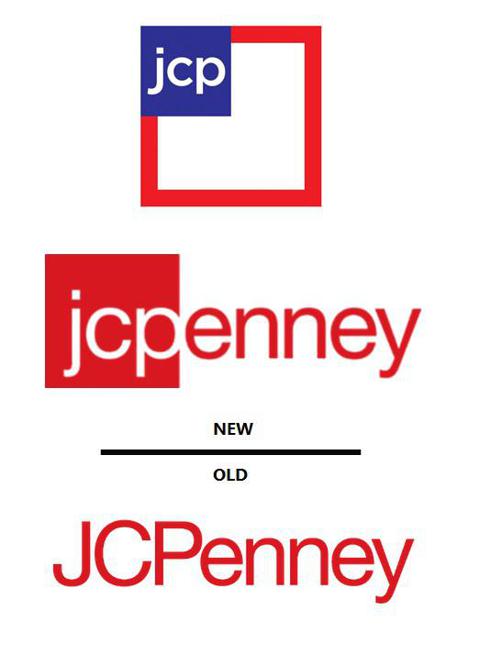 Here is a picture from one of the many remodels Penney has already attempted; this one from the mid 2000's.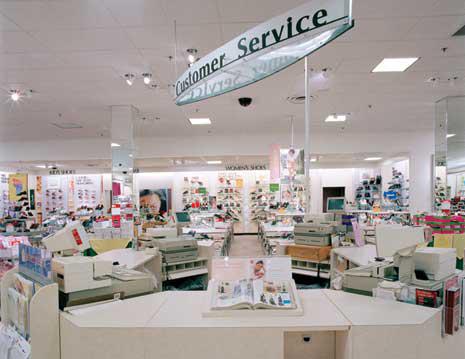 Impressive looking, right? Wrong. Like a game out of a children's magazine, "How many things can you find wrong with this picture?" I've looked at this picture for 10 seconds and can identify three things wrong with the remodel already (keep in mind this picture is from the mid-2000s):
The outdated cash registers and POS (point-of-sale) machines. By this time, almost everywhere that works in retail had been using computerized investor systems that were not as archaic as the ones that still plague Penney to the day. When Apple first opened, they had portable point of sale machines that could swipe your credit card right on the floor. Many other companies, at this point, use full fledged computer for their POS systems -- it provides them with substantially more ICS metrics. In these machines defense, they still can "frank a personal check."
Catalogues: you're doing it wrong. Since the late 90s and early 2000s companies have been going digital; now especially with touchscreen. I realize that tablets weren't a reality in the mid 2000s, but companies were at least instituting digital versions of their catalogues. This is just another nod towards how out of touch Penney has been.
The stores look like mental institutions. The color scheme is "straight jacket" white, and there's nothing of any personality in sight.
8. J.C. Penney is Admitting Their Turnaround is Taking Longer Than Expected
CNBC recently reported that J.C. Penney's annual report stated that it's going to take longer than expected for their turnaround to take place. The article states:
Penney launched a turnaround last year that did away with most coupons and discounts. It also has opened the first "shops within its stores" on its way to 100 boutiques at most stores.

But sales declined 25 percent in the last fiscal year as its price-conscious shoppers balked at the new promotional strategy, and the department store reported a deep loss.

"It may take longer than expected or planned to recover from our negative sales trends and operating results, and actual results may be materially less than planned," Penney wrote in its annual report for the fiscal year ended Feb. 2.

The company has backtracked partially on its pricing and brought back coupons in a bid to lure back shoppers.

Penney, set to launch a new home section next month, said it may need to change its shops plan, but warned that could be expensive and could confuse shoppers.

"Any changes to our strategies could be substantial, and if implemented, could result in significant additional costs," the company wrote in the report filed with the Securities and Exchange Commission.
Conclusion
J.C. Penney is doing everything short of walking into your living room and executing short trades for you. They're screaming from rooftops in their last annual filing that things aren't going as planned. The stock chart looks like a slalom route for the 98' Nagano men's Olympic downhill team.
The company is stuck on a mezozoic era branding problem, and has failed to make massive, paradigm shifting changes to their business. They are not focusing enough on online sales and younger generations, all the while seriously burning through cash. Ron Johnson is so focused on growth, he recently said:
"All we need this year is to return to growth, whether it's 1%, 5%, 10%," Mr. Johnson said in an interview late last month. "When we return to growth, we can generate cash. If we start with right amount of cash, we just continue with transformation."
Hey, if 1%'s acceptable, why not 0.1% - or even 0.001%?
I'm not enjoying the death of a brand, as it will ultimately lead to jobs lost and money burned. I'm in no way dancing on the eventual grave here. It's just that in the world of investing, you want to have your money on the right side of the table in whatever company you're invested in. For me, short is play for J.C. Penney.
Best of luck to all investors.
Disclosure: I have no positions in any stocks mentioned, but may initiate a short position in JCP over the next 72 hours. I wrote this article myself, and it expresses my own opinions. I am not receiving compensation for it (other than from Seeking Alpha). I have no business relationship with any company whose stock is mentioned in this article.