Calumet Specialty Products Partners L.P. (NASDAQ:CLMT) continues to succeed as a proven dividend growth stock. The company is benefiting from the positive refinery trends. Management has hedged key expenses to assure distribution growth continues. I believe Calumet Specialty Products will provide shareholders dividend growth and capital share appreciation.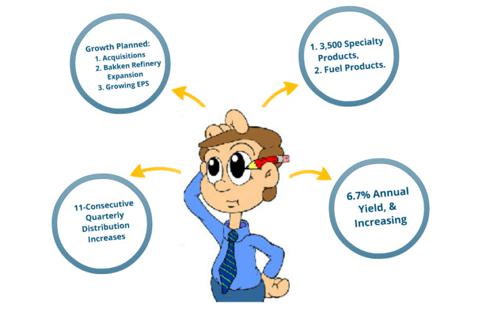 Distributions
Calumet has a solid history of paying and increasing unit holder distributions. For Q4 2012, Calumet announced a distribution of $0.65 per share ($2.60 annualized), a 22.6% increase over Q4 2011. With shares trading at about $36.50, CLMT units yield a healthy 7%. The company has a market capitalization of $2.47 billion with a price-to-earnings ratio of 11.14x. Shares are currently near the top of their 52-week range of $20.76 - $40.25.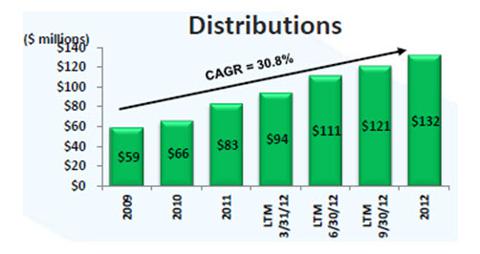 Source: Company presentation (pdf)
The company has provided shareholders with an increasing quarterly distribution: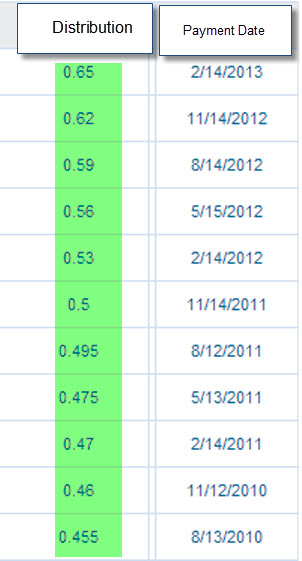 A dividend increase is an actual pay raise for the income investor. As living costs increase, an increasing dividend income stream is necessary to offset one's living expenditures.
Total Return
The below calculation assumes distributions are not reinvested into additional Calumet shares. Calumet has provided shareholders a 12% annualized rate of return. This return is based upon Calumet performance from January 31st, 2006 thru present date.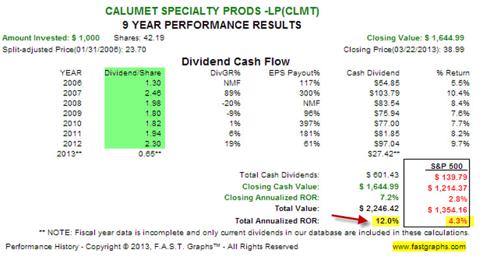 Refining Margin Benefits
Calumet Specialty Products Partners L.P. focuses on refining crude into a diverse range of specialty hydrocarbons, waxes, gels and oils for industrial, retail and personal care applications. Calumet has 11 refineries spread across Illinois, Louisiana, Missouri, Pennsylvania, Texas and Wisconsin with total throughput capacity of 160,000 bpd and storage capacity of over 12 million barrels. The company produces gasoline, diesel, asphalt, heavy fuel oils, naphthenic bases, process oils, electrical insulation oils, shock absorber oils, refrigeration oils, paraffinic waxes and base oils, solvents (for coatings, inks, paints, mining and extraction), white mineral oils, petrolatums, hydrocarbon gels, compressor lubricants and more. The company also has pipelines and bulk storage facilities with capacity of over six million gallons and tank truck, rail car and ship loading docks.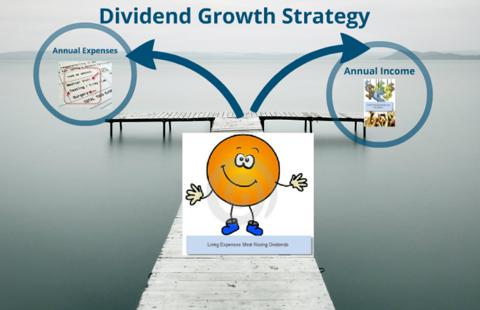 Company
Calumet is a Master Limited Partnership (MLP) that was founded in 1990 and is headquartered in Indianapolis, Indiana. The company went public in 1996. The founding families (including the CEO's family) own about 29% of the company and 100% of its general partner. Over the years, the company has grown through internal capital projects and acquisitions. Over the past few years, its major acquisitions include the Superior refinery (September 2011), SynLube & TruSouth for synthetic lube oil production and specialty products packaging (January 2012), Royal Purple for premium synthetic lubricants (Jul. 2012), Montana Refining (October 2012) and the San Antonio refinery (January 2013).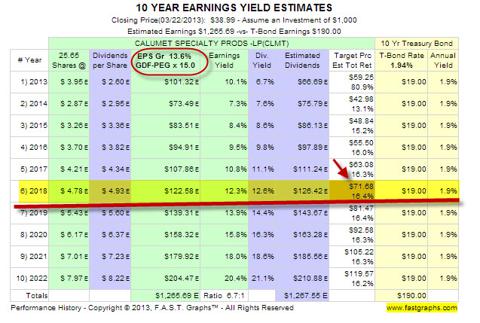 Calumet's most recent acquisition, the San Antonio refinery and related pipeline and terminal facilities, was completed in January 2013 at a cost of $116 million. This refinery has throughput capacity of 14,500 bpd and produces ultra-low sulfur diesel, jet fuel, specialty solvents, reformates, naphtha and vacuum gas oils. It sources crude primarily from the Eagle Ford Shale in South Texas. Calumet plans to upgrade the refinery to also produce finished gasoline in the near future.
In February 2013, Calumet inked a 50/50 joint venture with MDU Resources Group (NYSE:MDU) to develop, build and operate a 20,000 bpd diesel refinery using Bakken crude as feedstock. The project will cost about $300 million. Construction is slated to begin in Q2 2013 and wrap by Q4 2014. Calumet will invest $75 million in the project.
Calumet's products are used in almost all facets of industrial and personal care products - automotive and industrial oils, crop protection, agricultural sprays, heavy duty lubricants, painting and polishing, paper products, personal care (lotions, baby oils, balms, diapers, hair care, etc.), cleaning and degreasing, food coatings, pharmaceuticals, athletic shoes, clear tape, textiles, tires, crayons, adhesives, floor care, food packaging, etc.
Management
The company is headed by F. William Grube as CEO. Mr. Grube founded the predecessor to Calumet and has extensive entrepreneurial, leadership and management experience in this industry. Mr. Grube's daughter, Jennifer G. Straumins, serves as President and COO. Ms. Straumins is a chemical engineer with an MBA and has primarily focused on financial planning and related functions but is gaining operational experience. Calumet's other senior managers have extensive industry experience.

MLP Structure
Calumet is set up as an MLP where public holders own a 71% stake in the company and affiliates of the General Partner hold 29%. Calumet, in turn, fully owns Calumet Operating LLC and Calumet Finance Corp.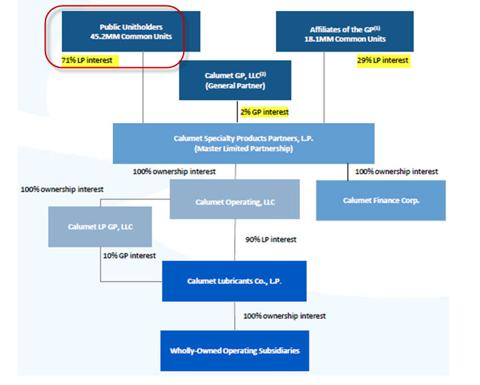 Product Categories
Calumet's products fall into two categories - specialty products and fuel products.

Production volume on its specialty products has grown from 25,343 bpd in 2004 to 41,375 bpd in 2012. Fuel products have grown at a much faster pace, from 954 bpd in 2004 to 54,797 bpd in 2012, primarily through acquisitions. Overall, production volume has grown at a compounded annual rate of 18% (see graph below).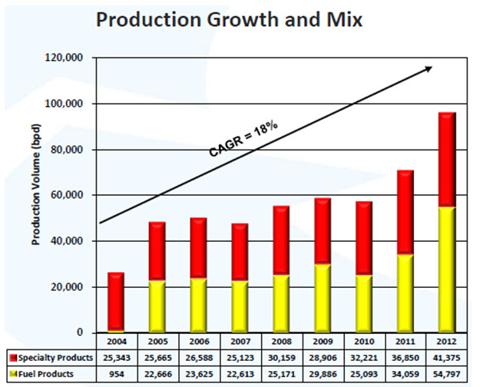 2012 Financials
Q4 2012
For its fourth quarter ended December 31, 2012, Calumet reported total sales of $1.22 billion, up 20% over 4Q11. Cost of sales was up 15% and gross profit jumped 77% to $141.7 million from $80.1 million. Selling, general and administrative expenses more than doubled, while transportation expenses were up 9%. Interest expense increased 34% to $24.3 million on higher outstanding debt, from $18.1 million, and the company registered a net loss of $3.5 million on its derivatives hedging relative to a gain of $11.4 million in 4Q11. As a result, net income was up 70% to $45.7 million, of which $42.4 million accrued to limited partner units. Net income per unit was $0.73, up 46% from $0.50, of which $0.62 was paid out as distributions per unit.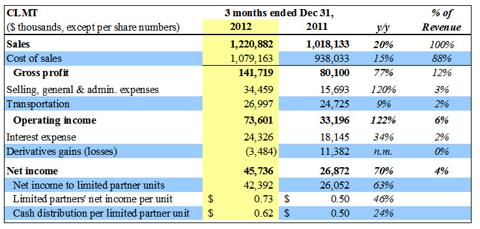 As the table below shows, adjusted EBITDA (earnings before interest, tax, depreciation and amortization) of $91.3 million was almost double quarterly net income of $45.7 million. For the full year, adjusted EBITDA was $404.6 million up from $211 million in 2011.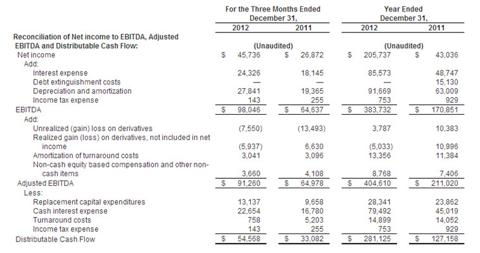 And as the graph below shows, adjusted EBITDA has increased 24% annually, on average, over each of the past six years with significant increases over the past two years due to gains from the multiple acquisitions made.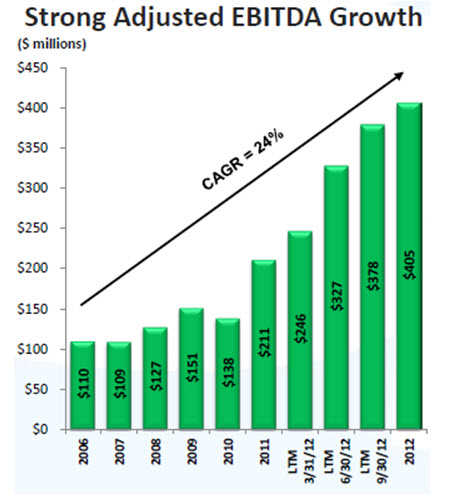 Fiscal Year 2012
For the full year, Calumet reported total sales of $4.7 billion, up 49% over FY 2011. Cost of sales was up 45% and gross profit jumped 87% to $513.2 million from $274.1 million. Selling, general and administrative expenses doubled, while transportation expenses were up 15%. Interest expense increased 76% to $85.6 million on higher outstanding debt taken on for acquisitions, and the company registered a net gain of $5.7 million on its derivatives positions relative to a loss of $18.3 million in FY11. As a result, net income was up 378% to $205.7 million, of which $195 million accrued to limited partner units. Annual net income per unit was $3.50 of which $2.30 was paid out as distributions per unit.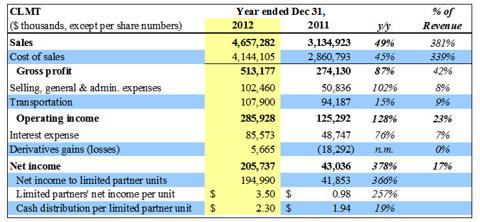 As the table below shows, specialty products sales were down in the fourth quarter but were up for the full year. Fuel products sales jumped substantially in the quarter and the full year (from $15.5 million in 2011 to $204.5 million in 2012). Specialty products sales were hurt by lower gross profit per barrel while fuel products gained substantially on higher gross profit per barrel ($12.50 in 4Q12 from $3.02 in 4Q11 and an eightfold rise in 2012 over 2011 after including losses from hedging).

As the table below shows, asphalt volumes increased in the specialty products segment while gasoline and diesel volumes helped the fuel segment.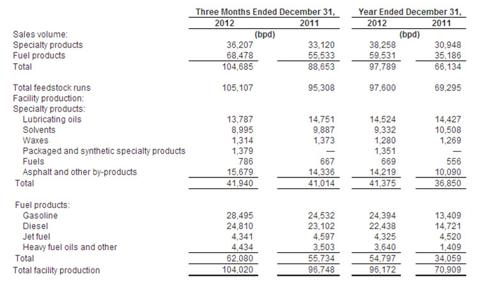 Calumet ended the year with $32.2 million in cash and cash equivalents, $986.9 million in net property and equipment, $862.7 million in long-term debt (up from $586.5 million a year ago) and partners' capital of $889.8 million, up 22%, with a book value per share of $15.37 (well below its share price of $38.99).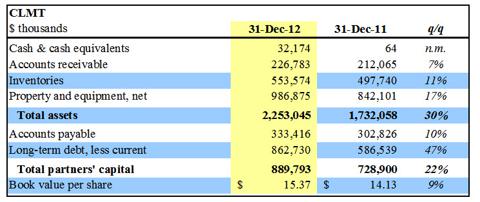 In 2012, the company generated $380.1 million from operating activities, spent $624.2 million on acquisition and property additions and generated $276.2 million from equity and debt offerings net of debt repayments and cash distributions to partners.

Summary
Calumet produces over 3,500 specialty products with stable demand after long-approval cycles and flexibility to pass-on commodity price increases to customers so it maintains high margins. Calumet has a stable base of customers where no single customer accounts for more than 10% of revenue. Management maintains a conservative financial profile with a strong focus on liquidity, reduced exposure to commodity prices through hedging and conservative unit holder distributions with distribution coverage ratio (available cash / distributions) of 1.2x - 1.5x. In addition, the management team has been operating together since the late 1990s and has successfully grown Calumet while maintaining sizable ownership (29%) in the company. Calumet is geographically diversified, vertically integrated and is gradually increasing refining capacity through organic projects and acquisitions. The company also has strong synergies across its various refinery, storage, transportation, logistics and distribution assets that help its bottom-line. While shares are near 52-week highs, Calumet still offers a compelling 6.7% distribution yield and is attractive to dividend investors. Buying on pullbacks definitely appears to make sense.
Disclosure: I am long CLMT, MDU. I wrote this article myself, and it expresses my own opinions. I am not receiving compensation for it (other than from Seeking Alpha). I have no business relationship with any company whose stock is mentioned in this article.