The machinery and tools sector has been in favor since late last year. However, giants like Caterpillar (NYSE:CAT) and Deere (NYSE:DE) are not performing as well as Manitowoc (NYSE:MTW) and Terex (NYSE:TEX).
The current rally in the Dow Jones Industrial Average (DJIA) has surpassed all-time highs. Nevertheless, some components have not fared as well. Caterpillar is currently trading at $86.83. This is almost $30 off from all-time highs. The DJIA and SPY have increased by 10.82% and 8.87% year-to-date respectively, while CAT is trading at -3.0% YTD. In addition, Deere & Company is sharing the same fate by trading at 0.54% YTD. The machinery giants are struggling to keep their pace with the market.
Two mid-cap size companies have enjoyed the attention and money from investors. However, their potential for capital appreciation still outweighs the risks for the following reasons.
| | | | |
| --- | --- | --- | --- |
| Underlying | Market Cap | Performance YTD | P/E |
| CAT | 56.88B | -3.10% | 10.23 |
| DE | 33.85B | 0.54% | 10.89 |
| MTW | 2.77B | 32.97% | 27.08 |
| TEX | 3.96B | 27.14% | 38.43 |
Manitowoc
Manitowoc, a company founded in Manitowoc, Wisconsin, is currently focused on sales of large cranes for material handling. The company has also diversified to sales of foodservice equipment. The price-per-share increased from $16.00 at the beginning of 2013 to current 52-week highs at ~$21.50. Although this company has a substantial amount of debt, it has been restructuring its payments and was able to repay $80 million in 2012. Furthermore, since the company has reported better-than-expected earnings in the last conference call, an increment of dividends may be viable in the near-term. The revenue increased from $1.02B to $1.13B for Q4 which was mainly in due to crane sales.
Cranes
On its last conference call, MTW gave a positive guidance for crane sales. This could be possible since China's economic outlook is improving according to the latest PMI reading, and the U.S. building permits have recently exceeded estimates, thus the potential for selling cranes is increasing. The company is taking all necessary measures to adjust to economic issues that could diminish the crane sales by increasing its margin operation.
Food service
The food service division provides energy-efficient industrial kitchen supplies to restaurants ranging from fryers, grills, ice dispensers to buffet equipment. On March 5th, 2013, the company was awarded the 2013 ENERGY STAR ® Sustained Excellence Award from the Environmental Protection Agency because it continuously aims to create energy efficient food service apparatus. Since restaurants struggle to reduce costs, this may provide excellent sales opportunities for current and future clients.
From a technical analysis perspective, a new position may be considered here with a stop loss order at $19.00.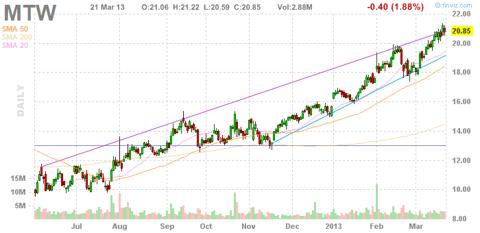 Conclusions for MTW:
In brief, I believe MTW is on track with its debt repayment, and this could lead to an increase in dividend for shareholders. Through diversification in industrial goods from cranes to energy efficient industrial kitchen goods, the guidance for 2013 has a great potential of surpassing expectations.
Terex
Another company that has provided value this year to its shareholders is Terex . This company recently diversified from mining and construction equipment to material lifting and handling (i.e. cranes, road building trucks, construction trucks, and utilities machinery). The stock has rallied 27% year-to-date, reaching 52-week highs recently.
Even though the sales Q/Q were reported negative for Q4Y2012, they should pick up since China's PMI and United States building permits have surpassed expectations. In 2013, the company is expecting between $2.40 and $2.70 earnings per share of net sales for about $8.0 billion. Because of this, it is currently trading with a forward P/E of 10.30-- evidence of potential capital appreciation in the near term. Its current goals are also to lower its debt and generate $500 million in cash flow.
Conclusions for TEX:
I believe that the recent diversification of this company may bring value to investors both by capital appreciation and maybe by starting a dividend.
From the technical analysis, a new position can be initiated here with a stop-loss at $31.00.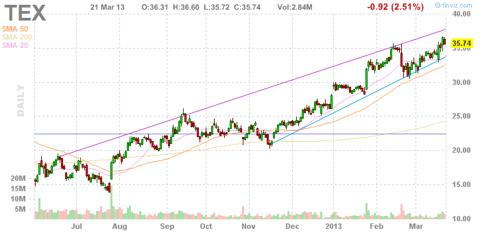 Conclusion:
The buy-and-hold strategy for "blue chip" companies like CAT and DE has not worked well for investors so far this year. However, these smaller companies have outpaced the S&P 500 this year. Though they are trading at high P/Es, the potential for capital appreciation in the near term offsets the risks because they are diversifying, and the global economy seems to be healthier.
Disclosure: I am long MTW. I wrote this article myself, and it expresses my own opinions. I am not receiving compensation for it (other than from Seeking Alpha). I have no business relationship with any company whose stock is mentioned in this article.