Much like the Red Rocket vs. the Blue Bomber of the Rock'em Sock'em Fighting Robots fame, the circa 1964 kids game, most utility investors may be unaware of the fight going on between nuclear power and wind power.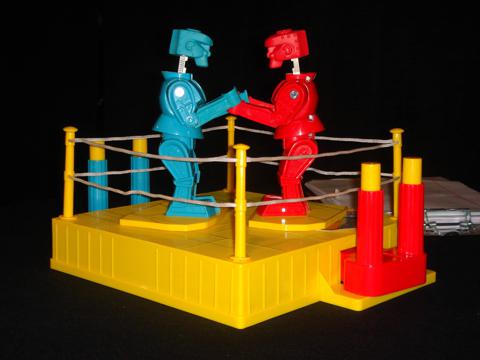 Similar to the situation in Europe, there are now circumstances whereby power generators are realizing a negative price for their electricity. In researching a SA article about the impact of intermittent power generation on overall electricity pricing, this quote caught my eye from an executive at Exelon, the largest nuclear power generation company in the US:
"It is becoming more pronounced as more wind is coming on," Christopher Crane, chief executive officer of Chicago-based Exelon Corp., said in a phone interview. If the push to "over-develop" subsidized wind continues, "there is a very high probability that existing safe, reliable nuclear plants will no longer be competitive and will have to be retired early," according to Crane.

Exelon, the largest U.S. nuclear operator, says a surplus of wind power is making negative pricing a problem in Illinois, where it owns six nuclear plants and a wind project. Prices for markets served by Exelon's Clinton and Quad Cities reactors trade below zero between 8 percent and 14 percent of off-peak hours, said Joseph Dominguez, Exelon's senior vice-president for governmental and regulatory affairs and public policy.
What is shocking about this prediction is nuclear has been the lowest cost fuel source to generate electricity. If this low cost power generation goes away, eventually electric rates will rise as taxpayer-funded subsidizes goes away as well. Wind power is "competitive" only because of a taxpayer-funded $22 per MWHr credit and the mandate for grid operators to purchase whatever amount is generated.
In addition to the negative power pricing situation, there is speculation the Obama Administration will issue an executive order adding international and global climate change reviews to all federal permit processes. For example, a coal export facility needing a permit from the US Corps of Engineers to begin construction may be require to consider not only the environmental impact of the port facility, such as water and air pollution from increased ship traffic, but also the environmental impact of burning coal in countries such as China that may be clients of the new facility. More information on this topic can be found in an SA article here.
Taken together, these two situations have the potential to dramatically alter the landscape of US power generation and potentially the fortunes of US electric utilities.
In 2011, US electricity generation totaled 4344 billion kWh gross, 43% from coal-fired plants, 24% from natural gas, 19% from nuclear, 8% from hydro, and 3% from wind. Annual electricity demand is projected to increase to 5,000 billion kWh in 2030, though in the short term it is depressed and is not expected to recover to the 2007 level until about 2015. Overall, electricity demand is expected to grow an average of 0.9% annually.
According to the World Nuclear Organization, the US has 103 nuclear power reactors in 31 states, operated by 30 different power companies. Since 2001, these plants have achieved an average capacity factor of over 90%, generating up to 807 billion kWh per year and accounting for 19% of total electricity generated.
Below is a map of the current nuclear power plants in the US and projected power generation by fuel sources going out to 2040: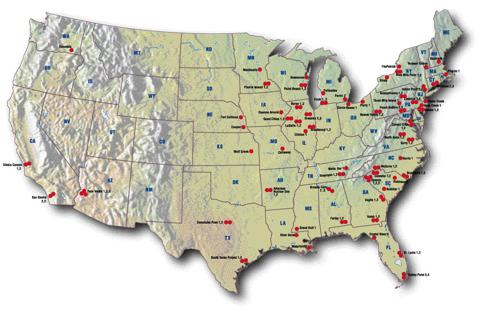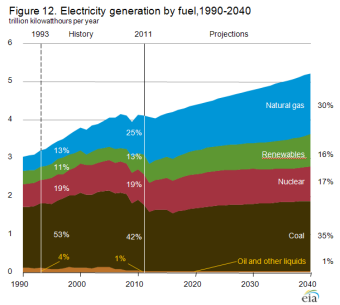 Overall, the U.S. wind energy industry had its strongest year ever in 2012, installing a record 13,124 megawatts (MW) of electric generating capacity, leveraging $25 billion in private investment, and achieving over 60,000 MW of cumulative wind capacity. It is anticipated total installed wind capacity will increase to 65,000 MW in 2013 and 72,000 MW by 2014.
Listed below are the states with the largest percentage of installed electrical power generated from wind, ranked by percentage of electricity used (from the Wind Energy Association)
| | | |
| --- | --- | --- |
| Rank | State | % Wind Generation in 2012 |
| 1 | Iowa | 24.50% |
| 2 | South Dakota | 23.90% |
| 3 | North Dakota | 14.70% |
| 4 | Minnesota | 14.30% |
| 5 | Kansas | 11.40% |
| 6 | Colorado | 11.30% |
| 7 | Idaho | 11.30% |
| 8 | Oklahoma | 10.50% |
| 9 | Oregon | 10.00% |
| 10 | Wyoming | 8.80% |
| 11 | Texas | 7.40% |
| 12 | New Mexico | 6.10% |
| 13 | Maine | 5.90% |
| 14 | Washington | 5.80% |
| 15 | California | 4.90% |
| 16 | Montana | 4.50% |
| 17 | Illinois | 3.90% |
| 18 | Nebraska | 3.70% |
| 19 | Hawaii | 3.60% |
| 20 | Indiana | 2.80% |
A link to an interactive map of current wind farms is here.
In addition, below is a map that overlaps current high-voltage transmission networks and wind power potential, from the US Dept. of Energy, National Renewable Energy Laboratory: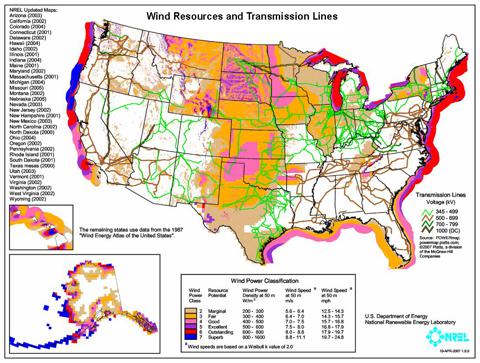 There are currently ten ongoing Combined License Applications being reviewed by the Nuclear Regulatory Commission for the construction of new nuclear power plants, along with several that are currently suspended or have been withdrawn. A list of these projects is below:
| | | | |
| --- | --- | --- | --- |
| Facility | Owner | State | Status |
| Virgil C. Summer, Units 2 and 3 | SCG | SC | issued - construction |
| Vogtle, Units 3 and 4 | SO | GA | issued - construction |
| Watts Bar, Unit 2 | TVA (private) | TN | issued - construction |
| Bell Bend | PPL | PA | ongoing review |
| Bellefonte, Units 3 and 4 | TVA (private) | AL | ongoing review |
| Comanche Peak , Units 3 and 4 | TXU (private) | TX | ongoing review |
| Fermi, Unit 3 | DTE | MI | ongoing review |
| Levy County, Units 1 and 2 | DUK | FL | ongoing review |
| North Anna, Unit 3 | D | VA | ongoing review |
| Shearon Harris, Units 2 and 3 | DUK | NC | ongoing review |
| South Texas Project, Units 3 and 4 | NRG | TX | ongoing review |
| Turkey Point, Units 6 and 7 | NEE | FL | ongoing review |
| William States Lee III, Units 1 and 2 | DUK | SC | ongoing review |
| Calvert Cliffs, Unit 3 | EXC, EDF | MD | permit denied |
| Callaway, Unit 2 | AEE | MO | suspended |
| Grand Gulf, Unit 3 | ETR | MS | suspended |
| Nine Mile Point, Unit 3 | EXC, EDF | NY | suspended |
| River Bend Station, Unit 3 | ETR | LA | suspended |
| Victoria County Station, Units 1 and 2 | EXC | TX | withdrawn |
The owners of these facilities are DTE Energy (NYSE:DTE), Dominion Resources (NYSE:D), Duke (NYSE:DUK), Entergy (NASDAQ:ENT), Exelon (NYSE:EXC), NRG Energy (NYSE:NRG), NextEra Energy (NYSE:NEE), PPL Corp (NYSE:PPL), Scana (NYSE:SCG) and Southern Co (NYSE:SO). In addition, the Tennessee Valley Authority, a federally owned corporation, has filed two applications for licenses and TXU, a privately owned utility has applied for one. There are currently three nuclear power plants under construction owned by the TVA, SO and SCG.
While MIT claims to have developed molten-salt technology that could substantially reduce the cost of a small 500 MW nuclear plant to $1.7 billion, or about half the cost of conventional designs per MW, the "average" nuclear power plant can cost between $7 billion and $14 billion.
It will be difficult to recoup shareholder investments of this magnitude if the facility operates with negative revenues 8% to 14% of off-peak hours, similar to the two Illinois nuclear owned by EXC.
The economics of power generating and regulatory processes are changing quickly. If US nuclear power licenses are subjected to global and international climate impact review based on the lifecycle of each operating component and if the purchase of intermittent power continues to be mandated as a replacement for base load power, these nuclear power plants may never be built.
There is about 53,000 MW of base load coal-fired generating capacity that will be retired because of poor economics, mainly due to increasing environmental regulation costs. Intermittent power generation, by its design, is an inadequate replacement for base load.
The great sound bites for the news media is that the increase in clean wind power generation is a great offset for dirty coal-fired generation, but until wind power can offer the same attributes needed to be considered as base-load, the current intermittent oversupply of electricity from the mandated purchase of wind power will continue to cause havoc in the power generating business.
Due to these dramatic changes, investors may want to shy away from those utilities servicing the top five wind markets - Iowa, North Dakota, South Dakota, Minnesota and Kansas. These would include Alliant Energy (NYSE:LNT), Otter Tail Corp (NASDAQ:OTTR), Xcel Energy (NYSE:XEL), and Black Hills (NYSE:BKH).
Instead, investors may wish to look at those states where wind and intermittent power generation has a much smaller impact, such as Georgia, North and South Carolina, Florida and Mississippi. Utilities servicing this area would be SO, SRG, DUK, D, and ETR.
However, nothing is cut and dry in the world of electric utility investing, and several of these companies have the potential for further delays in their nuclear power generation expansion plans as they have outstanding construction requests that may be subject to the new Obama administration required global climate change reviews.
It may just be time to focus new investment dollars in non-electric utilities, such as natural gas or water utilities.
Author's Note: Please review important disclaimer in author's profile.
Disclosure: I am long EXC, SO. I wrote this article myself, and it expresses my own opinions. I am not receiving compensation for it (other than from Seeking Alpha). I have no business relationship with any company whose stock is mentioned in this article.