The 3D printing and rapid prototyping sector entered 2013 as one of the hottest sectors. After a new IPO, finalization of a game-changing merger, continuous questions regarding the sector leader, and a rocky few months, the sector presents a different picture as the first quarter comes to an end.
While the equity markets might have taken a pause as the sector got overheated, designers are moving full steam ahead into this area. Nike (NYSE:NKE) recently unveiled its first football cleats featuring a 3D-printed plate. The plate is crafted using Selective Laser Sintering technology that uses high-powered lasers to fuse small particles of materials into 3D shapes.
Another example of the runaway interest in the sector was the recent success of Formlabs in attracting a record $3M on Kickstarter for a revolutionary 3D printer. The Form 1 printer claims the highest-resolution, low-cost 3D printer that uniquely uses a process called stereolithography. For machines that cost $3,299, the company is already sold out for months in advance. Ironically, the company ran into quality assurance issues on components made in the thousands. Maybe the next step for Formlabs will be revolutionizing the steps from rapid prototyping to quality mass production.
Yet another example is Materialise, which announced a flexible material called TPU 92A-1 that is capable of being used to make gaskets, complex tubes, and even clothing. The flexible material has a bright future in flexible hose and shock absorption parts, but the clothing might need more work to be practical unless you count customizable shoulder pads for football as clothing.
Hundreds if not thousands of other examples exist that leave no doubt about the future of the technology. The only question is which stock will benefit the most.
Market Leaders
While ExOne (NASDAQ:XONE) had a splashy IPO during February (see Does The ExOne IPO Offer Any Value?) and private Mcor Technologies made an attention grabbing announcement with Staples (NASDAQ:SPLS) (see Staples Fires Warning Flare To 3D Printing Market), the public markets are still dominated by 3D Systems (NYSE:DDD) and Stratasys (NASDAQ:SSYS) with market caps approaching $4B. 3D Systems remains the serial acquirer that has the largest revenue and the most questioned organic growth rates. Stratasys merged with Objet to create an industry leader of scale to compete with 3D Systems.
Never one to miss out on a good merger, 3D Systems recently completed a $55M merger of Geomagic, which provides 3D authoring solutions that include tools to create 3D content and inspect products throughout the process. Typical of the deals completed by the company, it is expected to be immediately accretive to 2013 numbers on approximately $17M in sales.
The highly controversial company trades at the lowest PE multiple in the group due to nagging questions about organic growth. Analysts though expect a 5-year growth rate of 25% with revenue surging 30% this year to $461M.
Stratasys has been busy integrating the merger of Objet after a lengthy approval process. The merger of near equals turned the company into a powerhouse with industry leading 3D printers.
The recent investor favorite trades at the highest multiple in the group and expects to slightly trail 3D Systems with $431M in revenue for the year. More importantly earnings have come under attack after the company guided to less accretive growth from the Objet merger than expected. Though 5-year earnings growth figures remain around 30%, analysts only forecast slightly over 20% growth in 2013.
Industrial Upstart
ExOne remains a relative unknown even after a very successful IPO. The company went public with a limited history of selling machines outside of the huge growth in Q4 of last year. A leader in large-scale industrial 3D printers, ExOne won't report official Q4 numbers until next week. Until a company conducts the first quarterly report after going public, investors should always be careful that the roadshow hype might differ from reality. When the company reports next week, investors will be very keen on guidance for Q1 and 2013 as the quarter will be nearly complete.
At nearly $32, the stock trades considerably above the $18 IPO pricing and $23.50 opening price. The market cap is now only $425M making it by far the smallest stock in the group.
ExOne is rapidly building out Production Service Centers (PSCS) in order to provide fast rapid prototyping parts to industrial customers. The plan is to use the IPO proceeds of nearly $100M to expand from five global PSCs to 15 by 2015. These centers help bring in new machine customers making them invaluable for growth.
Ignored Rapid Parts Maker
Even with the hype over rapid prototyping, Proto Labs (NYSE:PRLB) typically gets left out of the discussion. The fast manufacturer of real custom prototype and low-volume injection molded or CNC machined parts still though trades as if the market hasn't forgotten it.
For example, the $1.4B company has only around 950 followers on Seeking Alpha. Conversely, 3D Systems has already cleared 16,000 followers and even smaller upstart ExOne has surpassed 1,600 already.
While short on followers, the company isn't lacking for growth. Analysts forecast earnings to expand by 30% per annum over the next five years with revenue growth of 25% in 2013. The company has consistently beat earnings estimates in the last four quarters by nearly 20% showing a general under appreciation for the growth and margin expansions.
Valuations
In general, a sector trades in the same pattern so the returns in these stocks could be virtually the same over the next 1-5 years as the market explodes in growth. An opportunity typically exists to exploit relative valuation differences in a sector and eventually to ride the leading company to outsized gains. Below is a comparison of the existing valuations of the group:

* Data on ExOne is generally not available for 2014 since the company hasn't reported final 2012 numbers.
The stocks generally trade at around the estimated growth rates making them neither expensive nor cheap.
Stock Chart
The stocks have generally traded in the same range over the last year with Proto Labs trading significantly less volatile and 3D Systems bouncing around the most. Possibly the number of followers indicates more on volatility and less on stock valuations: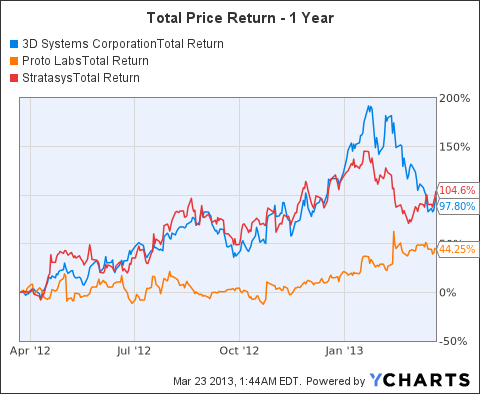 DDD Total Return Price data by YCharts
Conclusion
Even though stock prices have cooled off amongst the leaders, the sector isn't appreciably cheap. Aggressive investors though can obtain these stocks at prices close to forecasted growth rates. In good times, these stocks could trade at much higher multiples.
The CEO of 3D Systems remains the industry figurehead similar to a Larry Ellison at Oracle (NYSE:ORCL) or Aubrey McClendon at Chesapeake Energy (NYSE:CHK). The freewheeling style can be beneficial to investors at times and hurtful in other situations. Considering the company makes accretive deals, one can hardly argue with the plan. The biggest issue is whether the integration unravels at a certain period.
Ultimately investors might want to pick their industry favorite and buy on dips, as the sector will remain very volatile as with any disruptive technology. As long as these stocks continue growing earnings at 30% annualized clips, the stock prices will continue marching higher.
Disclosure: I have no positions in any stocks mentioned, and no plans to initiate any positions within the next 72 hours. I wrote this article myself, and it expresses my own opinions. I am not receiving compensation for it (other than from Seeking Alpha). I have no business relationship with any company whose stock is mentioned in this article.
Additional disclosure: The information contained herein is for informational purposes only. Nothing in this article should be taken as a solicitation to purchase or sell securities. Before buying or selling any stock you should do your own research and reach your own conclusion or consult a financial advisor. Investing includes risks, including loss of principal.