This list is made up of the top three stocks to consider for the week of March 25th, 2013. Each stock mentioned will be announcing their quarterly or fiscal year-end earnings this week, and have certain positive fundamentals that make them appetizing to the value-investor. Last week, I recommended that investors watch Nike (NYSE:NKE) and Tiffany & Co. (NYSE:TIF) which both increased 11% and 2%, respectively. The usual caveats apply, but these equities have positive analyst estimates, solid earnings and growth initiatives that make them a solid option for investors looking for value and growth.
1. GameStop Corp. (NYSE:GME)
Earnings Date: March 28, 2013
Company Profile
GameStop Corporation is an American video game and entertainment software retailer. The company, whose headquarters is in Grapevine, Texas, United States, operates 6,700 retail stores throughout the United States, Canada, Australia, Austria, Denmark, Finland, France, Germany, Ireland, Italy, New Zealand, Norway, Portugal, Puerto Rico, Spain, Sweden, Switzerland and in the United Kingdom. In addition to video and computer games, GameStop sells magazines, strategy guides, and other related merchandise. In the fiscal year ending May 2010, 48.1% of GameStop's profits came from the sale of used video game products.
The Fundamentals
GameStop is one of the most widely recognized stores among the teenage demographic and has been since the inception of video game consoles such as the PS2 and Xbox in the early 2000's. Like any company, it's really important to look at some of the numbers that the company is producing and try to determine whether or not there is potential for future growth.
With a quick ratio of .29x, debt-to-equity ratio of 0 and current ratio of 1.07x, GameStop ranks in the top 95% of its peers for financial strength in the retail technology industry. Company revenue has increased nearly every year and even more so during the recessionary period of 2007-2009. Gamestops gross margin of 29.42% is higher than 62% of its peers in the industry.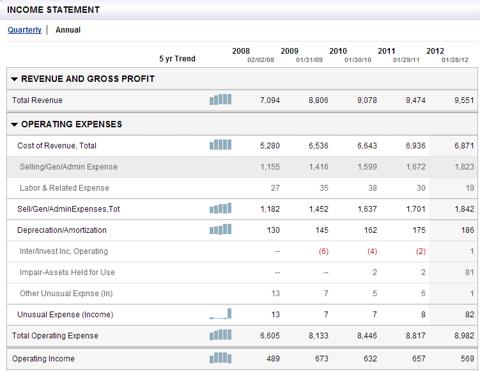 Analyst Ratings and Estimates
The rating bureaus are indicating that GameStop is a buy, given its current position. This is likely due to the aforementioned fundamentals: strong earnings, positive growth and at the top of its industry in numerous categories. Thomson Reuters, MarketEdge, and Standard & Poor's all indicate that Gamestop is a good choice to go long on. Furthermore, analyst estimates predict that Gamestop will continually increase its EPS in the coming years.
When Sony (NYSE:SNE) unveiled the Playstation 4 on February 20, the company went to great lengths to emphasize the console's digital abilities. In a follow up interview, Sony's president said that while all games would be available for digital purchase, only "some" would come on disc.
PC games shifted format from disc to digital long ago. Readers will be hard pressed to find much more than a rack or two of PC games at their local Gamestop, which could have a tremendous impact on video game retailers such as Gamestop in the future. Investors have been concerned that Gamestop's business would be jeopardized by console manufacturers implementing technology that would prevent new consoles from playing used games. Rumors suggesting that have plagued shares of Gamestop over the last year. But the risk to Gamestop's business isn't that console makers would restrict the playing of used games; rather, video games -- like music, movies and books -- are increasingly purchased in digital form

Conclusion
Overall, Gamestop Corp. leads various categories in its respective industry, and has positive analyst estimates, making it an appetizing stock to watch. Although long-term growth for the stock is uncertain, for the time being and earnings being announced on Thursday, Gamestop is a stock you should keep an eye on and potentially buy for the short-term.
2. Dollar General Corporation - (NYSE:DG)
Earnings Date: March 25, 2013
Dollar General Corporation is a discount retailer in the United States by number of stores, with 9,961 stores located in 39 states as of March 2, 2012, primarily in the southern, southwestern, Midwestern and eastern United States. The company offers a selection of merchandise, including consumables, seasonal, home products and apparel. Headquartered in Goodlettsville, Tennessee, Dollar General stores are typically in small shopping plazas or strip malls in local neighborhoods. The stores tend to locate in smaller communities than those where Wal-Mart (NYSE:WMT) would go. Most of its products are priced at more than $1.00. However, goods are usually sold at set price points of penny items and up to the range of 50 to 60 dollars, not counting phone cards and loadable store gift cards.
The Fundamentals
Dollar General will announce earnings Monday before market open. The company has low debt (a debt-to-equity ratio of .64x and debt-to-assets of .029x) and a quick ratio .18x. Furthermore, with a return on equity of 19.96% and return on assets of 9.27%, Dollar General ranks in the 82nd percentile among its competitors in the retail specialty industry. Even during the recessionary set-back, Dollar General has shown revenue growth every year since 2008- increasing 13.5% alone from 2011-2012. Moreover, Dollar General has a gross margin of 31.65% and net profit margin of 5.8%, ranking it in the top 67% of its respective industry.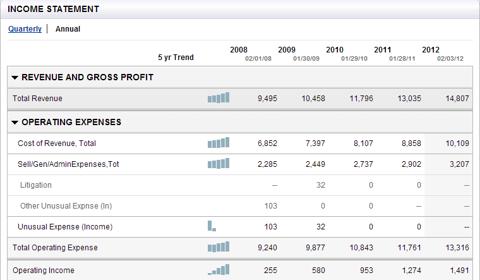 Analyst Ratings and Estimates
Thomson Reuters, SmartConsensus, and MarketEdge all recommend buying Dollar General. Dollar General is making huge investments to open new stores, as well as remodel its existing stores. The company is planning to open more than 600 new stores and relocate around 500 stores in 2013. It saw increase in its square footage growth by 7%, and expects to sustain the same substantial growth over the next few years. Dollar General is also set to make a move into other demographic areas, especially California, where the company sees good opportunity to gain market share. In the coming few years, the company is targeting at more than 11,000 new stores, including 1000 in California alone. The company sees this as a big opportunity to improve its sales and profitability, as the Californian market is currently under-penetrated.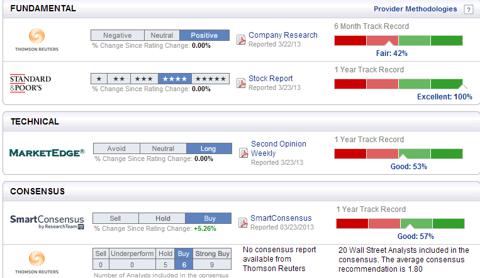 Analyst estimates predict that Dollar General EPS will grow substantially over the next 4 years, particularly in 2016, where EPS is estimated to increase from $2.37/ share in 2012 to $4.62/share in 2016.
Conclusion
Dollar General has historically had consistently good performance, along with the continuous increase in the number of new stores. These exciting growth initiatives and business renovations are encouraging signs to any investor, making this stock a viable option moving forward.
3. Accenture PLC - (NYSE:ACN)
Earnings Date: March 28, 2013
Company Profile
Accenture PLC is engaged in providing management consulting, technology and outsourcing services. It is one of the world's largest consulting firms measured by revenues and is a constituent of the Fortune Global 500 list. As of September 2012, the company had more than 257,000 employees across 120 countries, with India currently being the largest employee base for Accenture, with the headcount over nearly 80,000. Since September 1, 2009 the company has been incorporated in Ireland.
The Fundamentals
Fundamentally, Accenture is very solid. The company has no debt, and has had tremendous growth in just the last year - going from 27.3 billion in 2011 to 29.7 billion in 2012. The return on equity (63.10%), return on assets (18.17%) and return on invested capital (37.87%) are in the 95th percentile of the business services industry. ACN's goal is to make incremental improvements in operating margins, and it has been successful in doing so over the past few years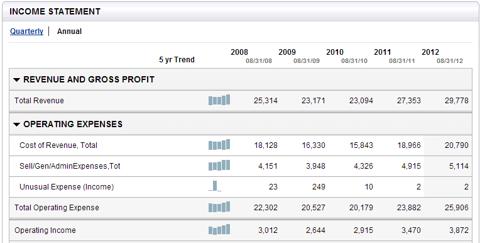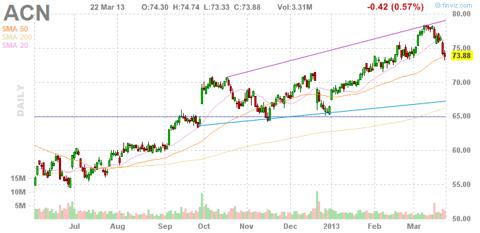 The 50 and 200 day moving averages are rising, indicating a bullish trend. The relative strength index and Moving Average Convergence Divergence (MACD) also point towards a bullish trend for Accenture.
Analyst Ratings and Estimates
Thomson Reuters, SmartConsensus and MarketEdge all rate Accenture as a solid buy with current conditions and an expected strong earnings report. Analyst also expect a significant jump in earnings per share for 2013; going from $3.84/share in 2012 to an estimated $4.26/share in 2013. Accenture is believed to start bringing in more long-term deals, which will be much more profitable and, as importantly, more predictable. Revenue growth is expected to be around 5.5%, with a slight currency headwind.


Conclusion
The company's strengths can be seen in multiple areas, such as its revenue growth, largely solid financial position with no debt, solid stock price performance, growth in earnings per share and increase in net income. These characteristics are appealing to any value investor and make Accenture a stock to consider for this week.
Disclosure: I have no positions in any stocks mentioned, but may initiate a long position in DG over the next 72 hours. I wrote this article myself, and it expresses my own opinions. I am not receiving compensation for it (other than from Seeking Alpha). I have no business relationship with any company whose stock is mentioned in this article.