On March 15, 2013, Wells Fargo (NYSE:WFC) raised $525 million by issuing 23 million shares of a new 5.25% perpetual fixed rate preferred, Series P. The new issue is currently trading OTC under the symbol WFCOL and will begin trading within 30 days from issue on the NYSE under the ticker WFC-P.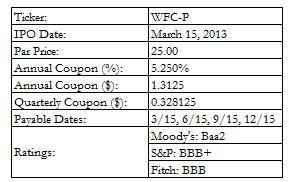 Ratings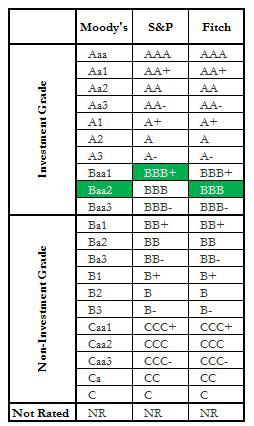 Wells Fargo's Traditional Preferred Stock has investment grade ratings from Moody's, S&P, and Fitch.
Capitalization Ratios
As can be seen in the table below, Wells Fargo is and has been a "well capitalized" financial institution.


Impact of the New Preferred
Based on the $525 million in new preferred equity and an assumed 20% risk weighting on assets, the new Series P preferred will improve both the Total Risk-Based Capital Ratio and Tier 1 Capital Ratio by 5bps and the Tier 1 Leverage Capital Ratio by 4bps.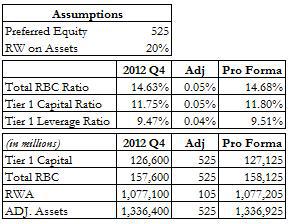 Called Trust Preferreds
The above ratios do not take into consideration the fact that Wells Fargo called four Trust Preferreds in early 2013 - $500 million 5.625% Wells Fargo Capital IX (ticker: JWF), $200 million 5.625% Wells Fargo Capital VIII (ticker: GWF), $500 million 5.85% Wells Fargo Capital VII (ticker: WPK), and $1.4 billion 7.875% Wells Fargo Capital XII (ticker: BWF).
Relative Value
Including WFC-P, Wells Fargo has issued three new fixed-rate perpetual preferreds in the past year. The other two are Wells Fargo 5.20% Series N (ticker: WFC-N) issued in August 2012 and Wells Fargo 5.125% Series O (ticker: WFC-O) issued in November 2012.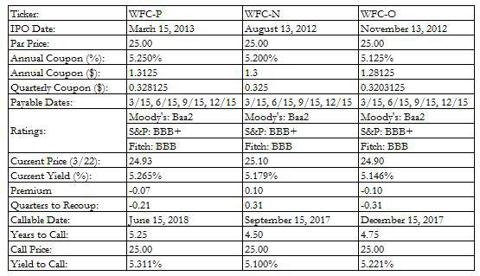 As of the closing on Friday, March 22, WFC-P was trading with a current yield of 5.265%, WFC-N was trading with a current yield of 5.179%, and WFC-O was trading with a current yield of 5.146%. Both WFC-P and WFC-O closed below par while WFC-N closed slightly above par. The three positions have similar Yield-to-Call's with WFC-P at 5.311%, WFC-O at 5.221%, and WFC-N at 5.100%.
Liquidity
All three positions have shown sufficient liquidity for the typical individual investor, though WFC-P has a very limited history. The 10-day average volume for WFC-N and WFC-O are 128,629 and 138,875, respectively. For the four days that WFC-P has been trading, the average volume has been 1,519,250 - although the position began with 2,755,800 shares trading on March 19 and declined to 592,000 shares trading on March 22.
Smaller First Dividend Payment
The accrual period for WFC-N and WFC-O for the June 15 dividend payment is March 15 to June 14. For WFC-P, the initial accrual period is March 22 to June 14, which is seven days shorter than the typical accrual period. This is outlined in the prospectus on page S-4:

With a typical 90-day accrual period, WFC-P will pay a dividend of $0.328125. Adjusting for an 83-day accrual changes the dividend to $0.302604.
It is very rare that the initial dividend will coincide perfectly with the typical quarterly dividend, so either a larger or smaller first dividend is very common. WFC-O was issued in mid-November and recently made a larger first dividend payment. Both JPMorgan's (NYSE:JPM) 5.50% Series O (ticker: JPM-D) and State Street's (NYSE:STT) 5.25% Series C (ticker: STT-C) featured larger first dividend payments that were made in December after being issued in mid-August. On the opposite side of the spectrum Regions Financial (NYSE:RF) issued its 6.275% Series A (ticker: RF-A) at the end of October and paid its first dividend on December 15, PNC Financial Services Group (NYSE:PNC) issued their 5.275% Series Q (ticker: PNC-Q) on September 17 and it paid its first dividend on December 1, and First Republic's (NYSE:FRC) 5.625% Series C (ticker: FRC-C) IPOed on November 15 and made its first dividend payment on December 28.

Beginning Of The End?
One of the biggest fears facing investors of perpetual fixed-rate preferreds is that as rates rise, existing fixed-rate perpetual preferreds will become less competitive and their prices will decline in order to keep their current yields in line with the market. WFC-P has a higher coupon then the other two fixed-rate preferreds issued by Wells Fargo in the past year. Is this the start of a trend of an increase in rates or merely a slight increase in Wells Fargo's fixed-rate preferreds?
I do not think that this is the beginning of the end for perpetual fixed-rate preferreds, and that it is just a slight hiccup in Wells Fargo's new issue yield. Wells Fargo has been issuing new preferreds at rates much lower than its peers, so a slight increase (from 5.125% in November to 5.25% in March) is not totally unexpected.
When Wells Fargo issued WFC-N, JPMorgan issued JPM-D at 5.50%. Between the time that WFC-N and WFC-O were issued, Goldman Sachs (NYSE:GS) issued GS-I with a coupon of 5.95% (rated non-investment grade) and BB&T Corp (NYSE:BBT) issued BBT-F with a coupon of 5.20% (investment grade ratings). When WFC-O was issued in mid-November, City National Corp (NYSE:CYN) issued CYN-C with a coupon of 5.50% (investment grade ratings) and First Republic Bank (FRC) issued FRC-C at 5.625% (investment grade ratings). In December, SunTrust Banks (NYSE:STI) issued STI-E with a 5.875% coupon (non-investment grade ratings), and at the end of January JPMorgan issued JPM-A with a coupon of 5.45% (split-ratings). Most recently, Citigroup (NYSE:C) issued their new 5.80% fixed-rate preferred, which has non-investment grade ratings.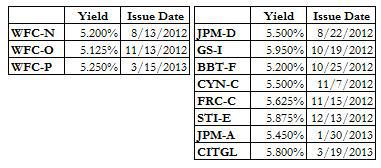 Final Thoughts
Despite the smaller first dividend payment, WFC-P is definitely a new issue worth looking into. Picking up the position below par removes any premium exposure that you would have by purchasing WFC-N (although it is minimal) and it has a higher current yield and yield to call than WFC-O. WFC-P has shown a lot of liquidity in its first days of trading, and while its slowing down a little bit, the liquidity of WFC-N and WFC-O should provide comfort that it will have sufficient liquidity in the long-run.
Prospectus: A copy of the WFC-P prospectus is available on EDGAR by either searching for company filings or by following this link.
Risks of Preferreds: Prior to investing in any bank preferreds, I recommend that potential investors make sure they understand the risks and nuances associated with the asset class. An overview of these risks is available in Navigating The Risks Of Buying Bank Preferred Stocks.
Ticker Reference Table: To help find preferred stocks on your trading platform, please see the Preferred Reference Table that I have posted.
Disclosure: I am long WFC, BBT, C, CYN, FRC, GS, JPM, PNC, RF, STI, STT. I wrote this article myself, and it expresses my own opinions. I am not receiving compensation for it (other than from Seeking Alpha). I have no business relationship with any company whose stock is mentioned in this article.
Additional disclosure: This article is for informational purposes only, it is not a recommendation to buy or sell any security and is strictly the opinion of the author. Investors are strongly encouraged to do their own research and discuss potential investments with an investment professional.