Presenting at an industry conference last week, WPX Energy (NYSE:WPX) provided an update on what the company believes to be its "major discovery" in the Niobrara Shale in the Piceance Basin.
In January, WPX announced its successful horizontal test in the Piceance Niobrara which, according to the company, indicated 20-30 Tcf resource potential on the company's 180,000 acres in the play. According to WPX, the Niobrara and Mancos tests show "hydrocarbon saturation across tremendous thickness in a highly over-pressurized environment… The potential of this new resource is huge…" WPX's resource estimate is indeed quite staggering and, if proven up by further exploration, would easily compete with the most productive areas in the Haynesville Shale in terms of resource per section.
Recently, the rich stream of news on the Niobrara has primarily been related to several horizontal plays in the Rockies targeting oil (the DJ Basin Niobrara play has already proven to be a major success and is moving towards full development mode). WPX's announcement relates to a play in the same geological formation but in a different area, in the Piceance Basin. The play targets natural gas.
Does North America Need Yet Another Natural Gas Shale?
It certainly does if natural gas can be extracted and delivered to end users at a competitively low cost. The Rockies region has a major advantage: pipeline takeaway capacity for its gas is ample and connects the area to a variety of consuming regions. From a supply cost perspective, early production results for WPX's test are very impressive and suggest that the emerging play may be competitive with the most productive gas shales in North America.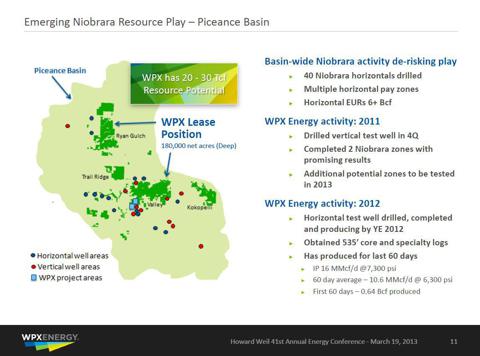 (Source: WPX Energy March 19, 2013 Investor Presentation)
WPX's Niobrara horizontal well is located on the company's existing Piceance Valley acreage in Garfield County. It was drilled to a total vertical depth of 10,200 feet with a 4,600-foot horizontal lateral. Drilling operations commenced in August 2012 during which the company successfully recovered 535 feet of continuous core. Completion operations, including 17 frac stages, were completed in December. The horizontal test followed a successful vertical Niobrara test that WPX drilled in late 2011.
The discovery well produced an initial high of 16 MMcf/d at a flowing pressure of 7,300 pounds per square inch. Subsequently, the well was choked back "substantially" to reduce bottomhole pressure drawdown and maximize recovery. During the first 60 days on production, the well produced at an average rate of 10.6 MMcf/d. According to WPX's CEO Ralph Hill, if the well's performance stays on target, its EUR may end up in the 7-10 Bcf range (in its presentation at the conference, WPX used a EUR estimate for the play - clearly very preliminary - of "6+ Bcf"). WPX has not specified the liquids content in gas being produced, however, based on results in the area from other operators, gas may have high Btu content.
During the company's fourth quarter 2012 conference call a few weeks ago, CEO Ralph Hill commented:
What we're seeing right now has the ability to be bigger than we thought.... As we move farther east in the basin, the pressures go up and the depths go up a little bit…Typically, depth and pressure are better for you…. I believe those numbers will trend higher.
In terms of well cost, WPX believes that in development mode $6-$7 million drill & complete cost should be achievable for wells with ~10,000-foot vertical depth and ~5,000-foot horizontal lateral (in appraisal mode, well costs are substantially higher due to significant amount of geo-science work involved).
Testing Is Gaining Momentum
According to WPX, approximately 40 vertical and horizontal wells have been drilled to the Niobrara in the Piceance Basin to date. While results have varied, some tests have been encouraging. Drilling results have been in good correlation with wells in other areas in the same geologic formation.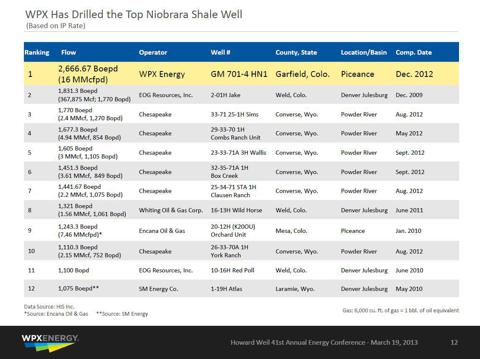 (Source: WPX Energy March 19, 2013 Investor Presentation)
WPX's January press release quoted Ralph Hill saying:
This exploratory work in the Niobrara and Mancos shales of the Piceance was a logical follow-on to our previous Mancos shale discoveries in the San Juan Basin. In the latter half of 2010, we drilled two horizontal discovery wells there that produced at high rates from the same reservoir that we're delineating in the Piceance. The San Juan results already added 1.3 trillion cubic feet of proved, probable and possible reserves to WPX. Based on the early indications from this Piceance discovery, we're talking about the potential to ultimately more than double our current 18 trillion cubic feet equivalent of 3P reserves.
WPX's test is not the first reported success in the Piceance Niobrara. Encana (NYSE:ECA) has drilled several successful wells in the play. Its first two tests in Garfield County, the Orchard Unit 20-12H and Satterfield Federal 10-3H, have been on production for over three years.
The Orchard Unit 20-12H was drilled to a true vertical depth of 8,531' and completed with 18 frac stages in a ~5,000' lateral. The slick water completion used 3.3 million lbs of sand. The well tested in 24 hours with 7.5 MMcf/d of 1,170-Btu gas at a flowing pressure of 3,100 psi on a 0.22" choke.
The Satterfield Federal 10-3H was drilled to a true vertical depth of 8,943' and completed with 20 frac stages in a ~5,000' lateral. The slick water completion used 4.3 million lbs of sand. The well tested in 24 hours with 6.3 MMcf/d of 1,170-Btu gas at a flowing pressure of 2,250 psi on a 0.375" choke.
With natural gas prices as low as they have been recently, operators' appetite to commit capital to dry gas exploration has been very limited. Still, appraisal drilling in the play appears to be moving ahead. WPX plans to drill four additional Niobrara test wells this year. The drilling plan is designed to prove up adjacent acreage and test the repeatability of the play on additional acreage the company owns. According to WPX, other operators also are delineating the extent of the resource on the eastern and western margins of the basin. The strong results and very positive commentary from WPX may encourage other operators to accelerate or initiate their own Niobrara assessment programs in the Piceance.
Existing Infrastructure Enables Quick Development
WPX commented during the company's fourth quarter conference call:
We know that as we continue to delineate that field and understand more about it we should be able to move in a fairly quick manner to development mode at the right time.
Indeed, production infrastructure in the Piceance is already in place. WPX has drilled more than 4,000 wells in the Basin, mostly in the tight sandstones of the Williams Fork formation. The target Niobrara prospect lies underneath the Williams Fork (the Niobrara and Mancos shales are generally located at depths of 10,000 to 13,000 feet. The Williams Fork is a shallower formation, generally located at depths of 6,000 to 9,000 feet).
WPX already has extensive processing and takeaway capacity under contract in the Piceance. Gas produced from the Niobrara and Mancos shales can be processed without modification to existing gas treatment facilities.
Significant ownership of operating infrastructure has allowed WPX to become one of the lowest-cost producers in the Piceance. WPX has developed a state-of-the-art water management system that helps the company to reduce operating expenses. WPX has access to cryogenic processing capacity in the Piceance for up to ~1.2 Bcf/d, including a new cryogenic gas processing facility being developed in the area that should be ready by next year and will add 300 MMcf/d of wet gas processing capacity. WPX commented on their conference call:
We like that we have 2.5 Bcf a day of excess transport capacity out of the Basin… And there's no infrastructure problems out there, and that's a great thing to hear.
Advanced Technology Is Key To Unlocking The Play's Potential
While the very first horizontal well drilled by WPX was highly successful, many more tests will clearly be required before consistency of results and commerciality of the play can be confirmed. Success clearly cannot be taken for granted. The Niobrara formation in the Piceance is deep, very hot and strongly overpressured. This creates formidable challenges during drilling and completion. WPX highlights some of those challenges in its Niobrara drilling case study:
"One of the challenges from a geological standpoint was finding an area where the structural dip was gentle. We were looking for an area with just the right dip to make it easier to drill horizontally," says Jon Cantwell, senior staff geoscientist.

The rock in the formation is made up mostly of pelletal argillaceous mudstone, which is more than 50 feet thick and comprised of organic and calcium carbonate content.

"From the core sample, we found that the zone we selected had the rock with the best reservoir properties - the ones that would ultimately produce the most natural gas," Cantwell says.

Drilling

The team had to determine the tools and equipment necessary to drill the pilot well that could handle tremendously high temperatures - which reached up to 300 degrees Fahrenheit in certain spots.

Equipment that worked fine in shallower environments could not handle the Niobrara heat. Specific mud motors and MWD (measurement while drilling) tools fitted with internal components rated for high temperatures were necessary.

We also purchased pump parts specifically designed for the heat, along with special frac heads, electronics and logging equipment, and even batteries.

The intermediate section of the hole was tricky. "It was a very big hole to drill to 9,000-plus feet," Beougher says. "We had to experiment with different drill bits, directional assemblies and techniques to try and speed up the drilling for that interval - we ultimately used a 12-1/4-inch drill bit."

"Then, we had some issues drilling the curved portion of the well, so we starting making phone calls to other experts in our basins, including contractors from our Bakken and Marcellus assets," he says. "They offered some valuable insight into how to make the curve successful. Thanks to the expertise and experience we have across our company, we worked it out."

Completions

The completions process presented more unchartered conditions- the Niobrara formation is highly over-pressurized. The team conducted proppant embedment testing to determine how the fluids and equipment would handle the stress of 10,000 pounds per square inch.

"Reality doesn't always match theory," says Chris Caplis, a senior petroleum engineer based in Denver. "We had to make a few adjustments on the fly fairly early on, but the remaining stages went off without a hitch."

"To stimulate the well at the rate we wanted, it took a lot of research. We had to use high-temperature tools and equipment meant for such a high-pressure environment," says Jason Bundick, a completions superintendent based in Parachute, Colo.

"One solution in the completions process was in proppant selection. We couldn't go with the proppants like we typically use in shallower wells in the Piceance, so we chose ceramic sand, which is much stronger. Ceramics have higher strength, do not crush and do not flow out of the well."

Multiple tests concluded that ceramic proppants also resulted in higher permeability and higher conductivity, so the process would better capture the end result - gas molecules.

WPX also uses ceramic proppant in its oil wells in the Bakken Shale because ceramics provide superior well performance due to increased fracture conductivity.
Which E&P Companies Stand To Benefit?
Several E&P operators have strong exposure to the Piceance Basin and may benefit from the Niobrara/Mancos play's potential success. Those include:
Bill Barret (BBG)
Encana
XTO/XOM (NYSE:XOM)
Occidental Petroleum (NYSE:OXY)
Marathon Oil (NYSE:MRO)
Linn Energy (LINE)
Disclaimer: This article is not an investment recommendation. Any analysis presented in this article is illustrative in nature, is based on an incomplete set of information and has limitations to its accuracy, and is not meant to be relied upon for investment decisions. Please consult a qualified investment advisor. The information upon which this material is based was obtained from sources believed to be reliable, but has not been independently verified. Therefore, the author cannot guarantee its accuracy. Any opinions or estimates constitute the author's best judgment as of the date of publication, and are subject to change without notice.
Disclosure: I have no positions in any stocks mentioned, and no plans to initiate any positions within the next 72 hours. I wrote this article myself, and it expresses my own opinions. I am not receiving compensation for it (other than from Seeking Alpha). I have no business relationship with any company whose stock is mentioned in this article.