Silver Wheaton (SLW) is a high growth silver streaming company with a market-cap of $11 billion. It is the largest precious metals streaming company in the world. The company has 14 long-term silver purchase agreements and 2 long-term precious metal purchase agreements. Under these agreements, the company has the right to purchase all or a portion of silver and gold production at a fixed low price from high-quality mines located around the world, in exchange for an upfront payment. Other than its initial upfront payment, the company has no capital or exploration costs.
Silver Wheaton achieved a record 2012 production of 29.6 million silver equivalent ounces with record sales of 27.3 million silver equivalent ounces. This record production led the company to record financial results with revenue and cash flow increasing about 15% in 2012 over 2011.
The company implemented a dividend policy in 2011 that distributes 20% of the previous quarter's operating cash flow as a quarterly dividend. The current dividend yield is 0.90%.
The stock looks undervalued in terms of future earnings growth projections. SLW has a forward PE ratio of 13.4 and a PEG ratio of only 0.23. The low PEG ratio is based on the five-year annual expected earnings growth of 67%. The forward PE ratio is based on 2014's expected earnings per share of $2.33.
Silver Wheaton has a strong balance sheet with $778 million in total cash as of December 31, 2011. The total debt to equity ratio is only 1.92. The current ratio is outstanding at 14.31. This means that SLW has over 14 times more current assets than current liabilities. Most companies have current ratios that are only in the low single-digits.
Average cash costs for 2012 were $4.70 per silver equivalent ounce. This was 16% higher than 2011 due to higher costs from the Hudbay 777 mine which had costs of $5.90 per ounce for silver and $400 per ounce for gold.
The stock tends to rise or fall in relation to the price of silver. The stock doesn't move in lockstep with the price of silver, but it does tend to approximately follow the short-term fluctuations. This is a risk that investors need to be aware of. SLW and the price of silver lagged the market for the past 2 years. Silver Wheaton's stock was down about 30%, while the S&P 500 rose by 20% over the past two years.
The company is projecting production of 33.5 million silver equivalent ounces for 2013, including 145,000 ounces of gold. This represents a 13% increase over 2012. Looking out in the long-term, based on current agreements, SLW production is expected to increase by 79% to about 53 million silver equivalent ounces, including about 180,000 ounces of gold. The long-term increases are a result of three new mines: Barrick's Pascua-Lama project, Hudbay's Constancia project, and Augusta Resource's Rosemont project.
HSBC Holdings (HBC) is forecasting the price of silver to rise to $33 per ounce on average in 2013 and that demand will maintain an average price of $31 in 2014. Previous forecasts called for a price of $32 in 2013 and $28 in 2014. The current price of silver is $28.70 per ounce. HSBC gave the following reasons for increased demand: higher industrial demand, steady investor appetite for hard assets, strong coin and bar purchases, and bottoming out of jewelry demand.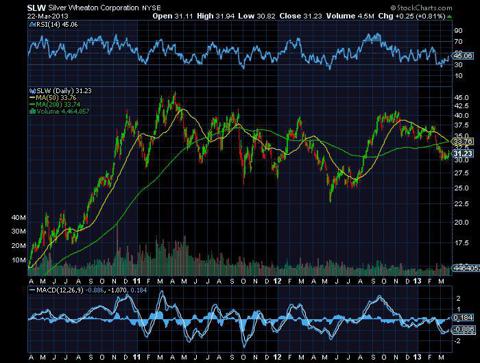 Given the company's attractive valuation and high five-year projected annual earnings growth of 67%, I think that Silver Wheaton is likely to outperform the market in the long-term. The 15 analysts covering the stock have a one-year price target of $47.30. The stock is currently trading at $31. If the company achieves its expected earnings growth and the stock price follows this growth over time, then SLW has the potential for large gains over the long-term.
Disclosure: I have no positions in any stocks mentioned, and no plans to initiate any positions within the next 72 hours. I wrote this article myself, and it expresses my own opinions. I am not receiving compensation for it (other than from Seeking Alpha). I have no business relationship with any company whose stock is mentioned in this article.