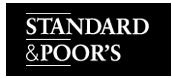 Wal-Mart (NYSE: WMT) tops Standard & Poor's latest credit ranking of US retailers, the only publicly traded company with a credit rating of AA/Stable/A-1+, with excellent business risk and minimal financial risk.
At the other end of the scale BI-LO LLC is the only firm with a D- credit rating, edging out Harry & David and Sbarro (both rated CC-). All three are rated vulnerable on business risk and highly leveraged on financial risk. The lowest-ranked publicly traded companies are Finlay Enterprises (OTC: FNLY) and Eddie Bauer Holdings (NASDAQ: EBHI), both rated CCC-/vulnerable/highly leveraged.
S&P on March 31 lowered its debt recovery rating on Eddie Bauer.
Standard & Poor's Ratings Services anticipates that the severe negative credit trends for these sectors in 2008 will continue throughout 2009, making it the 11th straight year of declining credit quality.