On Saturday afternoon I was watching the NCAA March Madness tournament. It looks like there could be a "dark horse" this year and I'm rooting for Harvard and Minnesota to advance into the Sweet Sixteen bracket. But I'll admit that I have two ACC teams, UNC and Duke, in my Final Four bracket and I would love to see my two Carolina darlings competing in the final game.
But this year, the odds are likely that there will be a "Cinderella story" and perhaps even in the Final Four. All it takes is a "hot hand" and five players with the passion to win. We'll soon find out.
Lexington Realty Trust: A Cinderella Story
Since 1973, Lexington Realty Trust (NYSE:LXP) has been a leading advisor in single-tenant commercial properties net leased to major corporations. The company commenced operations as a REIT in 1993 (its IPO was October 12, 1993) and has since been a market leader in providing owners and/or users with creative financial and occupancy solutions in the core areas of sale-leaseback financing and build-to-suit transactions.
By focusing on "nothing but net" Lexington has originated an impressive portfolio or properties leased to numerous small, medium, and large companies operating in a broad range of industries including energy, finance, insurance, technology, automotive, healthcare, telecommunications, retail, media, consumer products, and aerospace/defense.
I find it interesting that Lexington has a much smaller bench than the leading triple-net peers such as Realty Income (NYSE:O), National Retail Properties (NYSE:NNN), American Realty Capital Properties (ARCP), or W.P. Carey (NYSE:WPC). In addition, and thanks to the non-traded REIT industry, several of the teams are getting larger.
For example, I wrote an article a few weeks ago on the proposed merger of Spirit Realty Capital (NYSE:SRC) and Cole Credit Property Trust II (CCPT II). CCPT II (a non-traded REIT) has around $3.43 billion in assets and Spirit has around $3.25 billion in assets (as of Q4-12) and the proposed merger would boost Spirit's scale and diversification; however, I don't like the ill-conceived transaction. As I explained:
In my view, the Spirit/CCPT II operation does not meet these requirements and is therefore highly speculative. Therefore, I believe that Spirit shares involve considerable peril - at any price. There are too many other triple-net REITs that provide more stability and consistency. Don't let your enthusiasm for Spirit become your next "silly willy" dance.
Also, another Cole related entity, Cole Credit Property Trust III (CCPT III) has announced that the company will merge with its related advisory-based model, Cole Holdings Corporation. As I wrote in a previous article:
This is a massive business deal that will combine CCPT III's 1,014 properties (in 47 states) with Cole Holding's full-scale management platform - consisting of $12 billion of assets (managed) with over 160,000 individual investors.
However, this non-traded REIT "dream merger" could become a nightmare as American Realty Capital Properties announced last week that the company has made a competing offer to acquire CCPT III. The forced trade could mean that ARCP would win over its star REIT - CCPT III - and perhaps become the largest triple-net REIT in the growing sector. In an article last week, Dane Bowler went on to explain:
I believe the merger is likely to go through.
Unlike Bowler, I believe that Cole's all star team - CCPT III - will not go down without a fight. More on that later, but the facts remain clear: Realty Income, American Realty Capital Properties, and Cole Holdings are all becoming dominating teams and I envision a day where the triple-net REIT sector will consist of two or three $25 billion REITs and a sector that is larger than the entire healthcare sector (which now stands at $76 billion).

So while many of the larger triple-net REITs are becoming dominant in scale, Lexington has managed to stay at around 230 properties. In fact, the New York City-based REIT has reduced the number of assets from around 18 percent since 2008.

As part of Lexington's asset recycling program, the company has driven down its cost of capital thus enhancing funds for accretive acquisitions and deleveraging. Here is a snapshot of Lexington's debt reduction: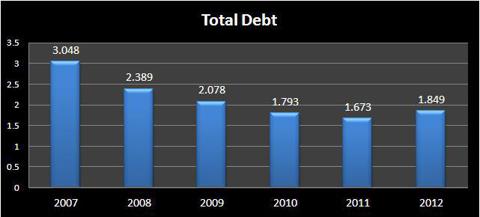 Lexington's diversified portfolio consists of around 50% in office, 23% in long-term lease, 15% industrial, 9% in multi-tenant, and 3% in specialty/retail. This nationwide investment strategy is rooted in the operation of facilities that are critical to tenants' operations and thereby much more valuable when leases expire.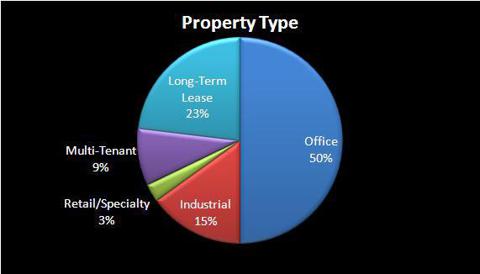 Many of Lexington's properties are well located, predominantly within suburbs of major metropolitan areas. Accordingly, this broad geographic model is illustrated with the snapshot below (Dallas, Houston, Los Angeles, Memphis, and Baltimore are the top markets where Lexington owns around 25 percent of its overall portfolio):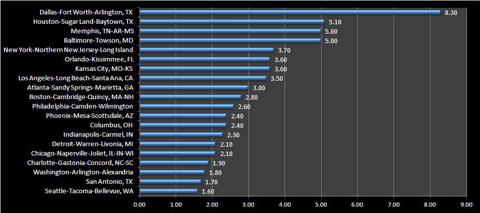 None of Lexington's tenants comprise more than 5% of overall revenues and the largest of Lexington's tenants is Bank of America (NYSE:BAC), with around 3% of gross revenues. Other major tenants include Metalsa Structural, Baker Hughes Inc. (BHI), Federal Express Corporation (NYSE:FDX), and Swiss Re America Holding Corporation.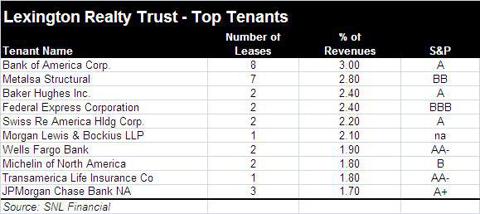 Because Lexington's operating expenses are paid by the tenants (under triple-net lease arrangements), the predictable cash flows have resulted in a soundly repeatable fixed-income model. The diversified portfolio of properties provide Lexington investors with predictable and steady revenues. In addition, a large majority of Lexington's tenants have investment grade credit ratings and that has allowed the company to maintain very healthy occupancy levels. Only 15.7% of Lexington's tenants are non-investment grade (based on revenue).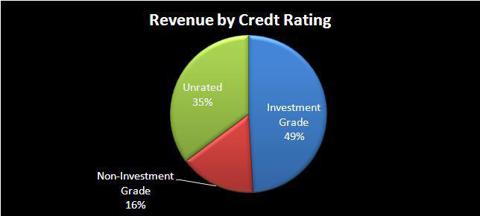 Lexington's latest quarter (Q4-12) was characterized by very strong leasing activity of approximately 2.4 million square feet of new and renewal leases signed. For the year (2012) Lexington's leasing volume hit a record of 7.4 million square feet and that is reflected in the exceptional current 97.3% occupancy rate.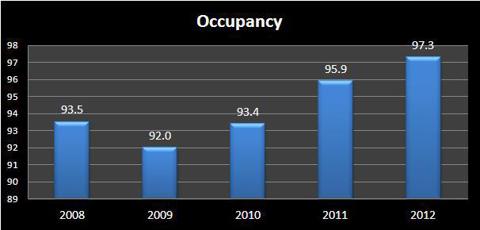 Lexington Launching Some Bombs
Like most "Cinderella stories" the lesser known characters usually come "out of nowhere" and they bring a talent unique to the peer group. Likewise, Lexington has a value proposition that is differentiated from the others in that the company invests in a variety of sale-leaseback, build-to-suit, direct purchases, and alternative finance products.
One key skill for Lexington has been its long-standing tradition of providing corporations with capital through sale leaseback transactions. Accordingly, companies free up capital to invest in its core business by selling a property to Lexington while maintaining a long-term use of the asset by entering into a net lease. Sale-leaseback transactions have numerous benefits for corporations. In addition to creating liquidity, sale-leaseback transactions move real estate assets and related liabilities off of a company's balance sheet.
Typically sale-leaseback transactions are larger transactions that provide efficient transactional economies. One recent sale-leaseback transaction was with CopperPoint Mutual Insurance Company. This $53.2 million deal was leased under a 17-year arrangement with 3% annual rent escalations. The 252,400 square feet facility was acquired by Lexington and the going in cap rate was 7.12%.
Lexington is also very active in the build-to-suit arena. The REIT participates in the development of select properties that are built-to-suit the needs of corporate tenants. Common methods for participating in build-to-suit transactions are to advance funds during the construction period as a joint venture investor or by agreeing to purchase a property upon completion of construction.
Typically build-to-suit transactions will provide the end owner (like Lexington) with a higher yield. For example, Lexington is in the process of completing a 143,000 square foot deal for Federal Express in Long Island City, New York. The $46.7 million deal is leased for a base term of 15 years with 7.5% escalations every 5 years. The site, considered a "high barrier to entry" location, will yield 8.5% (all cash) making the risk-adjusted terms highly accretive.
In addition, Lexington is underway on an 813,000 square foot facility in Rantoul, Illinois for Easton-Bell Sports. The $42.6 million deal has a 20 year lease with annual 2% rent escalations. The going-in cap rate is 8.0% making the build-to-suit project valuable to the company's organic lease origination model.
In addition to direct purchase transactions, Lexington is also active in providing alternative financing strategies such as mezzanine funding, first mortgage financing, and construction lending.
By focusing on larger individual transactions and due to the company's focused "value creation" strategy, Lexington has been able to pay out some rather attractive dividends. Starting with the triple net REITs, Lexington pays a current dividend yield of 5.06%.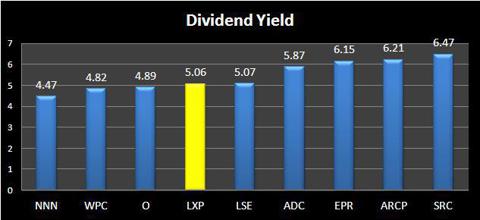 As the FAST Graph illustrates below, Lexington grew its dividend steadily up until 2009 when the Great Recession caused many REITs to cut or suspend payments.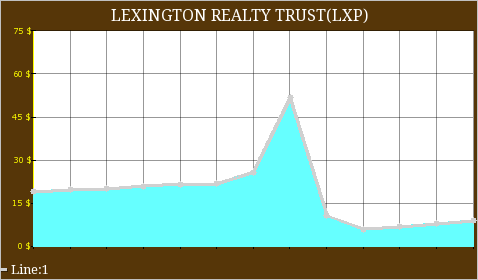 A week ago, Lexington announced that it declared a regular common share dividend for the quarter ending March 31, 2013 of $0.15 per common share payable on or about April 15, 2013. The trend for dividend growth is evident as Lexington has increased every year since the cut in 2009.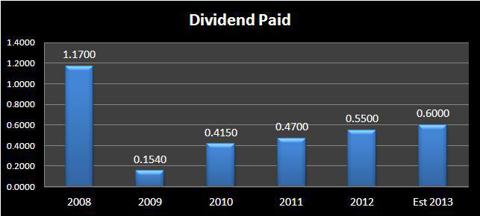 I would not be surprised to see Lexington continue the trend towards more annual dividend increases.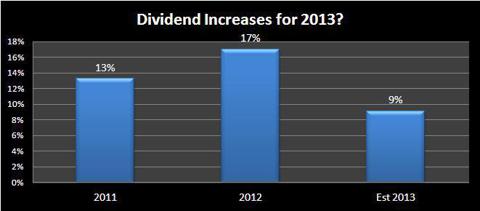 During Lexington's recent (Q4-12) earnings call, the CEO, Will Eglin explained:
With opportunities to refinance our debt at considerably lower rate acquisition that improve cash flow and upgrade the quality of our portfolio, a conservative dividend payout ratio, and moderate levels of debt, we believe we are very well positioned to create meaningful value for our shareholders and grow our dividend.
And as Elgin said, Lexington has one of the lowest dividend payout ratios in the sector: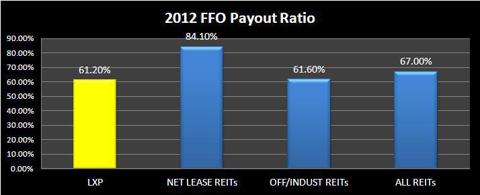 Lexington Getting Stronger
In 2012, Lexington acquired around $275 million of new investments and the company is continuing to utilize a sound mix of sale proceeds (and equity) to recycle capital. One primary objective for Lexington is to obtain an investment grade rating, so it can become even more competitive for capital. To date, there are just two triple-net REITs that are investment grade rated (by S&P).

However, Lexington is hoping that it can soon get into the elite group. As Will Eglin explained during the recent earnings call:
It's definitely the strategy. I think the main gaining item for us is to continue to unencumbered assets as our debt comes due and obviously, acquiring properties on a free and clear basis would speed that process along. Once we utilize our credit facilities to retire our March 1st debts, we have a lot of less debt maturing in the next 12 months obviously.

So, I think that we'd certainly like to make sure we've got the range in place that we want, and prior to addressing our 2014 maturities. And we would really like to have a favorable rating so that we can access the perpetual preferred market and retire a Series D preferred, which currently has a coupon of 7.55%, so that would be an obvious refinancing opportunity for us.
As Eglin alluded to, Lexington has a large percentage of encumbered assets and the snapshot below illustrates clearly how Realty Income and National Retail Properties have been able to achieve investment grade status (data as of Q4-12):
In addition, Lexington's debt-to-market cap is higher than the peer group average of 42.6%. It's also clear to see how Realty Income, National Retail Properties, and W.P. Carey have been able to sustain dividend increases for many decades.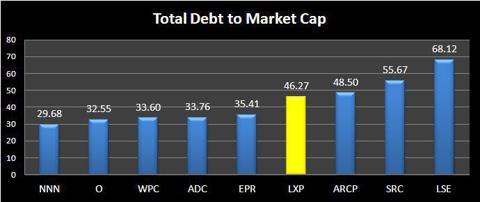 Lexington's balance sheet consists of around $2.173 billion (51%) in common equity, $1.3 billion in mortgage debt (30%), $252 million in preferred equity (5.9%), $255 million in term loans (6%), $138 million in unsecured credit (3.2%), $129 in trust preferred (3%), and $49 million in convertible debt (1.1%).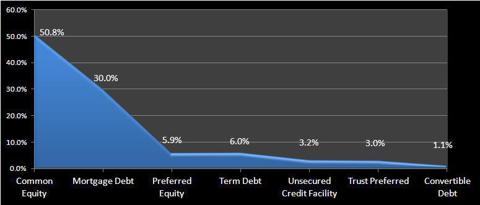 With a focus on deleveraging its balance sheet, Lexington has reduced leverage by over $1.2 billion while taking advantage of the significant refinancing opportunities in its portfolio. Last year, Lexington closed on a four-year $300 million unsecured credit facility and a $250 million unsecured five-year term loan facility, none of which are currently drawn (as of Q4-12). The company has $60.8 million of cash (year-end) with around $1.9 billion of consolidated debt outstanding, with a weighted average interest rate of 5.4% (almost all of which is at fixed rates).
Lexington has two preferred issues (Series C and Series D) and it's expected that the company will look to refinance the more expensive (Series D coupon of 7.55%) at a favorable time in the future.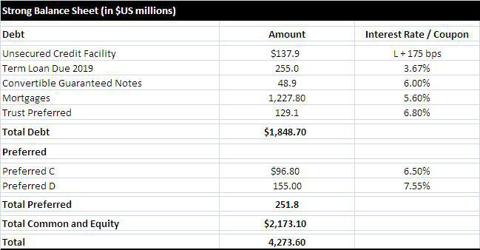 Lexington Looks Like The Under Dog
Like most triple-net REITs (except for Realty Income, National Retail Properties and W.P. Carey), Lexington was forced to cut the dividend as the company's funds from operations (FFO) fell 20% (2009) and 29% (2010).
Prior to the Great Recession, Lexington was able to generate strong cash flow and FFO. However, Lexington did start growing its dividend in 2011, and both the dividend and funds from operations have grown rapidly since as depicted on the graph below. (Chart provided by FAST Graphs™) Note: The shaded blue area represents dividends paid and the black line is the price.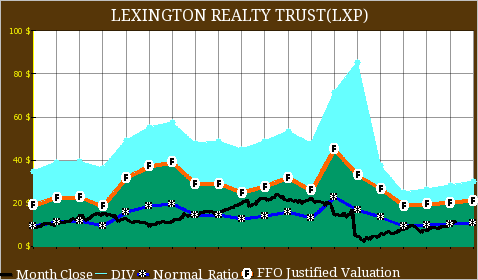 As the above chart demonstrates, the Great Recession and meltdown in the credit markets worsened, causing a significant disruption in Lexington's cash flows. But upon further examination, we can see that Lexington appears to be very reasonably valued based on traditional measurements of valuation regarding a REIT. These valuation metrics include fair value relative to its income (the pinkish purplish line on the graph), and its intrinsic value based on funds from operations (FFO - the orange line marked with an F).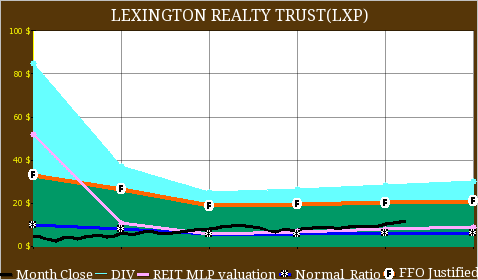 Lexington is currently trading at $11.85 per share and compared with the company's current P/FFO multiple of 11.1 times, the price appears to be an attractive entry point. (source: FAST Graphs).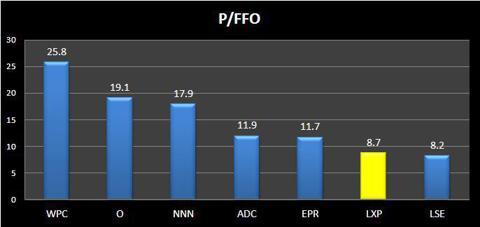 Here is a snapshot of Lexington's three-year stock performance: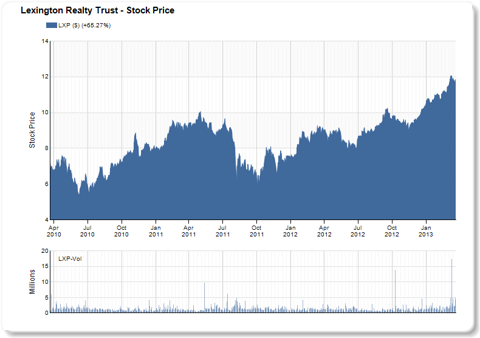 Lexington has returned 40.32% year-over-year and that is better than the peer average of 37.34%.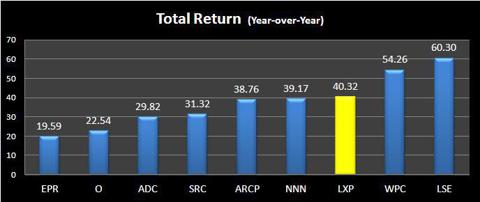 Lexington has returned 13.4% year-to-date and that is better than the peer average of 11.6%.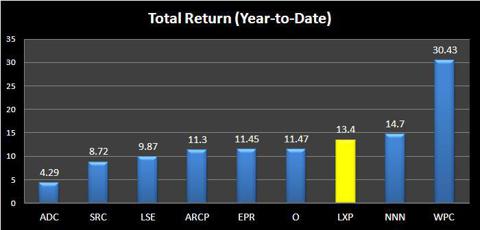 So sometimes the "underdog" can be the best dog. Although Lexington isn't the biggest triple-net REIT in the land, the smaller player has proven that it can deliver some offense and defense. That's how Warren Buffett explains it:
You don't have to be an expert on every company, or even many. You only have to be able to evaluate companies within your circle of competence. The size of that circle is not very important; knowing its boundaries, however, is vital.
Conversely, Buffett makes a strong case that owning fewer eggs in one basket can be just as attractive as owning many eggs (like Realty Income) in a larger basket. With a more limited diversification strategy, Buffett went on to explain:
Obviously, every investor will make mistakes. But by confining himself to a relatively few, easy-to-understand cases, a reasonably intelligent, informed and diligent person can judge investment risks with a useful degree of accuracy.
Although the triple-net REIT-dom is getting considerable attention with more and more consolidation and M&A-related activity, Lexington appears to be a "Cinderella" REIT worth buying. In fact, Will Eglin, the company's CEO made reference to the recently announced Spirit/CCPT II merger on the latest earnings call:
We did look at the call portfolio and we're absolutely thrilled that the market has reacted well to the Spirit's purchase. The net lease sector is getting bigger and bigger and all the companies seem to be having good amount of success. So I think that bodes well for everyone in the space. From our standpoint, even that's in our mind the weighted average lease term in that portfolio was maybe around nine years.

We're very focused on longer-term leases to try to extend our weighted average lease term. And given the amount of secured debt in that portfolio that would have been I think a step away from what we're trying to accomplish. So it wasn't a good fit for us, but it seems to fit with Spirit very well. So that's good news for Spirit shareholders and everybody who invested in the net lease sector as well.
I recommend Lexington's common shares ($11.85) as well as the Series C Preferred Shares (6.5% coupon). The dividend yield of 5.06% is safe and I expect to see the company continue to grow its dividend this year. Lexington has a proven management team and, unlike some of the larger peers, Mr. Market will not force Lexington into growing too rapidly. This is a game plan that is more predictable and the focused strategy of maintaining cash flows generated by "nothing but net" is what makes March Madness so exciting for Lexington investors - surely this SWAN (sleep well at night) REIT will become a Cinderella story. Fire up the net, Baby!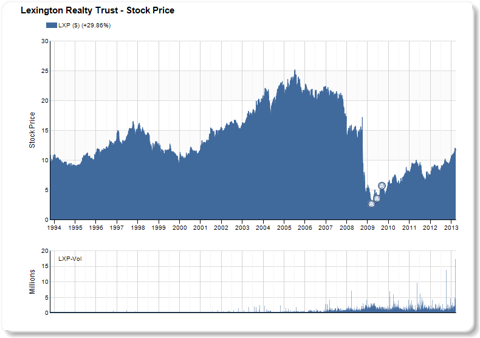 Source: FAST Graphs, SNL Financial, Lexington Website
Disclosure: I have no positions in any stocks mentioned, and no plans to initiate any positions within the next 72 hours. I wrote this article myself, and it expresses my own opinions. I am not receiving compensation for it (other than from Seeking Alpha). I have no business relationship with any company whose stock is mentioned in this article.