Shares of steel giant ArcelorMittal (NYSE:MT) closed at $13.55 on Friday, March 22, 2013. The stock is now down 20% in the past 3 months. It's down a jaw-dropping 88% since its highs above $100/share in June 2008. This is due to a confluence of factors, not the least of which was the financial crisis and the continued relatively weak steel demand (1).
Surveying general media and analyst positions, it seems that few investors advocate positions in steel at this time. X has suffered since the beginning of 2013 (down from $26 to $19.8), while NUE (with a stronger financial position and better exposure) is doing better.
So, why should you invest in MT?
In summary, because the upside risks at this price far outweigh the downside risks. On January 22, 2013, MT was trading at $17.95. The percent return just with a bounce to that price would be considerable (32%). A position in January 2014 $13 Call LEAP options at $2 would yield gains of nearly 200% at a return to $18 a share.
Let's take a look at why now is the time to buy if you're a trader (with a tight stop), but also why this company provides a great longer term investment for the buy-and-hold capital allocater.
Company Fundamentals: Good Cost Controls
MT recently held an investor day conference, providing investors interesting perspectives on the company's position and future prospects from the executive team. The team admits that "in recent years, the returns from our business have not been satisfactory" and offers both explanation and their ongoing active strategy to improve shareholder return (2).
The executive team is employing aggressive cost controls and corporate restructuring to raise EBITDA per ton back to $150. This is not only dependent on steel prices. MT has 80% of its steel EBITDA generated from businesses that make up about 55% of its shipments (2). So, clearly there is room to focus on these more profitable segments, and trim costs and positions in the less profitable areas. I'm happy to say management is aware of this, and acting accordingly.
Steel Market Outlook: Cautiously Positive
There are internal factors that MT can control - like focusing on their higher margin businesses. But, so much of company performance and investor psychology are tied to perception of the larger steel industry and steel demand
In this, things are looking positive. MT is the world's largest steel producer, active in more than 40 countries, and it has a unique perspective on the progress of global demand. From the CEO Mittal:
We faced the challenges of shrinking markets in 2012, but since the second half of the year, the pace of decline has been slowing. And now we are in a positive territory for the first time since mid-2011 (2).

I am optimistic about the demand outlook. We believe China is many years away from its peak steel demand. The U.S. is in a new phase of growth driven by competitive energy and labor cost, cash-rich corporations are looking to invest, consumer confidence is rallying and residential construction is showing clear signs of recovery off a low base.
He continues to say demand in Europe is weak, and will remain weak heading into 2013. But, he makes an interesting note about inventory levels (2):
The recession in Europe led to an underlying real demand decline of 4.5%. De-stocking reduced apparent demand by a further 4.5%. So, apparent demand fell by 9% in total during 2012.
Indeed, in December 2012, Europe showed the lowest year end inventory levels (measured in months-of-supply) in 6 years (2). Although CEO Mittal conservatively estimates that Europe may continue decreasing inventory levels by up to 1.5% in 2013, this drop will have to stop and reverse eventually.
In summary of global steel demand, Mittal says (2):
Overall, we forecast global apparent steel consumption will increase by 3% -- between 3% and 3.5% this year. Against this backdrop, we expect our own shipments to increase between 2% and 3% on a global basis.
Debt Reduction and Improving Balance Sheet Health
MT had total debt of $20.1 billion last quarter, with a current net debt of $17 billion, and a medium-term target of $15 billion.
From the CFO (2):
Once we have financed maintenance CapEx, as well as mining growth, then, all remaining free cash flow will go to reducing our net debt until such time that we are at or below $15 billion target.
This will be the lowest overall debt level of the company since the merger of Arcelor and Mittal. The CFO addressed this target in relative detail. Basically, he says that at a ratio of net debt to EBITDA (using an EBITDA average for all years since 2004, i.e. both a "boom" and "bust" cycle), $15 billion is a level that "we can support in any steel environment" and "warrants an investment grade credit rating" (2).
Further, MT is in a good position to deal with upcoming maturities in their debt. Due to their aggressive cost controls and overall lower debt burden, the liquidity profile has improved significantly.
A note on credit ratings. All agencies currently rate MT at one notch below investment grade (2). Some of these downgrades occurred when MT was near $22-23 billion in net debt, when also faced with a worsening steel environment. Obviously, it is very hard to predict rating agency changes, but in the face of significantly improved debt burden, a clear financial plan, and a cautiously improving steel outlook, I would not be surprised to see one or more credit agencies come out and raise MT debt back to investment grade in the coming months or quarters.
Asset Sales as Value Creation
One of the ways in which MT has been able to lower its overall debt burden is asset sales. There has been some perception in the media that these asset sales are the act of a desperate company selling off its crown jewels to decrease a crushing debt burden. This is simply not the case.
Specifically, let us look at the recent Canadian asset sales, known as the AMMC Operations (Arcelor Mittal Mines Canada). MT invested $1.4 billion to add 8 million tons of capacity at AMMC. They then effectively sold less than half that expansion for $1.1 billion (2, 3). Effectively, this values their expansion at $2.2 billion - a 57% increase on their invested capital. Mittal goes on to say, "we can then reinvest these proceeds, plus a bit more, to create a 15 million ton annual production operation in Liberia. This, in my view, is a value creation." (2).
Why Enter the Stock Now?
Even long-term fundamental investors should care about the price and timing of their initial stock purchase. Traders may focus solely on time-price metrics for their buy and sell points.
MT stock has fallen to levels it touched briefly in June 2012. After that, it bounced. As such, this could represent a good entry point. Ignore the short-term downtrend - focus on the longer-term channel and possible double bottom. The low of the red candle in June 2012 was $13.47, not far from the current $13.55 price target.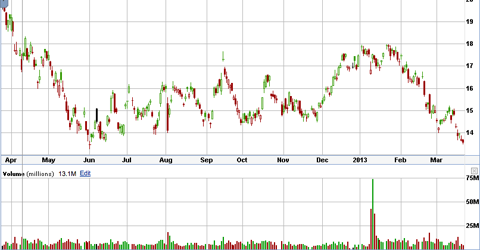 Review of Positive Catalysts
Bottoming and cautiously improving steel fundamentals
Improving EBITDA per ton secondary to corporate efficiency
Overall improving financial position
Lower debt burden, with additional benefit of decreased interest expenses
Possible future rating agency upgrade
Several of the above combining to cause better EPS (this would be delayed), and EPS projection (possibly improving by the end of 2013).
Trade structure
Due to a combination of these factors, I initiated a long stock position in MT on Friday March 22, 2013. I think there is compelling value at these levels. As a medium-term trade, to increase leverage I also purchased Jan 2014 and Jan 2015 $13 LEAP call options. As detailed in the introduction, at $2 per contract, the Jan 2014 $13 LEAPs can provide 200% upside if the stock returns to levels it was at 2 months ago. As a trader, I will monitor the position closely and possibly stop out of the short-term position if the price breaches and closes convincingly below $13.45. Note that this is a very tight stop. Providing possible great upside for limited downside. As a longer-term stock position, I think there is compelling value at these levels, and will not allow my position to stop out on a short-term downdraft.
Disclosure: I am long MT. I wrote this article myself, and it expresses my own opinions. I am not receiving compensation for it (other than from Seeking Alpha). I have no business relationship with any company whose stock is mentioned in this article.
Additional disclosure: I am long MT and MT LEAP Call options as detailed in the article. This article is not an endorsement to buy this stock or options, simply a description of what I am doing. Please do your own due diligence.