Chesapeake Energy (NASDAQ:CHK) is an oil and natural gas E & P company. It started life as a natural gas only E & P company. It was so successful at natural gas E & P that it is now the number two producer of natural gas in the US. When natural gas prices fell dramatically a year of two ago, CHK profits did too. One of the reasons was that it did not have enough natural gas hedges. Since that time CHK has become a larger producer of oil and NGLs in a clear attempt to diversify from just natural gas. It has about 50% natural gas hedges now. It has further adopted a goal of becoming one of the biggest oil and natural gas producers in the US (if not the biggest). In this vein it pays a 1.72% dividend in emulation of its role models Chevron (CVX) and Exxon Mobil (XOM). As its profits improve it is sure to raise this dividend to become a prominent income and growth stock.
As of Q4 2012E only 30% of total production was liquids production (66% oil and 34% NGLs). This was responsible for 62% of revenue in Q4 2012. However, it is not the only source of revenue; and natural gas, which is approximately 70% of production, will provide large increases in profit expectations, if the price of US natural gas keeps going up.
From the April 20, 2012 natural gas price nadir of $1.90/Mcf, natural gas prices have risen to $3.96/Mcf today March 25, 2013. That's more than double. Holding the price of oil steady at $95 per barrel (for the purposes of this estimate), CHK estimates that oil and gas revenues will be $7.090B with natural gas at $4.00/Mcf; but they will be only $6.040B with natural gas prices at $3.00/Mcf. $1B in extra revenues is significant. This translates into approximately an extra $320 million in net income. Again this is nothing to sneeze at; and both of the above figures take CHK's hedging into account.
CHK's natural gas is 50% hedged at approximately $3.62/Mcf. Oil is 85% hedged at about $95.45 per barrel. If oil goes down a few dollars, it should impact CHK much less than if natural gas goes up, since natural gas is much less hedged. This means that the current conditions are actually favorable to CHK. Nymex Light Sweet Crude prices are currently $94.15 at the time of this writing. CHK's $85% hedges at $95.45 would bring this figure up above $95 per barrel. In essence this means that CHK should make a lot more money on natural gas than it has recently. For instance CHK realized only $2.07/Mcf of natural gas for Q4 2012. The results from FY2013 promise to be much better.
The first thing that makes one believe FY2013 results will be better is the current US stocks of natural gas (as reported by the EIA). As of March 15, 2013, these stand at 1,876 Bcf. This figure is down -21.1% from the 2,378 Bcf in storage a year ago at this time. It is still 9.5% above the five year average for this time, but the huge improvement has been welcomed by the natural gas industry.
By the summer, natural gas in storage might be even with the five year averages. Of course, no one knows in advance exactly what the US natural gas prices will be in 2013 and beyond. However, the short term EIA energy forecast tends to back up the current price of US natural gas fairly well. The EIA estimates that the Henry Hub Spot price of natural gas will average $3.51/Mcf in 2013 and $3.74/Mcf in 2014. This won't excite CHK shareholders, but it should reassure them that better times are ahead for CHK's natural gas realized prices in coming quarters.
CHK is also working hard on its finances. It recently announced it had priced an offering of $2.3B of Senior Notes. The prices were: $500 million in 3.25% Senior Notes due in 2016, $700 million in 5.375% Senior Notes due in 2021; and $1.1B in 5.75% Senior Notes due in 2023. These notes are all expected to be issued on April 1, 2013.
Some might think, "oh no! Chesapeake is borrowing more money again.". However, this is rather a case of CHK calling in some of its more expensive notes by first funding the payoffs of those notes by this issuance. It plans to purchase its 7.625% notes due in 2013, its 6.875% senior notes due on 2018, and its 6.775% Senior Notes due in 2019. In sum this is a good business move to retire more expensive debt through the issuance of lower cost debt. Shareholders should be delighted. The savings should go substantially to the bottom line for CHK.
On top of this CHK has great proved reserves of 19.6 Tcfe (using the 10-year average Nymex strip) with about 3.9 Bcfe/d of production. It also has 15.0 million net acres of leaseholds in some of the most prolific unconventional oil and gas fields in the US. This should provide it with untold probable and possible reserves (or as yet unaccounted reserves).
CHK is in the #1 or #2 position in 10 leading plays in the US. In FY2012 alone CHK added 5.0 Tcfe in proved reserves through the drill bit at a drilling and completion cost of $10.92/boe. This is just the tip of the iceberg for CHK. CHK has an FPE of 10.96. Plus it has a next five years analysts' average EPS growth forecast per annum of 47.40%. You don't often find this number together with a $13.16B market cap and a $26.68B enterprise value company. If this EPS growth figure is approximately correct (and recent numbers from CHK indicate that it likely is correct), CHK stock stands to triple at least in the next 5 years. That's a good investment in almost anyone's book.
Consider also that a national natural gas for transportation bill would light a fire under natural gas prices. Plus a number of LNG factories are scheduled to go online in 2015 and 2016 in the US and Canada. When they do (or even as the time of their opening nears), US natural gas prices are likely to go up considerably. Electricity generating utilities are also using more natural gas. This is partly in an attempt to save money, but it is also in an attempt to produce fewer pollutants. Many think electricity utilities will continue to use higher levels of natural gas, even if natural gas prices go up considerably. Few think a big reversion to coal will be seen. The Democratic party is strongly "green" at this point in time. Some local governments with strong "green" contingents are also converting their transit systems to natural gas from diesel. CHK and others are helping to develop a CNG (compressed natural gas) refueling network across the country on the highway infrastructure (especially in Oklahoma).
All told CHK is a buy. With its recent move downward as oil prices fell, it is even more of a buy.
The two year chart of CHK provides some technical direction for this trade.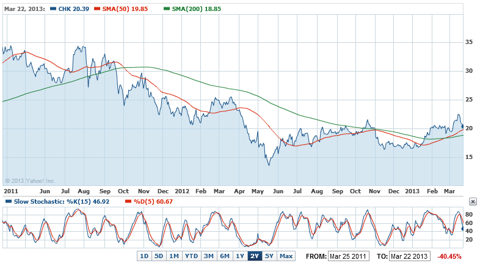 The slow stochastic sub chart shows that CHK is neither overbought nor oversold. The main chart shows that CHK has recently started a new uptrend. The price line is now butting against good support at about $20 per share. Since CHK's fundamental and fiscal data are all improving, it seems highly likely that CHK will bounce off this support to resume its uptrend. Not only this, but CHK now pays a 1.72% dividend. It will likely raise that soon after it gets its debt level below $9.5B (its 2013 goal). A raise to 2.5% or above is expected by some. Having Archie Dunham as the Chairman of the Board, probably makes this a strong likelihood. CHK seems to be headed steadfastly in this direction, especially with a CAPEX budget target of about $6.4B for 2013E. Remember with $4/Mcf natural gas and $95 per barrel oil, CHK will have about $5.13B in operating cash flow. CHK is a buy. CAPS agrees with me; and it gives this former leper a four star rating (a buy).
Investors should keep in mind that the EU economic situation is worsening. This will have a negative impact on the US economy in 2013. The payroll tax hikes (and other additional taxes on the "rich" in January 2013) will negatively impact US 2013 GDP growth. The sequester activation on March 1, 2013 will be another negative impact. The total of all of these could subtract several percentage points from US GDP growth in 2013. It could mean a US recession. In a US recession, the stock market would surely fall significantly. This means that investors would do well to average into almost any stock they buy over the whole of 2013. In this way they should get a good entry point on average for the stock. Admittedly CHK is a hard one to gauge. Its growth rate could cause the stock to skyrocket at almost any time. It is sometimes hard not to buy when the price seems low. Still investors and advisors should remember the Prudent Investor Rule.
NOTE: Some of the fundamental financial data above is from Yahoo! Finance.
Good Luck Trading.
Disclosure: I have no positions in any stocks mentioned, but may initiate a long position in CHK over the next 72 hours. I wrote this article myself, and it expresses my own opinions. I am not receiving compensation for it (other than from Seeking Alpha). I have no business relationship with any company whose stock is mentioned in this article.