Allegiant Travel Company (NASDAQ:ALGT) has a leg up on its competition. While airlines like UAL Corporation (UAUA), AMR Corporation (NASDAQ:AMR), and Delta Air Lines, Inc. (NYSE:DAL) are cutting back on the number of flights offered, Allegiant is actually adding new routes and growing profits quite impressively. The stock has been a strong performer in the ZachStocks Growth Model which currently has an unrealized gain of 23% in this position.
The strength is primarily due to the company's decision to keep fuel costs unhedged. While this strategy can certainly add some volatility, the most recent trends in fuel prices have certainly benefited ALGT. Currently the economic slowdown has carriers who cater more towards business travelers feeling the pinch. Not only is business travel slacking, but lower fuel costs don't have as much of a positive effect. That is because hedges at much higher rates now register losses.
Allegiant has taken some strengths from the famous Southwest Airline playbook. Both firms strive to be the low-cost provider and are willing to cut corners in order to make each ticket affordable to customers. Allegiant does not serve free snacks, and even charges extra for priority boarding and coveted aisle seats. But the strategy pays off as customers continue to book flights regardless of the economic backdrop. In an interesting side-note, one analyst I read speculated that $33 of the average $107 per ticket is from these ancillary fees.
While large hubs may be profitable for competitors such as Delta, Allegiant has decided to stick to small, off-the-radar locations in the Northern United States. Destinations are primarily vacation getaways such as Las Vegas, Phoenix, Ft. Lauderdale, Orlando or Tampa. Since the company sticks primarily to small hubs with little competition, it usually enjoys relatively strong pricing power and avoids bidding wars.
Another strength for Allegiant is additional revenue from referrals. Similar to Expedia Inc. (NASDAQ:EXPE), Allegiant offers deals on hotels, car rentals, and attractions like theme parks or sight seeing. This helps to diversify revenue should fuel prices cut into profits in coming months.
One tactic the company uses to combat rising fuel costs is to cut the number of flights. But currently the low oil prices are the primary driver of the company's success. In December, the average fuel cost per passenger was $30. This compares to roughly $60 in the second and third quarter, and $55 in the first quarter of 2008.
Allegiant boasts a very healthy balance sheet with nearly $175 million in cash and short-term securities (as of Dec 31). The company used cash flow to pay down debt from $70.1 million at the end of the third quarter to $64.7 million at year end. The goal is to get debt to near $25 million by the end of 2009. At the same time, the company's board has approved a new stock repurchase program of $25 million. While the company has no contractual obligation to actually go through with repurchasing the shares, it appears management is making wise decisions with capital to benefit shareholders.
Based on expectations for this year and next, the company is still trading at a relatively attractive multiple. Analysts are forecasting $4.16 for 2009 and $4.27 for 2010. And yet the stock holds a forward PE of just over 11. I believe the stock still represents an attractive opportunity as a rebounding economy could push earnings much higher than expectations.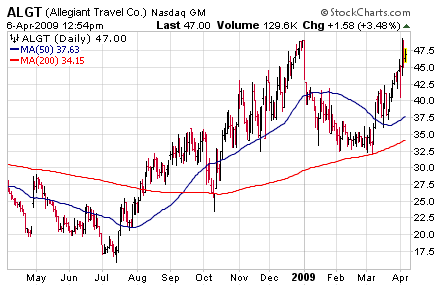 Disclosure: Author has long position in ZachStocks Growth Model.