We have witnessed two large gap down moves in Ulta Salon, Cosmetics & Fragrance, Inc. (NASDAQ:ULTA) this year, and the volume on those two gaps was huge. There was clearly serious dumping of shares. This stock was certainly a Wall Street darling growth stock since the 2009 lows of $5, as the stock increased to little over $100 in the process. Has Ulta's big run come to an end?
Earnings highlights
Ulta reported earnings and sales above analyst consensus estimates, but provided weak guidance. Earnings were up 37% with revenue growth of 30% over the same period last year. For the year, earnings increased 40% with revenue growing 25%. Those are some compelling growth levels. However, the company guided first-quarter earnings and revenue well below analyst expectations. Ulta's first-quarter earnings forecast was $0.60 to $0.63, below analyst expectations of $0.72. Revenue forecast was $568 million to $577 million, below analyst estimates for $579.7 million. Mid-range of those forecasts would represent 14% earnings increase and 21% revenue growth.
In addition, comparable-store sales slowed down in the fourth quarter to 8% from 11.5% in Q4 of 2011. And that growth is expected to further slow down this year, to a range of 4% to 6%.
On the other hand, Ulta is looking to accelerate store openings this year. The company opened 102 new stores in 2012, and plans to open 125 stores this year. The total store count at the end of 2012 was 550, with the long-term plan for 1,200 stores. So, there is much more room for growth from here. The management was pleased with the overall progress with its five-point multiyear growth strategy, which includes:
Accelerating store growth.
Introducing new products, services and brands.
Enhancing its loyalty program.
Broadening the company's marketing reach.
Increasing the digital focus, including ulta.com.
Ulta product portfolio has expanded with 65 new brands in the past four years, which was fueling strong comp performance in the past few years. Ulta has a strong loyalty program, with over 11 million active members. The management noted the untapped opportunity, and that is penetration, as tens of millions of women are yet to discover the Ulta brand.
Valuation
Ulta has a trailing PE of 29; forward PE is 18.6, and the PEG ratio is 1.03. EPS trends are down in the last 90 days from $3.40 to $3.31 and from $4.37 to $4.16 for 2014. Given the expected five-year growth rate of 22%, Ulta may still have room to go down further.
Competition
Most of the competitiveness comes from companies that offer similar products and services like Macy's (NYSE:M), J.C. Penney (NYSE:JCP) and Nordstrom (NYSE:JWN).
J.C. Penney has no comparable earnings multiples since it has negative earnings and forward estimates. The stock price halved since September 2012. The company is not in good condition, with comparable-store sales plummeting, even online sales. The company is in midst of a restructuring effort.
Macy's and Nordstrom are in much better shape. Their trailing and forward PEs are about half of Ulta's. However, they are priced within their growth levels, as Ulta is projected to grow earnings at 22% rate in the next five years, and Macy's and Nordstrom are expected to grow earnings at 11% rate.

Source for data: Yahoo Finance
Management turnover
There is another cause for worry here, and that is high management turnover. Two CFOs left since August 2012, and CEO Chuck Rubin left the company in February to join Michaels Stores. It is a cause for concern. Why would all these people leave such a great and growing company? The question remains a mystery, but it is not something to take lightly.
Price action
Frequent management changes, slower growth and lower guidance had quite an impact on Ulta's share price. The stock is down about 25% year to date. There were two massive gaps to the downside on huge volume this year, the first after the CEO Chuck Rubin left in mid-February, and the second after reporting earnings and weak guidance. The stock might rebound from this oversold condition, but the chart looks bad and there is a need for a longer consolidation if Ulta is to turn higher in a meaningful way. I do not see much upside in the near term.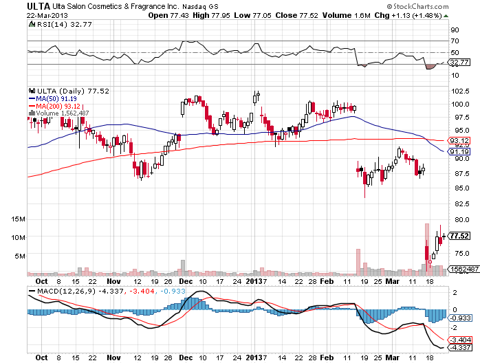 Source: Stockcharts
Conclusion
Ulta offers compelling long-term growth. However, there are right now more negative developments that might cause the stock price to go further down from here. Management changes, lower guidance, quite lower comparable-sales growth and overall slowdown of growth and a bad technical picture are worrying, and not to be taken lightly. Caution is advised, and Ulta should be avoided on the long side in the near term, until the causes for concern dissipate.
Disclosure: I have no positions in any stocks mentioned, and no plans to initiate any positions within the next 72 hours. I wrote this article myself, and it expresses my own opinions. I am not receiving compensation for it (other than from Seeking Alpha). I have no business relationship with any company whose stock is mentioned in this article.