Late last year, I published an article on Seeking Alpha that examined the sustainability of Seadrill's (NYSE:SDRL) dividend considering the fact that the company's operating cash flow is likely to decline due to the pending sale of the company's tender rig division to SapuraKencana. Since that time, more information has come out that has a material impact on the conclusions that I reached in that analysis. Therefore, I am revisiting that analysis, taking this new information into account.
Seadrill currently pays a dividend of $0.85 quarterly or $3.40 per year. The company stated in its presentation at the Credit Suisse Energy Summit that this amount represents a floor on the dividend and that the dividend will not be reduced to any amount lower than that for the foreseeable future. With this information, we can calculate the amount of money that Seadrill has committed to pay to its stockholders. According to Seadrill's most recent quarterly report, the company has 469,178,074 shares outstanding. Since that time, Seadrill has purchased 150,000 shares of its own stock and employees have exercised options to acquire 79,450 shares from the company. Therefore, the company has a total of 469,109,924 shares it must pay dividends on. A dividend of $0.85 per share per quarter will thus cost the company $398,743,435.40 per quarter.
Seadrill's operating cash flow in the fourth quarter was only $241 million, which was not enough to cover the dividend. In other words, Seadrill did not generate sufficient cash through its operations to pay the dividend. The company had to bring in cash from other sources to pay the dividend in that quarter. In this case, the company appears to have used a combination of debt, cash balance draw downs, and the money from the carve-out of Seadrill Partners (NYSE:SDLP). This is just for the fourth quarter, too. Seadrill actually paid two dividends during the fourth quarter, although one was a prepayment of the first quarter's dividend. These three sources of cash were also used to cover the expense of the first quarter dividend but the company can use the cash generated in the first quarter of this year to replenish its cash and repay its creditors. In the third quarter, Seadrill generated $413 million in cash from its operations. That is sufficient to pay the dividend with cash left over that the company can put towards other uses. The third quarter was more of a "regular" quarter from a cash flow perspective than the fourth, so we can see that Seadrill can cover its dividend solely through the cash that it generates from its operations under ordinary circumstances.
As I stated in the introduction, the pending sale of the company's tender rig division will reduce Seadrill's operating cash flow. This is because the revenue and cash flow that these rigs generate will no longer flow to Seadrill as Seadrill will not own these rigs. But, how much effect will this have on the company's operating cash flow? Unfortunately, Seadrill does not directly break down its cash flows by rig type. However, the company does state that the tender rig fleet generated total operating income of $85 million in the fourth quarter. That same division had total depreciation and amortization of $15 million in the fourth quarter. We can add depreciation and amortization back into operating income to get a rough approximation of the operating income generated by the tender rig division. This amount comes to $100 million. Thus, the loss of the tender rigs will reduce the company's operating cash flow by approximately $100 million.
Obviously, Seadrill will not be able to pay its current dividend on any kind of a sustainable basis if its operating income declines by $100 million. Fortunately, it is unlikely that Seadrill will actually see its operating cash flow get hit that hard. The reason why can be found in the company's newbuild delivery schedule. In my last article on Seadrill, I stated that the company has 24 new rigs under construction that will be completed and available for work no later than 2015. The company included this chart in its presentation at the Howard Weil 41st Annual Energy Conference on March 20 that shows these rigs and their respective delivery dates.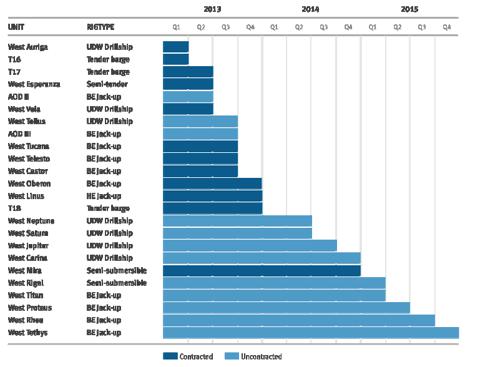 Source: Seadrill
As you can see, Seadrill has a large number of newbuilds that will be delivered this year, most of which are already under contract. These rigs that are under contract represent guaranteed revenue and cash flow for the company. The three rigs that are scheduled to be delivered this year but are not already under contract consist of two benign-environment jack-ups (both of which are owned by Asia Offshore Drilling) and one ultra-deepwater drillship. Given the current market conditions, there should be no problem getting these rigs under contract.
The cash generated by these newbuilds will serve to offset some of the cash that the tender rig operation would have generated. The company's three ultra-deepwater drillships that will be delivered this year should prove especially helpful here. This is because of the profitability of these rigs. Seadrill included this chart with the same aforementioned presentation:

According to this chart, one ultra-deepwater rig can effectively replace the cash flows from 2.7 tender rigs. Thus, the three ultra-deepwater drillships coming online this year should be able to generate sufficient cash flow to replace eight tender rigs or roughly half of the sixteen operational tender rigs that Seadrill has! The seven jack-up rigs that will come online this year will also serve to offset some of the cash flow lost from the sale of the tender rig division.
It was worth noting that Seadrill has used this same chart in every presentation that the company has given over the past year. As such, it is somewhat out of date. In today's market, ultra-deepwater rigs are more profitable than the company states because dayrates are higher. Seadrill provides a dayrate of $550,000 for an ultra-deepwater rig whereas recent fixtures have been higher, in the $600,000 - $650,000 per day range. Operating expenses are also higher today than what the company states. Today, it costs approximately $180,000 per day to operate an ultra-deepwater rig. Thus, the actual cash flow generated by one of these rigs will be at least $40,000 per day higher than the chart above indicates. The two already contracted ultra-deepwater rigs do not carry dayrates this high, however. West Auriga and West Vela each have dayrates of $565,000 following their delivery from the shipyard. Given the $180,000 per day of operating expenses, these rigs will generate slightly more cash flow than the chart above indicates but not significantly more.
A new rig will not begin generating revenue or cash flow immediately after it is completed. First, the new rig needs to be moved to the location where it will perform its work. This period of time is called the mobilization period and the actual length of time needed to move the rig will vary. However, for the most part all of the new rigs being completed this year should be operational and earning money by the end of this year or early next year.
Seadrill stated in an announcement dated February 11 that the sale of the tender rig division is expected to close around the end of April. However, Seadrill is paying a total of $75 million to SapuraKencana to compensate that company for the cash flow earned by the division from February 8 until the time that the deal closes. Therefore, Seadrill has, for all practical purposes, already lost the cash flow from the tender rig division. However, it has not yet seen the aforementioned newbuilds come online to offset this loss of cash flow.
Therefore, it does appear that Seadrill will not have sufficient operating cash flow to cover its dividend for at least a few quarters until the large number of newbuilds are completed and begin operating. The company will need to rely on some other source of cash to cover the difference during this period. This is just a short-term problem, though. Seadrill's newbuild program is more than large enough to both make up for the loss of the cash flow from the tender rigs and grow the company's cash flow going forward.
Disclosure: I am long SDRL. I wrote this article myself, and it expresses my own opinions. I am not receiving compensation for it (other than from Seeking Alpha). I have no business relationship with any company whose stock is mentioned in this article.