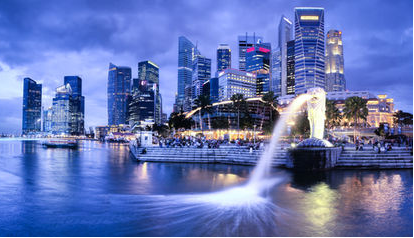 The only lion in Singapore is half fish and perpetually vomiting, but I still don't recommend underestimating the place.
Background
Singapore is a city - approximately 5.25 million people stuffed into about 270 sq miles - which happens to also be an independent state with military, trade regulations, monetary authority, etc. The 'locals' are predominately Chinese with significant numbers of Malay and Indians. 'Foreign talent' makes up around 40% of the population, with large numbers of Chinese, Malaysians, Bangladeshis, Filipinos, Indonesians, Indians and smaller numbers of Japanese, British, other Europeans and Americans. Based on my experience, the national pastimes appear to be shopping and eating.
They say location is everything, and location forms Singapore's only 'natural resource'. At the meeting point of the Indian and Pacific oceans, it is a natural trade point. Nearly all shipping between China and Middle East, India, Africa and Europe passes through Singapore waters. Additionally, it is roughly half way between Sydney and London, making it a major air hub for Europe and Asia-Pacific. Additionally, because most Singaporeans are functionally fluent in both English and Mandarin, Singapore and Singaporean ventures form a major trade link between China and the west (particularly Australia). For example, I have a friend in Singapore who manufactures mining equipment in China and sells it in Australia. This cultural bridge has enabled Singapore to benefit enormously from the rise of China.
Government
The People's Action Party has controlled the Singapore Government for its entire history. This has enabled the Government to generally take a long-term view on public policy. The long-term success of the PAP also leads to stability and certainty. Rule of law is very strong, and mostly follows British practice. Policies are usually practical and targeted - Electronic Road Pricing during rush hours reduces congestion; university department subsidies are based on labor market needs. The Government is also a believer in harnessing market forces in policies - road space is very limited, so car ownership is expensive (contrast with Beijing, which uses a lottery to limit car popular); birth rates are declining so the Government gives couples a cash bonus when they have babies. I picked examples, which might seem strange to Americans, but illustrate the Government's willingness to use markets to solve many kinds of problems.
As a government, Singapore's primary expenditures are on defense/safety (~40%) and education (~20%), followed by health (~6%), transport (~6%), and others. From personal observation, transport infrastructure investments are significant - no potholes anywhere and several subway lines currently under construction. Revenues are principally from corporate tax (~25%), goods and services tax (~15%), and income tax (~11%). Singapore has consistently operated a surplus for many years and estimates a 5% budget surplus in 2013.
Singapore has a public debt slightly over 100% of GDP, but this figure is largely unimportant. Since the government runs at a surplus, the debt is not used to cover spending. The majority of the debt is held by the public through the required retirement program and is non-marketable. The marketable debt - Singapore Government Securities (SGS) - is used to provide a bond market yield curve baseline and used as collateral by Singapore banks with the central back (Monetary Authority of Singapore or MAS).
Monetary Policy
As a country with high import/export (> GDP), inflation is best managed through foreign exchange rates. Thus, MAS sets a policy range for the Singapore Dollar, aka SGD (NYSE:FXSG), against a basket of foreign currencies. The basket is trade weighted - Malaysian Ringgit, Chinese RMB, US Dollar, Euro being the major contributors. Changes to the range and slope of the range are reported twice a year in April and October. Movement of the SGD to (or beyond) either edge, or excessive volatility within the band, is adjusted through the USD/SGD pair. This makes MAS the 'whale' in the SGD forex market. In the US we say don't fight the Fed; the same caution should be applied to MAS in the SGD markets. Note that Singapore does not have currency controls, and thus due to the Impossible Trinity, if it controls the exchange rate, it cannot control interest rates or money supply. Thus, the SGD interest rates follow international rates - in particular Fed rates. Study has shown that Interest Rate Parity theory does hold. MAS has set a policy of gradually appreciating Singapore Dollar (Singaporeans have high savings rates due to the enforced retirement savings, so appreciating currency helps most Singaporeans) and so typically SGD interest rates are slightly lower than USD rates. For example, as of this writing, ARM rates are near 1%. MAS does not target headline inflation; it strips out housing costs (which have higher inflation due to Singaporean investment culture and lack of land space) and private car ownership (which also has higher inflation due to high density population). The forex policy has kept core inflation to 2-2.5% over the long term.
Sovereign Wealth Funds
The fiscal surpluses noted earlier have gone into foreign asset holdings and two sovereign wealth funds (Temasek and GIC). The sovereign wealth funds have considerable stakes in local industry such as SingTel (OTCPK:SGAPY), Singapore Airlines (OTCPK:SINGY), Development Bank of Singapore (OTCPK:DBSDY), and Singapore Press Holdings (OTCPK:SGPRF). Temasek Holdings and GIC combined hold around USD $500 billion in assets.
Business Environment
According to the World Bank, Singapore is the easiest country to do business in - and it's been that way for seven years straight. The World Bank estimates it takes three days to start a company. Construction permits are relatively easy to acquire. Property is straight forward but not cheap - which I'll discuss further below. Credit is currently very cheap; creditor protections are very strong - nearly all loans are recourse loans - which tends to make credit easy to get. Corporate income tax is just 17%, and taxes are extremely easy to file (salaried individuals spend less than 5 minutes per year on tax filings). As a significant trade hub, cross-border business is easy and cheap.
From 1961 to 2010, Singapore's average annual GDP growth was just under 8%. Being a small country, GDP growth is highly volatile, from -2% in 2008 to +14% in 2009 (quarterly figures are even more volatile!). Since Singapore is now 'developed', and because population growth must slow (not much space left), GDP growth rates are expected to moderate, but should remain competitive with other developed nations. Singapore's unemployment over the last ten years has been slightly over 2%. Because a large portion of Singapore's labor force is imported, this becomes a release valve for unemployment - when the labor market shrinks, foreign labor is reduced.
By sector - manufacturing accounts for a bit over 20% of GDP. This is largely in electronics - such as Avago (NASDAQ:AVGO), which supplies various radio technologies for mobile phone - and biotech, both producers such as GlaxoSmithKline (NYSE:GSK) and research. Aerospace increased recently when Rolls Royce built a large jet engine construction and maintenance center to support Asian airlines. Wholesale and retail are second by sector size - as mentioned above, Singaporeans love shopping!
Banking and financials follow close behind. Singapore is in the top five for FX volume, supporting a good deal of exchange in/out of SEA as well as foreign RMB. As one of few stable, rule-of-law countries in Asia, along with strong banking privacy and low taxes, it is also a significant off-shore account holding. Conventional view (I have no hard data) says rich Indonesian and Chinese store a large amount of wealth in Singapore. Singapore banks tend to be secure and conservative with strong credit ratings. Compared to most countries, the Singaporean financial sector did very well during both the Asian and US financial crises. The major Singapore banks are DBS and United Overseas Bank (OTCPK:UOVEY), along with non-Singapore banks HSBC (HBC), OCBC (OTCPK:OVCHF), and Standard Chartered (OTCPK:SCBFF).
Oil Refining and Ports are also large. Exxon (NYSE:XOM) and Shell (NYSE:RDS.A), with its own island, have significant refining operations, principally supporting marine fuel. Singapore's port is the second busiest in the world (in terms of tonnage moving through, not necessarily delivery), and thus marine fuel is a big support industry. The port is operated by PSA, which also operates 29 other ports around the world; PSA is owned by Temasek holdings. Keppel Corp. (OTCPK:KPELF) is the largest ship repair and oil rig maintainer company in Singapore. They also have a property arm Keppel Land (OTC:KPPLF).
The exchange in Singapore is SGX (OTCPK:SPXCF). SGX allows quotes and settlement in both SGD and USD. They have moved significantly into derivatives in recent years. They also maintain significant capacity for higher volumes - they target sufficient capacity to handle all Nikkei volume, should the Nikkei ever have temporary issues. SGX also runs the Australian exchange ASX.
Real Estate
Singapore is a small island which needs to house over 5 million, provide water catchment, keep a major international airport, a general aviation space, three air force bases*, military camps and training zones, a major port, industry, plus the occasional park - it is the garden city after all. So real estate is expensive - as much as S$3000 psf (US$2400). Additionally, Singapore is a non-rent culture - over 90% of Singaporeans own their home and most live with parents until they purchase a home. Further, Singaporeans tend to prefer investment through real estate - the large number of foreign workers provides a ready stream of new-to-town renters. Add to the mix an influx of foreign (mostly Chinese) parking of funds in tangible assets. Thus prices are very high and have shot up tremendously in recent years. Many observers have been wondering when the bubble will pop.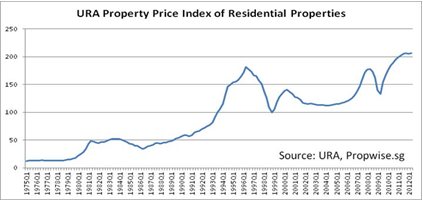 There are a few reasons to believe that the bubble might just calmly deflate - or stagnate - without popping. First is that Singaporean home buyers have typically been conservative - equity in owner-occupied homes averages 66%, with even younger owners (under 40) having on average 50% equity. Thus Singaporeans have considerable equity cushions. Second, mortgages in Singapore are recourse loans - the borrower cannot just walk away from the house. Third, in an attempt to tame the bubble the government has instituted an ever growing list of 'cooling measures'. These include stamp duties based on holding period (discouraging flipping), added 10% duties on most foreign buyers and stricter lending regulations - minimum 20% down payment on first house, minimum 40% on a second. These have reduced volume, which typically leads price movement. Additionally many new property developers have been paying the extra taxes out of the sales price, creating an effective price drop without changing reported figures. Clearly the increases of recent years are unsustainable, but that does not require a property crisis.
Commercial and industrial real estate have experienced similar booms and are increasingly seeing their own cooling measures. As mentioned earlier, Singaporeans love to shop, so there is a never ending stream of new - and ever larger - shopping malls. Similarly, there is strong demand for warehousing and office space. CapitaLand (OTCPK:CLLDY) and Mapletree (OTC:MAPGF) are the major REIT players in malls and warehousing, respectively. In addition to Singapore, CapitaLand invests in mall space throughout Asia with high-end locations in Beijing, Shanghai, Kuala Lumpur and more.
Wrap Up
It's often said that Singapore punches above its weight. Through low taxes, pro-business environment, strong education, stable government and good infrastructure, Singapore has attracted foreign investment and a long list of MNCs. For many multinationals, Singapore serves as the Asia-Pac headquarters or at least the SEA headquarters. With a large well-run finance sector and developed world living standards, Singapore is effectively the SEA financial capital. On the downside, now that Singapore has achieved GDP per capita comparable with the most developed nations, growth is likely to slow. Also be aware that due to its small size, Singapore GDP tends to see much larger swings than other nations.
There are a number of ways to invest in Singapore. I have mentioned a number of largest and leading Singapore firms; the banking sector is particularly attractive as they represent an overall bet on Singapore. The real-estate and telecom firms are good proxies for Singapore and Asia generally as they have expanded well beyond the island. Given the Monetary Authority's aim for an appreciating currency if economic conditions permit, going long Singapore Dollars is one way to get exposure to the entire Singapore economy - I will be writing more about SGD forex in the future. There are also two funds, which offer exposure to Singapore firms. iShares MSCI Singapore (NYSEARCA:EWS) invests in 31 publicly traded Singapore companies. The largest holdings are Singapore Telecom, DBS, OCBC, UOB, and Keppel. It is rather bank heavy, but that makes sense given the size of the banking industry and the size of the firms. The dividend yield is 4% - Singaporeans still prefer dividends as a way of returning cash. The Singapore Fund (NYSE:SGF) is a closed-end fund investing in Singapore. The holdings are similar but weighted differently - OCBC, UOB, Jardine, Keppel, City Developments. SGF has recently begun quarterly distributions, targeting 6% of NAV. Neither hedges currency, thus providing SGD exposure as well.
Singapore provides an excellent investment and diversification opportunity. As a trade center for SEA and Asia, its companies also provide indirect exposure to those economies. Singapore may be small but it is a modern and well run country with no concerns about financial or government meltdown.
*Trivia- Singapore has no domestic flights, yet has the highest concentration of airfields on Earth. In addition to the five airfields mentioned, a major expressway and a cemetery access road can be turned into airstrips within a few hours.
Disclosure: I am long EWS, AVGO. I wrote this article myself, and it expresses my own opinions. I am not receiving compensation for it (other than from Seeking Alpha). I have no business relationship with any company whose stock is mentioned in this article.
Additional disclosure: I have lived and worked in Singapore for over 10 years. I am also invested in Singapore real estate and am long Singapore Dollars.