Investors' attention always seems to be focused in tech stocks like AAPL and GOOG, or defensive stocks like PG and PM. However, several sectors are not paid much attention because they may seem risky or simply because the stocks do not gain enough capital appreciation over time. This article describes three companies that have probably not been considered by regular investors, but that have rallied for the past half year. Furthermore, they are still considered cheap on valuation and a new position may be meditated at these prices.
Lincoln National Corp. (NYSE:LNC) is a life insurance company that has attracted investors' capital rallying 26% so far this year. Genworth Financial Inc. (NYSE:GNW) price-per-share has increased 35%. Finally, Prudential pcl (NYSE:PUK) has rallied for 18%. These companies have outperformed the S&P 500, which has seen a hefty 9% increase. These companies have also outpaced the SPDR financials sector ETF (NYSEARCA:XLF) even though it has seen a gain of 11%.
| | | | | |
| --- | --- | --- | --- | --- |
| Underlying | Performance YTD | P/E | Dividend | Profit Margin |
| | 9% | 14.00 | 2.00% | N/A |
| XLF | 11% | N/A | 1.65% | N/A |
| GNW | 35% | 15.60 | - | 5.22% |
| LNC | 26% | 7.26 | 1.47% | 11.14% |
| PL | 22% | 9.55 | 2.07% | 8.35% |
| | 21% | 16.69 | 1.01% | 3.64% |
| PUK | 18% | 12.91 | 1.60% | 3.96% |
Fundamental Analysis
Lincoln National Corp.
My top pick from the list would be LNC. The company is trading at a P/E of 7.26 even though its shares have rallied 26% YTD. It would still be considered an undervalued company and by comparing the P/E of the SPY it should be trading at close to $65.00 a share. It is currently the "cheapest" company from the top five performers this year, and the potential for capital appreciation is still high. On the latest earnings report, the company announced that its full-year operating earnings-per-share was $4.47. It saw an increase of 13% from 2011. In addition, it saw a return on equity of 12.0% resulting from operations of $1.3 billion. It is currently offering a modest dividend of 1.47%. However, it has been raised from $0.08 to $0.12 per share. Furthermore, the increases in profit may suggest another possible dividend hike in the near future.
Overall, it seems like LNC has improved its business model because it saw an increase of book value per share from $44.94 in 2011 to $55.14 by the end of 2012. In the near future, LNC's earnings seem stable since there is still no imminent threat from the Fed's Bernanke to hike interest rates. I believe this company has the greatest potential for capital appreciation.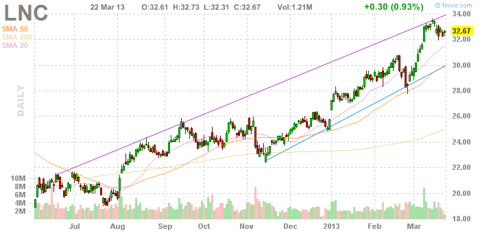 Prudential plc
PUK has reached the second place in my list for the following reasons. The debt is higher than LNC, and the profit margin is lower than LNC. However, PUK outranks the rest of the companies because it has positive sales quarter-over-quarter.
PUK is currently trading with P/E of 12.91. It is still considered undervalued and it is the third cheapest company in the list behind LNC and Protective Life Corp (NYSE:PL). However, PL has negative sales Q/Q of -1.92% while PUK observed a 115% sales Q/Q increment. According to the earnings report for the full year 2012, the operating profit was of 2,533 million British pounds that translates to an increment of 25% from 2011. This resulted in a dividend raise of 15.9% to 29 cents per share. Because of these reasons, this company may also present a potential for capital appreciation for 2013.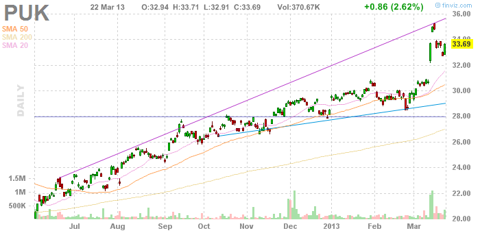 Genworth Financial Inc.
Although GNW has been the top performer this year, I believe it should be placed in third place on my ranking list. The reason for my decision is because it has negative sales Q/Q of -3%. It is currently trading at a P/E of 15.60 with forward P/E of 6.99. For Q4Y2012, the company reported a net income of $167 million or $0.34 per diluted share compared to $124 million or $0.25 per diluted share in 2011. This translates to an increase of 36% quarter-over-quarter. It also saw an increment of book value per share from $30.69 in 2011 to $33.62 in 2012. Another reason why GNW is in third place is because it is the only company that does not offer dividends to its shareholders. However, it seems like its business model is working well and provided that United Kingdom leaves the federal fund rates as they are, the near-term future of GNW seems sharp. The company is still not considered overvalued and in my opinion it still has room for capital appreciation.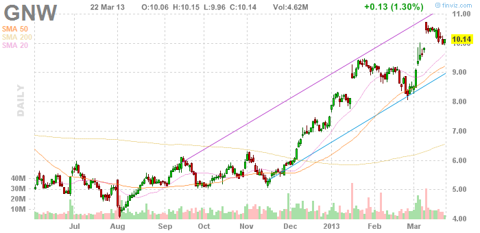 Take home lesson
Even though these companies have gained investors' attention and hard-earned cash so far this year, I believe their future still looks sharp. Ben Bernanke does not seem to be planning on raising fund rates in the near future, which is beneficial to these insurance companies. Maybe buying these companies as a basket to gain sector exposure and portfolio diversification is not such a bad idea at this moment since they still offer potential capital appreciation and modest dividends.
Disclosure: I am long LNC. I wrote this article myself, and it expresses my own opinions. I am not receiving compensation for it (other than from Seeking Alpha). I have no business relationship with any company whose stock is mentioned in this article.