Here is a look at what % of the fiscal stimulus packages of various nations has been devoted to "Green Projects":
(From the Economist): " How green is your stimulus package?

THIS week HSBC, a big bank, published a report ranking 17 countries by the green elements of their economic-stimulus packages. South Korea is apparently allocating a whopping 81% of its fiscal stimulus to greenery and China is setting aside 34% for eco-friendly projects. By contrast, India is investing nothing of its $13.7 billion stimulus plan for green ventures. Italy and Japan are the least green of the rich G7 countries, allocating just 1.3% and 2.6% respectively."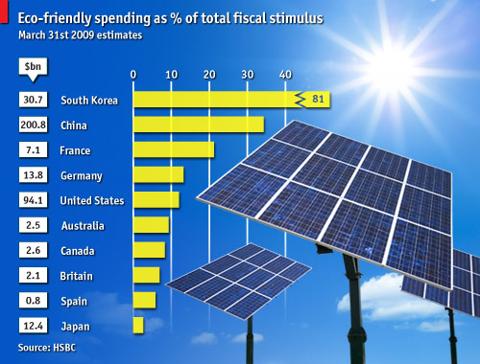 Graphic courtesy of Economist.com
One of my long-term concerns about the current financial crisis, is that the temporarily "lower" price of oil will cause the world to lose focus on the need to develop alternative sources of energy. This potential loss of focus will not only contribute to a future energy crisis, but remove needed investment from a future growth engine. Better yet the time to invest in alternative energy is right here and now while we still have fossil fuels to depend on, as opposed to just making small casual investments in the present and letting things slip until we have a full blown crisis on our hands.
While this is not the case with all nations, several of the world's economic powers missed a rare opportunity to kick start the development of alternative energy sources.
Sources:
The Economist: "Green Shoots" -- April 3, 2009.
Disclosure: at the time of publishing the author didn't own a position in any of the companies mentioned in this article; the ideas expressed are solely the opinions of the author and shouldn't be viewed as financial or investment advice.