Corning (NYSE:GLW) is a truly wonderful American success story. It has been around since 1851 and that alone is a remarkable feat. Over 160 years in business and even more remarkable is that they have spent the past 140 years in Corning, New York. Corning is a small "city" in rural upstate New York, with a population of just 11,000.
GLW employs over 26,000 so it is safe to assume that not everyone working for Corning, lives in Corning. That being said, if GLW was not part of the Corning landscape, the little city would have been just another sleepy town a few feet from the Northern Pennsylvania border.
Geography aside, GLW has been the leading maker of Glass and Ceramic products virtually worldwide. In the mid 1950s, I can recall early morning television shows that featured some of America's great manufacturing companies. Corning Glass was featured and it became a favorite of mine, because of those amazing glass blowers. Those "artists" were able to shape liquid glass into anything, just by blowing through some strange looking tubes. What began as a blob of liquid "bubbles," magically became a beautiful piece of glass.
GLW's history of innovation is long, and filled with nothing but success. I cannot remember the last time I heard about a product innovation failure from Corning.
Innovation Success Does Not Mean Investor Success
As much as I admire the company, the stock has been an utter disappointment for quite some time. I have owned the stock on a number of occasions, and it always leaves me scratching my head.
Smack in the middle of the most remarkable decade of telecommunication advancement, Corning has perhaps the finest quality glass for every smartphone and every tablet on the planet - Gorilla Glass. It looks amazing, feels fabulous to the touch, hardly ever scratches, and is a snap to clean. It is the premium product on the market, with over 1.2 billion devices using Gorilla Glass.
Fabulous LCD products by GLW have been the most widely used "glass" for flatscreen TV's. According to the company website, over 1 billion televisions have been built using Corning LCDs. Another 3.5 billion autos and life science products also use GLW glass, in some shape or form. All of this has led to one of the most envied balance sheets in corporate America.
Some basic highlights;
Enterprise value over $16.3 billion.
Price to book value of only .89
Profit margins over 22% in a low margin, highly competitive business has been remarkable.
YOY revenue growth of over 13.5% (earnings fell by around 40%)
Over $6 billion in cash with about $3 billion in long term debts.
Over 75% of all outstanding shares are held by institutions.
A dividend yield of 2.8% (just increased to $.09/share per quarter).
A payout ratio of just 27%.
A forward P/E of just 10.20
Even the most prudent dividend stock investor would consider this stock to be a core holding. A price to book value of .89, indicates that the stock is too cheap, and seemingly undervalued. Every time I have bought the stock, that was the way I looked at it. However, something strange has occurred during this era of explosive growth in smartphones, tablets and flatscreen televisions, GLW stock has languished, and in many instances the total shareholder return has been either dismal, or negative.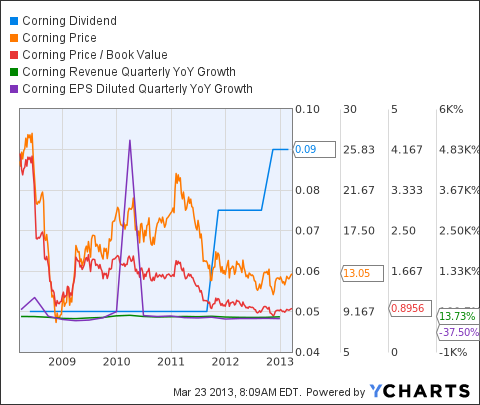 One look at this chart and an investor considering holding shares of GLW would have to think twice about buying. A falling share price with a falling book value is not unusual of course, but it is obvious that not many investors are seeing the value in the stock, even at current levels.
While the dividends have nearly doubled in 2 years, for many years there were either no dividends or no increases. As far as growth is concerned, there simply does not appear to have been any for shareholders. Revenue and earnings have flatlined, and as stated, the share price has not done anything.
A new product that has been developed is called Willow Glass. The product is said to be the next generation of touchscreen surfaces, just as Gorilla Glass was. According to this article the company has stated that it will take another 3 years to develop the new glass.
Corning Inc. (GLW), the maker of glass for Apple Inc. (AAPL) iPhones, said it will probably take at least three years before companies start making flexible displays using its new Willow material.

Companies have yet to come up with products that can take full advantage of Willow glass, which can be made in a roll similar to newsprint, James Clappin, president of Corning Glass Technologies, said in an interview in Beijing yesterday. The product will let companies make curved or flexible displays.
What I found interesting in this article was the following:
Surging global sales of smartphones have helped boost earnings for 161-year-old Corning, which made the glass for Thomas Edison's light bulb, according to its website. Gorilla Glass, which was introduced in 2007, is used in more than 1 billion devices worldwide, according to the company. Corning has sold the glass to 33 electronics makers, including Samsung Electronics Co. and Sony Corp for use in more than 900 models.

Sales of Gorilla Glass surged 44 percent to $1 billion last year. The product is the second-most profitable and the fastest growing in Corning's history, Chief Executive Officer Wendell Weeks said last month.
This sounds great, but the problem is that shareholders have not been rewarded, aside from the $.36/share dividend now being paid. As the share price remains flat or falls, the total return is virtually non existent. To me, this is a classic value trap stock.
As much as I want to own the shares, as I have done in the past, I cannot get by the fact that actions speak louder than words. The company management talks the talk, but the stock has NOT walked the walk.
My Opinion
The stock has done nothing but disappoint shareholders, in my opinion. I feel that even though its fundamentals are wonderful, and the company is fabulous, the stock would not benefit shareholders right now.
Obviously this is my opinion and any investor should do their own research. I am not recommending an investor should sell, or buy, GLW. I am only suggesting that anyone thinking about buying shares should dig a bit deeper than the glass surface.
Disclosure: I have no positions in any stocks mentioned, and no plans to initiate any positions within the next 72 hours. I wrote this article myself, and it expresses my own opinions. I am not receiving compensation for it (other than from Seeking Alpha). I have no business relationship with any company whose stock is mentioned in this article.