Investors, long or short, in the shares of Herbalife (NYSE:HLF) and J.C. Penney (NYSE:JCP) have a number of issues to consider. Mr. Ackman a hedge fund manager for Pershing Square Capital Management is said to be short approximately 20 million shares of Herbalife. There were more than 33.5 million shares sold short as of February 15, 2013 according to this website. Mr. Ackman is a major investor in J.C. Penney with ownership of 39,075,771 shares or 17.8% plus 15,969,239 shares via total return swaps, according to SEC filings. There were 59.7 million shares sold short as of February 15, 2013. He is also on the board of directors and runs Pershing Square Capital Management.
Since the start of 2013 through March 22nd the Herbalife longs and J.C. Penney's shorts have been on the winning side of the trade. Herbalife is up from $32.41 to $38.16, or 15.1% and J.C. Penney's has declined from $19.71 to $15.43, or -27.7%.
Sales Growth and Productivity
Let us review net sales and net sales per sales leader (or supervisor) at Herbalife since 2004. The data for the table below came from SEC filings. The number of sales leaders has grown, with the exception of 2009 and 2010, a time of financial stress and uncertainty. Net sales and sales per sales leader has increased.
Herbalife sales: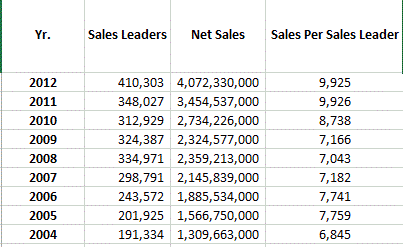 The number of sales leaders increased, as does net sales and sales per sales leader. The figures suggest a growth company.
Now the review of the North America data. The number of sales leaders and net sales per sales leader increases. That happens when business has growth or I am missing something?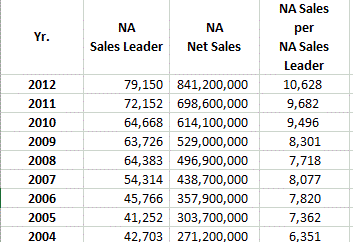 The growth in North American sales is impressive. Growing sales and the number selling the product looks like a growth company, does not it? Given that sales per sales leader has increased it would suggest there is demand for the product, right?
J.C. Penney's sales

Sales at J.C. Penney's have declined. Sales per employee had declined every year until the 2012. Mr. Ackman joined the board of directors in February 2011.
The decline in sales and sales per employee picked up steam to the downside after the board of directors decided to make changes to the bonus targets. The proxy statement sums it up like this.
In view of the Company's transformation efforts as well as the challenging economic environment for 2011, the Committee, and with respect to the CEO, the independent directors of the Board, determined that the Company Sales Payout Factor and the Company Operating Profit Payout Factor would each have a floor of 50% and that the Individual Payout pool would be set at 50%. The average Individual Payout Factor was 45% for the current named executive officers, other than Mr. Ullman.
Herbalife's sales growth is superior to that of J.C. Penney's. Herbalife's sale per sale leader is trending higher while at J.C. Penney's sale per employee has trended lower. Herbalife wins without trouble on both counts.
The average sales by Herbalife's sales leaders will not make the average sales leader rich. But the figures suggess that the ranks of sales leaders is increasing along with sales. Would not most business view higher sales per employee as an increase in efficiency and a sign of good demand? Might higher sales and sale per employee solve many of the issues at J.C. Penney?
Herbalife's start-up cost is $57.75. This can be recouped after a few purchases. At the 25% discount the saving on a $40 item would be $10. Let us reduce the saving to $5 to account for shipping and handling. The break-even on the start-up cost would be roughly 12 purchases on a $40 item. The shorts suggest that this is not reasonable, right? I compared the price of memberships and Costco ($55) and Sam's Club ($40). On price alone Sam's came out ahead. That was step 1. Step 2 was to compare the price of Green Mountain (NASDAQ:GMCR) K-Cups. A box of 160 K-Cups was $89.99 ($0.56 each) at Costco, while a box of 80 K-Cups was $39.98 ($0.50 each) at Sam's Club. Sam's Club was a better deal on both accounts. But would the savings pay for the membership cost? It would take some time, but the savings would pay for the membership cost. Might an individual that enjoys Herbalife products perform a similar calculation and decide that over time the 25% discount is worth paying the $57.75? It is possible.
Herbalife reported okay earnings, but the capital allocation decision to provide cash to departing owners (share repurchase) rather than provide the cash to owners (dividends) was disappointing. The $50 million per quarter that has been suggested for the repurchase shares or roughly $0.48 per share per quarter. Herbalife could pay $0.78 ($0.30 + $0.48) per quarter or $3.12 annually per share for a dividend yield of 6.9% at $45. Should the stock trade with a 5% yield, it would support a price of $62.40. The yield could be enhanced with a variable special quarterly payout. I feel greater value could be provided by giving investors a reason to buy (dividend) rather than a reason to sell (share repurchase). During 2012 $56 million was spent repurchasing 11.5 million shares at an average cost of roughly $48.
The bottom line: Herbalife looks like a growth company. The trade-off between the cost of a distributorship and the product savings seems reasonable. It shall be interesting to see how the battle between the longs and the shorts plays out.
Herbalife compared to Pershing Square Holdings, Ltd.
Herbalife's has sales leaders who might earn overriding royalties based upon the performance of those under the sales leader. Pershing Square Holdings, Ltd. provides the placement agent a portion of its management fee for introducing investors to the fund, according to SEC filings. Links shown below.
Is there a major difference between Herbalife's over-ridding royalty program and Pershing Square Holdings, Ltd. providing a portion of its management fee to the placement agent? An Herbalife sales leader needs to have those under them produce each month. No sales, then no over-ride earned. Pershing Square Holdings, Ltd. appears to pay its placement agent a portion of its management fees while the investor has funds with Pershing Square.
According for Form D, Pershing Square Holdings, Ltd. either lost $60,755,985, or 5.32% from investors or transposed figures. The January 14, 2013 filling showed 132 investors with sales of $1,142,021,464. The amended filling of March 15, 2013 shows 132 investors with sales of $1,081,265,479. There was no change in the number of investors, but a decline of $60,755,985 in the amount sold. This figure is divisible by nine, therefore, it might have been a transposition rather than a 5.32% decline in assets. Which is worse, a loss of assets or making a math mistake with assets?
The risk to Herbalife appears to be regulatory, but the shorts might want to ask what happens if the regulatory body comes out with a clean bill of health? It is not as if the charges made against Herbalife have not been made before. The risk to J.C. Penney seems more complex. It has merchandising and sales risks. Additionally there is a funding risk. Only time will tell if Herbalife and J.C. Penney survive and prosper.
Disclosure: I am long HLF. I wrote this article myself, and it expresses my own opinions. I am not receiving compensation for it (other than from Seeking Alpha). I have no business relationship with any company whose stock is mentioned in this article.