By Richard Kaplan
According to the Pharmaceutical research and Manufacturers of America (PhRMA), there are currently 73 separate HIV/AIDS treatments in clinical trial or under review by the FDA in the United States.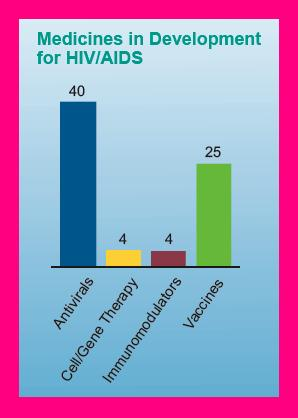 As seen on the chart above, they fall into four categories, one of which I believe holds abundant promise, and which I hope to highlight below.
Publicly Traded Cell and Gene Therapy Companies
Cell and gene therapies offer compelling promise in the fight for a cure for HIV/AIDS. I use the term 'cure' advisedly, because research in the gene therapy field, though still a long way from producing a commercial remedy, has proven itself effective in a broad enough array of applications to suggest it could actually reverse the progress of the disease rather than just treat its symptoms. To our knowledge, no other treatment offers that hope.
That said, only two of the four companies currently carrying out such research are publicly traded. VIRxSYS, a private concern headquartered in Maryland, and Adaptimmune, based in the U.K. are both privately held, with neither indicating an imminent change in that status. Sangamo Biosciences (NASDAQ:SGMO) and Enzo Therapeutics, a division of Enzo Biochem Inc. (NYSE:ENZ) are the companies we're going to highlight here. First however, I would like to preface by stating that stocks in the sector in general volatile, speculative in nature and can move either way depending on the news that comes out.
The Market is Excited
Shares of Sangamo Biosciences just popped to new multi-year highs, breaking above $10 a share for the first time since August of 2008, just weeks before the Lehman Brothers debacle sent the U.S. stock market lower by 50% and world markets followed.
Sangamo has traded higher, to be sure, reaching as high as $18.50 in 2007, its best level since the dot-com bubble, brought it to unrealistic heights at the peak of the
So what's driving the latest rally in this gene therapy pioneer?
Part of the answer lies in increased exposure. Lazard Capital Markets initiated coverage on the company with a buy and a $16 price target just as the shares began to ascend.
But more importantly, the company's latest earnings report showed an increase in revenues of over 100% from the same quarter a year earlier. That, and upcoming results from Phase II clinical trials for its HIV/AIDS treatment appears to have investors throwing themselves at the stock.
As the chart below shows, average daily volume on SGMO has nearly quadrupled since the beginning of the year (red box), while the stock has climbed an impressive 55% over the same period.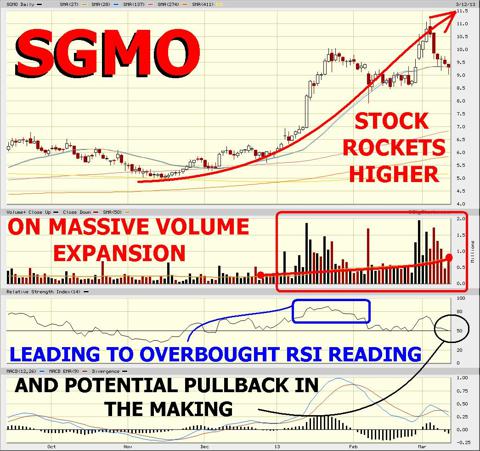 A brief glance at the technicals show that the move may have gone too far too fast, leading to an 80+ Relative Strength (RSI) 'overbought' reading (in blue). And with the RSI now poised to dip below its halfway 'waterline' (black circle), we could well see a retracement in coming weeks.
More on that in a moment. But in the meantime, let's take a look at the above mentioned fundamentals, because that's where the real action is focused.
Research Driven Revenues
Sangamo Biosciences has yet to commercialize any of its gene therapies. As mentioned above, it's a development stage company with ongoing clinical trials for one principal pipeline product. But the company's research team is nonetheless valuable enough to be worth millions of dollars annually to three companies, Shire AG (NASDAQ:SHPG), Dow AgroSciences (DOW) and Sigma-Aldrich Corporation (NASDAQ:SIAL), each of whom has entered into collaboration agreements with the company in an effort to advance their own list of product offerings. These agreements provide Sangamo with nearly all of their annual revenue.
So for the meantime, from the research comes the revenue, and it appears there's enough of it to move the company through all its necessary clinical trials, should the process run to completion. And the company's strong cash position has been instrumental in pulling in institutional investors, whose numbers have increased from 28% ownership last year to a recent 45% of the company's float.
Institutional participation may have also squeezed a large number of shorts from the stock of late. While the most recent data is still not available, the shorts controlled as much as 11% of the company s float through the end of 2012. That issue appears to be resolved for the meanwhile.
Before we get too far ahead of ourselves, however, it's important to remember that we're dealing with an outfit that has performed only limited human testing and still has a long clinical regimen ahead of it. If even one of its therapies fails, it's possible the company's lucrative corporate partnerships would evaporate, making future financing become more difficult to attain. Commercial viability of the product is also not guaranteed. Indeed, Sangamo's success with the FDA does not translate into a product whose manufacture makes economic sense.
Two-pronged Sales Generation
That said, if and when Sangamo commercializes its product, money will flow from two separate revenue streams. First, the company's trademarked In Vivo Protein Replacement Platform that allows researchers to produce as well as 'turn on and off' specific human genes and is believed to have applications across a wide spectrum of genetically transmitted diseases will be available for either purchase or licensing.
And second, the treatment itself will be on offer to the global medical establishment. Needless to say, a cure for HIV/AIDS (not a treatment) will be a substantial revenue earner.
And while it's a long way yet to commercialization, SB-728, the company's HIV/AIDS remedy, is due to report results this year on its Phase II trials. The rest of the pipeline, as seen from the chart below, is still pre-clinical.

There are few other immediate catalysts for the stock, although the promise of a broader application of the technology holds out hope for investors that there may be further price appreciation in the near term.
Treatments for other single gene (monogenic) diseases such as Huntington's, hemophilia and sickle-cell anemia are where the technology's promise most bountifully resides.
As for what the technology actually does, we can offer only the following uber-layman's understanding.
Genetics 101: Sangamo vs. Enzo
Essentially, diseases are caused by either the over-production or under-production of protein in one or more genes. Sangamo's platform blocks or enhances the amount of protein produced by the gene, so that if the gene requires more protein to avoid becoming diseased, the technology enables that production. If it requires less to avert the disease, the technology will block further protein production at a level that maintains the gene's disease-free status.
Enzo Therapeutics platform takes a different approach, placing anti-HIV RNA cells into stem cells ex vivo (outside the body), and then emplacing the whole package into the patient where the specialized RNA replicates and prevents the replication of the HIV virus.
A phase I trial to test patient tolerance of the treatment, HGTV43/Stealth Vector, was passed successfully, and phase II trials with increased dosages are now underway.

Like Sangamo, the company's progress has met with a good measure of shareholder enthusiasm of late, though it's hard to measure the two firms apple for apple. Enzo is a thirty year old firm with a number of other pipeline products, a full portfolio of diagnostic and test services, as well as a full for-hire research crew, for which it also receives commercial and government funding. Sangamo's work is focused on developing a single product.
Shares of Enzo Biochem have risen 36% over the last six months despite the company's negative EPS figure (-$0.42), giving the firm a current market cap of $105 million, versus Sangamo's almost $500 million.
It should be noted that much of the recent stock appreciation (and fully half its market cap) came about due to successful litigation that netted Enzo a $48 million award in a patent infringement case against Life Technologies (NASDAQ:LIFE) of Carlsbad, California.
Business relationship disclosure: Market Exclusive is a team of investment analyst and contributor members from various disciplines are able to deliver their investment ideas to investors across various industries and sectors. This article was written by Richard Kaplan, one of our group contributing members. We did not receive compensation for this article (other than from Seeking Alpha), and we have no business relationship with any company whose stock is mentioned in this article. You should do your own research and due diligence before making any investment decision with respect to securities covered herein.
Disclosure: I have no positions in any stocks mentioned, and no plans to initiate any positions within the next 72 hours. I wrote this article myself, and it expresses my own opinions. I am not receiving compensation for it. I have no business relationship with any company whose stock is mentioned in this article.