Walgreen Company (WAG) was up 1.48% and closed at $46.49, a new 52-week high, on March 22, 2013. WAG has a market cap of $43.94B with a beta of 1.01. Despite making a new 52-week high, there is more upside potential for WAG in the long term as Walgreen continues to recover and make sound strategic moves. In this article, WAG will be analyzed fundamentally and technically. Investing strategies will also be reviewed.
Q2, 2013 Earnings
On March 19, 2013, WAG released its Q2, 2013 earnings. The company earned $756M (79 cents per share), which was higher than earnings of $683M (78 cents per share) in last year's quarter. Revenue of $18.65B missed the analysts' forecast of $18.74B. However, adjusted earnings of 96 cents per share surpassed the analysts' expectation of 93 cents per share.
Analysts' Calls
WAG had received multiple positive upgrades and only one downgrade from the analysts so far in March. On March 21, 2013, Macquarie upgraded WAG from neutral to outperform with a price target of $52 (up from $36). On March 20, 2013, Citi upgraded WAG from sell to buy, and JPMorgan upgraded WAG from neutral to overweight with a price target of $55.00 (from $41.00). UBS and Cantor Fitzgerald also reiterated a buy rating for WAG and increased their target price to $51 (from $48) and $49 (from $45), respectively. ISI Group maintained its cautious rating but increased its target price to $43 (from $38) on the same day.
On the other hand, Goldman Sachs downgraded WAG from conviction buy to buy but increased its price target to $50.00 (from $46.00). Analyst Matthew J. Fassler said he saw less upside in the stock now that the market increasingly appreciates WAG's association with Alliance-Boots. Fassler said,
We maintain a Buy rating given accelerating earnings momentum and the potential for the ABC distribution deal to drive synergies beyond our current forecast.
Deal with AmerisourceBergen Corp.
WAG is expanding its supply agreement with AmerisourceBergen Corp. (NYSE:ABC) with a deal that gives WAG an ownership stake in the pharmaceutical wholesaler. As reported by Reuters, by combining Walgreen's distribution in the US and Europe with AmerisourceBergen, Walgreen can negotiate better pricing for the bulk drugs and will have access to more specialized drugs, such as those for cancer treatment. This deal will give AmerisourceBergen and Walgreen a boost in size that can help them negotiate better prices. As quoted from the report,
Walgreen and Alliance Boots have the right to buy up to 23 percent of AmerisourceBergen, starting with a 7 percent stake on the open market, now valued at about $800 million. Walgreen and Alliance Boots also received warrants exercisable for 16 percent equity in Amerisource. The first tranche, an 8 percent stake, can be exercised at a strike price of $51.50 in March of 2016.
As quoted from Forbes, written by Bruce Japsen, "The partnership with AmerisourceBergen can also be viewed as a hedge against the U.S. government's growing position as the largest payer of prescription drugs." The health benefit will expand to more than 30 million in less than 10 months as Affordable Care Act was signed into law 3 years ago by President Obama. This deal is financially and strategically sounding for Walgreen and AmerisourceBergen.
On the other hand, this deal, which worth $28B in fiscal 2014, had negatively impacted Cardinal Health Inc. (NYSE:CAH). Cardinal's distribution contract with Walgreen ends in August. CAH also has a contract with drugstore CVS Caremark Corp (NYSE:CVS) that expires this year.
Fundamentally, there are a few positive factors for WAG:
Stronger ROE of 12.0 (vs. the industry average of 11.3)
Lower debt/equity of 0.3 (vs. the average of 0.4)
Lower P/E of 21.0 (vs. the industry average of 44.8)
Lower Forward P/E of 13.5 (vs. the S&P 500's average of 13.9)
WAG generates an operating cash flow of $4.41B with a levered free cash flow of $2.58B
WAG currently offers an annual dividend yield of 2.37%
Technically, the MACD (12, 26, 9) indicator is showing a bullish trend, and the MACD difference continues to diverge. The momentum indicators, RSI (14), is indicating a strong buying momentum at 76.84, where above 70 is considered as over-bought. WAG is currently trading above its 50-day MA of $41.01 and 200-day MA of $35.68, as seen from the chart below.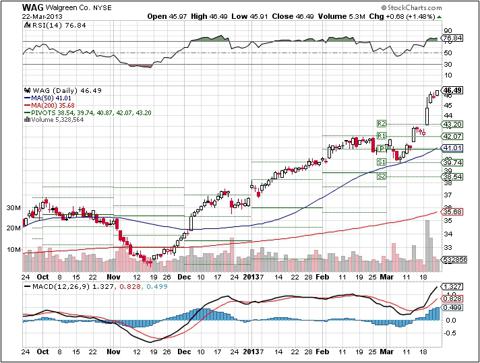 Source: StockCharts.com
How to Invest
The long-term outlook for WAG remains optimistic with estimated 14.58% annual EPS growth for the next 5 years. Our last reviewed credit put option spread of July 20, 2013 $37/$39 put is currently yielding a profit. Investors might want to take some profits off after the recent run-up, as the stock is in the over-bought condition currently. WAG remains a great long-term buy upon any pullback. Investors can also review the following ETFs to gain exposure to WAG:
Dynamic Retail (NYSEARCA:PMR), 5.41% weighting
Market Vectors Retail ETF (NYSEARCA:RTH), 4.57% weighting
S&P Equal Weight Consumer Staples ETF (NYSEARCA:RHS), 2.47% weighting
Note: All prices are quoted from the closing of March 22, 2013. Investors and traders are recommended to do their own due diligence and research before making any trading/investing decisions.
Disclosure: I have no positions in any stocks mentioned, but may initiate a long position in WAG over the next 72 hours. I wrote this article myself, and it expresses my own opinions. I am not receiving compensation for it (other than from Seeking Alpha). I have no business relationship with any company whose stock is mentioned in this article.