There are many articles extolling how electric cars like the Tesla S (NASDAQ:TSLA) can be outstanding vehicles, with fantastic acceleration, low noise, and above all consuming very cheap electricity. As for downside, usually this is said to be limited to range and refueling considerations.
This is far from being the only problem
Indeed, economic considerations are the very thing which will keep both the Tesla, and other plug-in electrics as a niche market for as far as the eye can presently see.
The main problem affecting electrics has two sides to it:
First, the most expensive component in the car is the battery, by far. There are stories of Tesla Roadster batteries going dead and costing $40000 to replace;
And second, every battery loses efficiency and goes dead over time and with cycling. This is not something which happens to some, it actually happens to every battery.
This is very relevant
Many websites put forward calculations of the total cost of ownership showing how Tesla comes out shinning in those comparisons. Usually a great deal of emphasis is given to how electricity is so much cheaper than gas over time. For instance, a typical comparison goes as follows (Source: Teslarumors.com):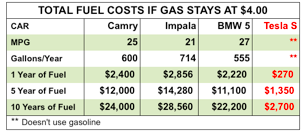 Here, over 10 years the Tesla S shows a massive $20000+ advantage in fuel costs. But the problem is, this table is misleading. Over 10 years most Teslas will need new batteries. Even if they haven't had their batteries changed, whoever thinks of buying a second-hand Tesla will have to know that the looming giant cost is just about to hit. These batteries can easily cost $30000, so the entire fuel benefit is gone - and then some.
So is the Tesla doomed because of this?
I don't think so. But one thing remains certain - it will remain a niche product. There's no way it can reach mass-market acceptance with a looming cost that's as high as that of a new car.
Tesla has tried mitigating this through a clever marketing tactic. It's selling "prepaid" batteries for up to $12000. The saying is that batteries show declining prices year after year, so Tesla can sell a prepaid model today for much less than it would actually cost to buy the battery today. This evokes feelings of comfort that down the road the $30000-$40000 battery will no longer be so expensive. While it might be true, that in 10 years a similar pack might be down to $12000 or so, even $12000 is a massive maintenance cost, akin to having to change an engine and a gearbox at the same time, something you only expect of a lemon, not of each and every car you might buy.
What Tesla can thus hope to achieve with today's electric vehicle fundamentals, is perhaps continue to target a very high income group seeking distinction instead of savings or economic rationality. Buying a Porsche or a Ferrari isn't necessarily a rational choice, but there's still a market for them. That's where Tesla will most likely remain. The mass market of a BMW or Mercedes will remain shut to Tesla's advance, since those are already rational decisions.
Size of market
Taking into account what I said earlier, one could perhaps better compare the Tesla to a specific Porsche model: the Panamera. The Panamera sold around 8000 units in North America during 2012 and around 24000 worldwide. This compares to Tesla's objective of selling 20000 Tesla S units during 2013. Given how close that is to the Panamera's actual sales, for a brand established much longer and without infrastructure or battery worries, such an objective seems unlikely to be reached.
My basis for saying this is that the Tesla S sales will probably follow a pattern similar to the Tesla Roadster -- another niche product -- whose shipments peaked on the 4th quarter of availability. This leads to significant upfront demand from early adopters, but then demand quickly stalls and stabilizes due to the market's niche nature preventing wider adoption (Source: Crunch the numbers).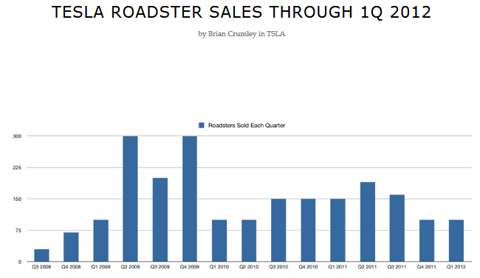 Conclusion
The cost and certainty of having to change a Tesla S battery will severely crimp the attractiveness of this model and confine it to a market niche comparable to Porsche's Panamera model. Near-term sales objectives for the Tesla S are already on a par with the Panamera's, and thus seem unlikely to be reached if sales and deliveries plateau within 1-2 quarters as I expect them to, following the trajectory of the other Tesla niche product, the Tesla Roadster.
While I believe Tesla will miss its sales objectives for 2013, I have to hesitate on calling it a short, due to the extremely high short interest in a market propped up by Bernanke. Still, I wanted to leave this call for caution to anyone long the name.
Disclosure: I have no positions in any stocks mentioned, and no plans to initiate any positions within the next 72 hours. I wrote this article myself, and it expresses my own opinions. I am not receiving compensation for it (other than from Seeking Alpha). I have no business relationship with any company whose stock is mentioned in this article.