Let us start with a recent fact about the stock performance of Zynga (NASDAQ:ZNGA): stock is up 50% since January. Whether that is overvalued or undervalued, is a totally different question. But the fact is quite impressive per se. This is interesting enough to try to predict future movements on the social gaming company. In what follows, I analyze this from the point of view of the relationship the firm has established with its giant partner Facebook.
First, we have to understand that valuation has little effect on the 3 months past performance. Usually, it takes a long time for valuation to be reflected on stock price through cash flow improvements. By long time, I mean anything from 2 trading days to a month or two. However, in the case of Zynga, this process could be even longer. In the meanwhile, there are other forces behind the stock performance. Forces that have little to do with valuation, like the relationship with Facebook or the release of a new game.
I am not saying that valuation will never matter for Zynga. Eventually, every company in this world will have to come to terms with its real value, whether that implies "destroying" or "creating" value for shareholders.
But I think we can leave valuation aside for a while in this case, and base our trades according to news related to the development of certain projects that appear to be crucial for the company's short run future.
The reasons why a normal valuation framework would not work in the case of Zynga are multiple but I believe that, mainly, it is hard to make an accurate prediction of the historic daily active users (DAU) metric. Zynga is heterogeneous: several games, some working with Facebook, some not. That implies analyzing several DAU databases.
Now, the more users Zynga has, the more income it can generate through advertising and game fees. Since Zynga has many games and therefore multiple DAU metrics have to be calculated, summarizing all of them into a single metric is a challenging process. What is more important is that this process is, obviously, not perfect, and prone to errors. If you are still interested in this particular topic you can refer to an excellent valuation paper by Forro, Cauwels and Sornette (2011).
Regardless of this, what we should understand is that the more games users Zynga has, the more value the company will be able to create.
Is Zynga being successful at increasing the number of game users?
The truth of the matter is that Zynga games are, like most games, cycle-dependent. There is no such a thing as a Zynga endless addictive game. They run their course, as the following graph depicts: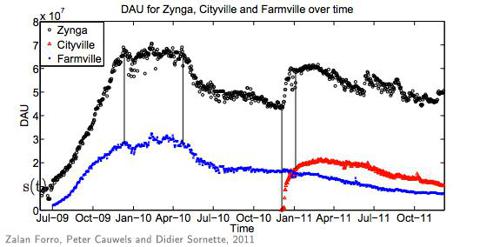 Both Cityville and Farmville, well known Zynga cash cows, eventually started to lose DAU power. We ought to learn a lesson from this: no matter how cool the company looks, how bright engineers are or how much potential some gurus see in "social games", we know that Zynga is not different from any other gaming company: their products will eventually lose a good amount of their DAU.
Therefore, to deliver consistent value and growth, the only way that remains is to keep launching new games. Games that can have the power to create DAU power for a period long enough to generate an advertisement revenue high enough to beat the street consensus and push shares up.
Here is where Facebook (NASDAQ:FB) comes in.
Naturally, Zynga is more than aware of the fact that they need to continue producing addictive games. The solution seems to have been identified as producing games that involve gambling. And they have started a joint venture in the UK, as we have seen in the early announcement last October.
The project itself is not new. It could go north in the coming months and bring cash. I believe this slight optimism is what made the stock go up in the first place. The project will use Bwin.Party Digital Entertainment's strengths in gaming and Zynga's "expertise in social gaming to make a real money gaming operator" with social features as it was announced in late October.
What we also know is that it will use the Facebook platform, which is a signal that Zynga plans to enter this segment aggressively. It is also a signal that Zynga doesn't want to take any risks here. Creating a DAU by leveraging the Facebook platform is easier than doing it from the ground up. This comes at the expense of profitability but the firm is in a delicate situation where failure is not an option. If things go north, many new upside possibilities arise: first, that Facebook increases the support channels to Zynga or even suggests a joint venture. Second, that the move to legalize spread betting and other gambling activities in the U.S. materializes. If this happens, Zynga would certainly try to replicate the success in the U.K. If it doesn't, Zynga can always experiment in other gambling-friendly legislations. But if things go south, Zynga will not only suffer the consequences of a failed project: they would have to face an "adjustment of expectations": those who are long Zynga mainly because they think that the online social gaming project will deliver impressive results in the U.K. will have to reconsider their positions. Losses. Again. Indeed, there seems to be a lot of gambling in investing in gambling.
The story does not end here. The reason why the relationship between Facebook and Zynga is complicated is because if Zynga actually manages to succeed with its online gambling project, rumors of Facebook buying Zynga will come back, and the stock will ultimately suffer the consequences. If Zynga is successful on this one, leveraging the Facebook platform would be seen as a key success factor by all parties. Then, a buyout of a post-gambling successful Zynga would not sound that illogical: if the premium is not excessive, a buyout could even increase revenues for Facebook.
The key issue here is whether Zynga will succeed or not in its online gambling project in the U.K.
View: Neutral
Scenario Analysis
| | | |
| --- | --- | --- |
| | Move | Probability |
| The U.K. joint venture goes north, bringing further cash to the company. Management makes smart moves: uses the cash to create further products related to gambling in tax-friendly countries. | Upside | Medium |
| The U.K. joint venture goes north. Spread betting and other related activities become legal in the U.S. under flexible regulation. Zynga replicates its success in the U.S. or at least declares to commit itself to do so, creating high expectations. | Upside | Low |
| The U.K. joint venture goes north. Facebook decides to enter into negotiations to buy Zynga. | Downside | Low |
| The U.K. joint venture fails to create a sustainable DAU. | Downside | Medium to High |
| Other scenarios | Not assessed | Low |
Disclosure: I have no positions in any stocks mentioned, and no plans to initiate any positions within the next 72 hours. I wrote this article myself, and it expresses my own opinions. I am not receiving compensation for it. I have no business relationship with any company whose stock is mentioned in this article.