CenturyLink (NYSE:CTL) recently launched AppGrid, a private cloud service that enables businesses to design, build, test, and launch production by utilizing a cloud environment. The product simplifies cloud services by combining the strengths of strong network infrastructure with expertise in cloud computing. In this article, I will show to how current trends in the private cloud market will favor the sales of CenturyLink's new product.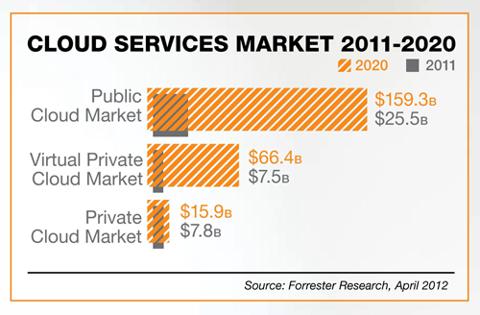 The market for private cloud solutions is increasing globally. According to the above research result from Forrester Research in April 2012, virtual private cloud market will rise from $7.8 billion in 2011 to $66.4 billion in 2020. Forrester Research, a respected firm, said the private cloud market will rise from $7.8 billion in 2011 to $15.9 billion in 2020. According to a new forecast from International Data Corporation (Pending:IDC), worldwide spending on hosted private cloud (HPC) services will be more than $24 billion in 2016.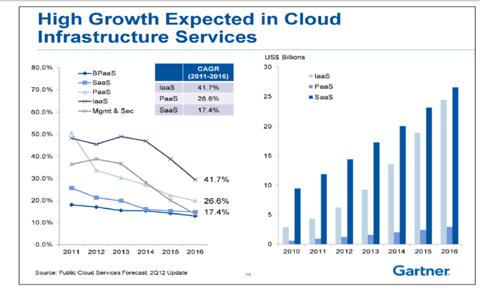 In the second chart above, Gartner, another respected firm, reveals its research result on cloud infrastructure services. The research report predicts astronomical growth in the market. It said private cloud infrastructure is set to grow from around $16 billion in 2013 to $26 billion in 2016. Already, the trend has affected CenturyLink's private cloud products. One of them such as SavvisDirect Sitebuilder boosted the company's Data hosting segment revenues to 12.7% growth in fourth quarter 2012. Increased private cloud revenues will improve CenturyLink's PE, PEG, and margins in the next few years.
Financials
CenturyLink reported improved year-over-year revenue trend to a 1.5% rate of decline, compared with a 3.2% decline in fourth quarter 2011. Its 2012 operating revenues increased to $18.4 billion from $15.4 billion for 2011. Operating cash flow was $7.7 billion for 2012, compared with $6.5 billion in 2011. Net income was $947 million in 2012, compared with $867 million in 2011. Adjusted net income was $1.66 billion in 2012, compared with $1.63 billion in pro forma 2011. Adjusted diluted EPS was $2.67 in 2012, compared with $2.64 for pro forma 2011. Cloud revenues played a role in CenturyLink's performance.
The company's net income for fourth quarter 2012 was $233 million, compared with $109 million for fourth quarter 2011. Its diluted earnings per share for fourth quarter 2012 was $0.37, compared with $0.18 for fourth quarter 2011. Cloud and collocation services revenues grew the company's data hosting segment. Operating revenues for the segment were $292 million in the quarter, a 12.7% increase from fourth quarter 2011.
"The December commercial launch of our new savvisdirect product, which meets the increasing demand for a simplified approach to cloud computing, reflects the combined strength of our strategic asset portfolio and employee innovation," said Glen F. Post, III, chief executive officer and president.
CenturyLink reported strong operating revenues, operating cash flow, and free cash flow for third quarter 2012. Operating cash flow increased to $1.90 billion from $1.88 billion in third quarter 2011. Its adjusted net income for third quarter 2012 was $413 million, compared with pro forma adjusted net income of $377 million in third quarter 2011. Cloud and collocation services revenues grew the company's data hosting segment. Operating revenues for the segment were $280 million in the quarter, an 8.1% increase from fourth quarter 2011. The managed hosting revenues, including cloud, were $107 million, representing a 9.2% increase over the same period a year ago
"CenturyLink's third quarter results reflect our continued progress toward top line revenue stabilization, successful integration of the Qwest and Savvis operations, and alignment of our operating costs with our revenue and growth opportunities," said Post.
Private cloud initiatives
CenturyLink, through Savvisdirect, has released a portfolio of cloud services to businesses of all sizes in the recent past. Savvisdirect Sitebuilder enables businesses improve their operations with easily managed websites. FastForward Onboarding erases the need of consumers to navigate complex documentation or spend hours on the phone. Cloud Storage from savvisdirect lets businesses store data on cloud infrastructure.
The just-released private cloud solutions are to allow customers to go from sign-up to live in less than two business days. They provide dashboard interface to manage and track such tools as CPU and RAM. They present opportunity for access to capacity and resources such as firewalls and databases.
"With most cloud-based software development efforts, developers must keep track of multiple scripting languages, hardware configurations, and application versions as they hop from one platform to the next throughout the application lifecycle," said Mike Goodenough, global director of cloud field engineering for savvisdirect. "AppGrid changes the game by simplifying the application development and continuous integration processes into a single, private cloud appliance ecosystem that's delivered on dedicated hardware, fully accessible via public IP and secured through VPNs."
Obviously, the private cloud products are crucial to CenturyLink in 2013. Fortunately, this line of product is proving popular with time, and gaining a head start over its rivals will prove profitable to CenturyLink.
When we relate private cloud revenues to the company's recent reports, we saw growth. Its data hosting segment, which includes cloud services, increased revenues in the third and fourth quarters. It is clear the company has been improved by it in comparison to its 2011 reports, so it can be said that the company is operating at an efficient level.
Competition
But how is CenturyLink performing in relation to others? With gross margin of 58.39%, compared with 21.72 for Dell (NASDAQ:DELL), 24.13% for Amazon (NASDAQ:AMZN), and 51.75% for IBM (NYSE:IBM), and earnings per share of 1.25, compared with -0.09 for Amazon, and price to sales of 1.17, compared with 2.04 for Amazon, and 5.47 for Google (NASDAQ:GOOG), CenturyLink is doing better than the others. Amazon's Virtual Private Cloud will provide competition to CenturyLink's new private cloud products. CenturyLink's products enable a private cloud appliance ecosystem delivered on dedicated hardware. You get the same in Amazon's Virtual Private Cloud, but the user will still need to keep track of multiple scripting languages and hardware configurations. This increases the need to hop from one platform to the next. Google's App Engine lets you create a private, isolated section of cloud where you can launch resources in a virtual network. But users will face problems over the multiple scripting languages. Amazon and Google slashed prices to compete with CenturyLink's in the market, but CenturyLink is bringing added value to storage with its product and may not follow suit. How do Google and Amazon compare to CenturyLink as investments? I prefer CenturyLink. It has cheaper price to sales than its competitors and has a greater margin and earnings per share than Amazon.
Conclusion
Looking at the previous performance of CenturyLink's private cloud solutions, the growth prospects of the sector in the next few years, and the improving numbers, we can say that the company's new solutions will improve price multiples. Based on my research, investors should consider buying CenturyLink.
Disclosure: I have no positions in any stocks mentioned, and no plans to initiate any positions within the next 72 hours. I wrote this article myself, and it expresses my own opinions. I am not receiving compensation for it (other than from Seeking Alpha). I have no business relationship with any company whose stock is mentioned in this article.