Over the past year, few stocks have fared worse than luxury retailer Coach Inc. (NYSE:COH). COH shares have fallen by more than 36% while, at the same time, the S&P 500 has risen by nearly 10%. Given the current environment, I believe COH should announce an aggressive buyback program.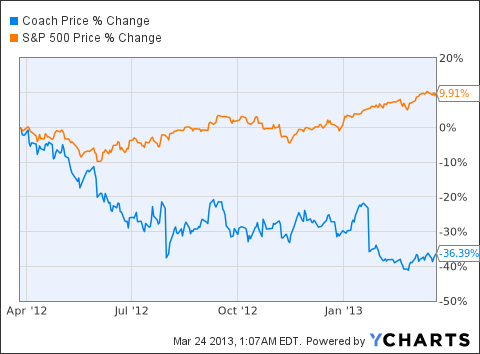 COH data by YCharts
Valuation
Currently, as shown by the chart below, COH shares are trading at low valuations relative to historic norms. Additionally, COH shares are trading at a lower P/E multiple than other luxury retailers such as Michael Kors (NYSE:KORS), Ralph Lauren (RL) or Tiffany (NYSE:TIF). Clearly, the market is not giving COH much respect. COH should take advantage of the current depressed valuation by announcing a buyback.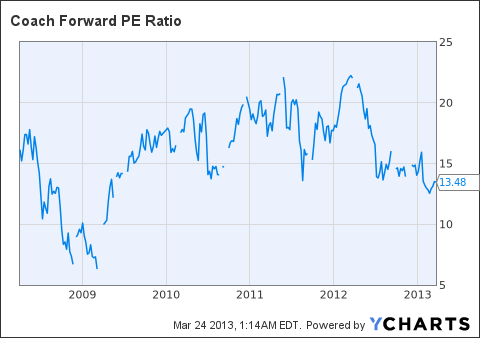 COH Forward PE Ratio data by YCharts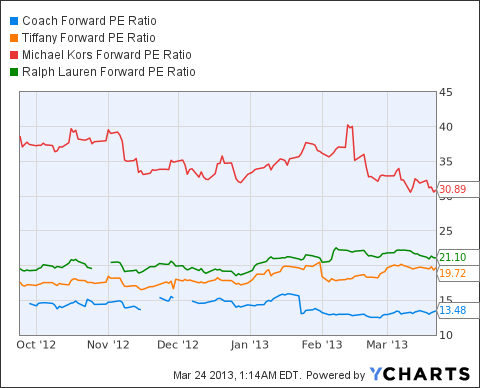 COH Forward PE Ratio data by YCharts
Balance Sheet
Simply stated, COH has a phenomenal balance sheet. Currently, COH has $858 million in cash and just $22.7 million in debt. The strength of the balance sheet means COH has some flexibility to raise capital via a debt sale without putting the company in a difficult financial position. The chart below shows the debt-to-equity ratio of COH and Tiffany. I think it is reasonable to believe that COH can, without too much difficulty, boost its debt-to-equity levels to the same level as Tiffany. If COH were to boost debt-to-equity levels to 0.36, given COH's equity value of $14 billion, COH would have debt of about $5 billion.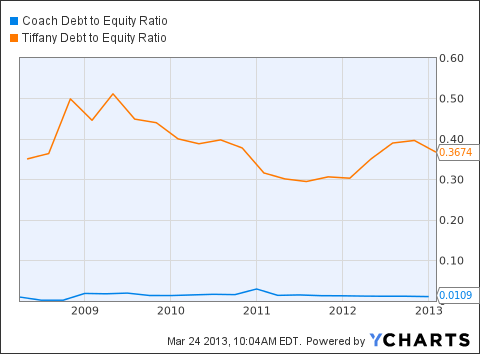 COH Debt to Equity Ratio data by YCharts
Low Interest Rates
Currently, with interest rates near historic lows, it is a terrific time for COH to issue debt. If interest rates were significantly higher, it would be more difficult to argue that a buyback makes sense.
Possible Takeover
Of late, rumors have surfaced that COH is for sale. This is not surprising given the stock's poor performance. If COH were to be taken private, especially if the buyer is a private equity group, the buyer would likely follow the strategy outlined in this article by increasing the debt load. While shareholders would benefit from any takeover offer, I believe, over the long term, shareholders would be better served if the company follows my proposed strategy to leverage up the company and announce a significant share buyback.
Conclusion
Due to the recent stock performance, current valuation relative to historic norms and other luxury retailers, strong balance sheet, and low interest rates it makes sense for COH to announce a massive buyback. If any potential buyback is to be effective, it needs to be large. If COH simply decides to use some of its current cash to announce a small buyback of say $500 million, I would not expect the stock to benefit much as the amount would be too small. For a buyback to be effective, in my opinion, it needs to be at least $2 billion.
Disclosure: I have no positions in any stocks mentioned, and no plans to initiate any positions within the next 72 hours. I wrote this article myself, and it expresses my own opinions. I am not receiving compensation for it (other than from Seeking Alpha). I have no business relationship with any company whose stock is mentioned in this article.