Introduction
In an earlier article, I discussed one of the most important metrics to analyze the silver industry, the actual cost of mining an ounce of silver, which can help an investor figure out whether it is time to buy SLV and/or the silver miners. In that analysis, we used the 3Q 2012 financials to calculate the combined results of a number of publicly traded silver companies and come up with the average cost it takes to mine each ounce of silver. Once the 4Q FY12 reports from all gold and silver miners are out, I will be posting the consolidated true production cost calculations for both gold and silver, so investors who are interested can follow me and you will receive that report.
In this analysis we will calculate the real costs of production of Endeavour Silver (NYSE:EXK). This primary silver miner has operations and exploration properties mainly in Mexico, with one exploration property in Chile.
Calculating the True Mining Cost of Silver - Our Methodology
In a previous article about Goldcorp's (NYSE:GG) cost of gold production, I gave a thorough picture of the current way mining companies report their costs of production and why it is inaccurate and significantly underestimates costs. Then we presented a more accurate methodology for investors to use to calculate the true costs of mining gold or silver. Please refer to that article for the details explaining this methodology, and I would encourage all precious metals investors to understand this important concept. It is important for investors interested in miners or those who focus on gold and silver as a commodity investment, because the true costs of production will show where a possible floor exists for a commodity (the production cost) which is important to silver (SLV investors) and is also an obvious way to differentiate miners.
Real Costs of Production for EXK - 4Q 2012 and FY2012
Let us now use this methodology to take a look at EXK's results and come up with their average cost figures. When applying the methodology for the most recent quarter and FY2012, we standardized the equivalent ounce conversion to use the average LBMA price for Q4FY12. This results in a gold ratio of around 53:1. We like to be precise, but minor changes in these ratios have little impact on the total average price - investors can use whatever ratios they feel most appropriately represent the by-product conversion.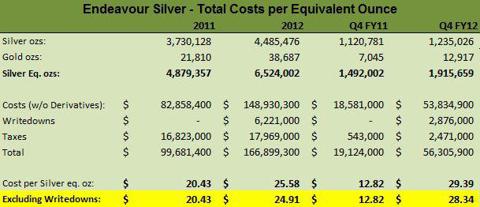 Observations for EXK Investors
The first thing to note is that the Q4FY11 costs of production were greatly influenced by a number of extraordinary issues, which means they do not provide a good baseline to measure 4QFY12 costs against. In Q4FY11 management held a great deal of production off the market due to low prices, which significantly affected the tax rate and a number of other cost-related factors that led to the extremely low $12.82 cost figure for the quarter. As evidenced by FY11 annual costs, this number is really an accounting aberration rather than a number to use in comparisons - so we will not incorporate this number into our comparisons and will concentrate on the annual figures.
EXK ramped up production in 2012 and produced 6.5 million silver equivalent ounces, which was a more than 30% increase from 2011. In addition, gold production is also increasing faster on a silver-equivalent basis than pure silver production, and in 2012 it made up one-third of silver-equivalent production. This is neither a positive or negative, but investors should note that gold production does make up a significant portion of EXK's silver-equivalent ounces and total revenues.
In terms of true production costs, EXK seems to be in the middle of the pack. Their $24.91 figure for 2012 is about average with their primary silver mining competitors, with Pan American Silver (NASDAQ:PAAS), First Majestic (NYSE:AG) reporting lowers costs, while Hecla Mining (NYSE:HL) and Silver Standard Resources (NASDAQ:SSRI) experiencing similar costs. PAAS had an annual cost of $20.81,AG had an annual cost of $18.44, HL had an annual cost of $24.62, Coeur D'Alene Mines (NYSE:CDE) had annual costs of $27.72,and SSRI had an annual cost of $24.72.
Fourth quarter costs of $28.34 were a bit high, but we would not put too much weight into this figure unless we see future quarters also increase to these levels. Though this figure does suggest FY13 costs may be even higher than the $24.91 figure for 2012 - which would not be surprising since costs are rising all across the silver industry.
With a relatively strong cash position of around $70 million in cash and inventory, EXK is in a good position to weather current silver prices. If silver prices drop further they may struggle to stay profitable, but they are not in danger of having a cash crunch unless silver prices drop to below $20 per ounce - which we believe is a relatively unlikely scenario since industry costs are well above those levels.
Finally, for investors who believe that the precious metals industry should take a stronger stand supporting silver and gold prices (which we do), EXK is one of the few companies that keep production off the market when they feel costs are too low. This inventorying of silver and gold in low price environments is a great way for silver companies to show investors that they will not sell their hard-earned production at prices that do not reflect its value. Investors should applaud and encourage CEO Bradford Cooke to continue to take actions such as these, and it is one of the major reasons why we own EXK stock. We encourage other precious metal investors to support companies that care and safeguard the value of their silver and gold production - more companies should follow Mr. Cooke's lead.
Conclusion
For a silver miner, EXK's production costs were in-line with other silver miner competitors. At production costs of $24.91 per ounce, EXK will not be making significant profits at current silver prices, but they will be able to chug along until prices start rising again.
Those who invest in silver as a commodity, EXK is another company that is experiencing silver costs in the low to mid-twenties and this shows that the silver price is coming to levels where it makes margins for miners very slim. This is not a positive for miners, but it is a positive for silver investors because they are buying an asset which has production costs near its price. There is no guarantee that the price will not fall below the levels of production, but as it falls it will reduce supply as miners cannot sustain operations at these price levels - and both industry and investors will be buying as much as they can as prices linger below production costs. Those holding silver as a commodity (SLV, SIVR, and PSLV investors) should continue to hold their silver positions and if there is a further drop to the $25 range increase their positions because as silver comes close to its true production costs, this signifies a great buying opportunity.
Disclosure: I am long EXK, SIVR, HL, PAAS, AG, PSLV. I wrote this article myself, and it expresses my own opinions. I am not receiving compensation for it (other than from Seeking Alpha). I have no business relationship with any company whose stock is mentioned in this article.