By Siraj Sarwar
In recent times, the price of energy has been rising. This is in part because of the start of a decline in oil reserves. Another factor is the increasing difficulty of exploring where to drill for oil in new locations and regions. Investors can currently strengthen their portfolios by buying the top energy dividend stocks. This can also help diversify an investor's holding, particularly if the investor is currently heavily focused in one sector.
Such investments can bring investors a combination of capital appreciation and high-paying dividends. Energy company stocks may well be the answer for those seeking respectable dividends as well as the possibility of capital appreciation. As oil and gas gradually become increasing scarce, energy companies should continue to do well. Such companies are essentially investing their current profits in the future of the company along with returning a substantial returns to investors. In this article, I pick three undervalued energy companies for safe and stable returns.
BP PLC (NYSE:BP) is an integrated oil and gas company. The company explores for oil and natural gas and also engages in related business. BP has been experiencing some difficulties on Deepwater Horizon oil spill related costs and the latest attack on the Amenas natural gas facility in Algeria.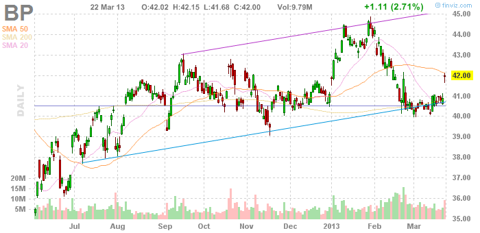 On the other hand, BP is actively seeking to settle the oil spill matter. Recently, Louisiana senator Mary Landrieu called on the government to lift the EPA ban on BP. While at the end of Q4 BP announced that it has paid $20 billion in a final payment related to the Deepwater Horizon incident.
Additionally, the company also announced the completion of 15 projects, which were started in 2011. Furthermore, BP is investing heavily in growth opportunities. The company started five new key projects in 2012, including Galapagos in the U.S. Gulf of Mexico and Devenick in the UK North Sea.
Over the year, the stock has shown a nice surge with few shortfalls. The recent fall in price presents an attractive opportunity for long-term investors. At present, its stock is trading at a discount; though, analysts have a mean target price of $51.24 for BP shares. The stock is trading at a P/E ratio of 11.60 and P/S 0.35. With a P/S ratio of 0.35, BP looks significantly undervalued relative to Exxon Mobile Corporation (NYSE:XOM) and Chevron Corp (NYSE:CVX).
In addition, BP is famous for paying substantial dividends with a trailing dividend yield of 5.14%. Below are a few key metrics sketching the company's ability as one of the best dividend payers in the energy sector.
Dividend Yield 5.14%
Past Year annual dividend $2.16
Payout ratio in the Trailing Twelve Months [TTM] 45.72%
Occidental Petroleum Corporation (NYSE:OXY) operates in the oil and gas, chemical and midstream, marketing and other segments. At the moment, Occidental is significantly undervalued. It is trading well below its mean target price of $99. In addition, its stock underperformed relative to its peer group.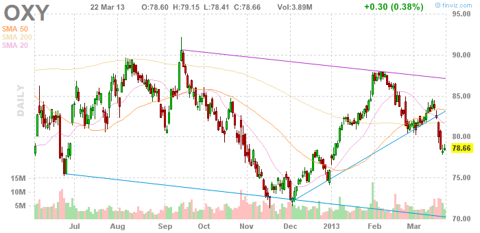 However, I think the stock presents a smart entry point. It is ready for yet another surge with a pristine balance sheet and a reasonable valuation. Additionally, the company can achieve significant growth with an improved focus on the Permian Basin, together with efficiency implementations.
Furthermore, Occidental has a solid investment strategy, which led it to built its business with the acquisition of proven properties that offer future production growth and additional reserves. As a representation of its strong investment strategy, at the end of Q4, its oil and gas production reached a record level of 779,000 barrels of oil equivalent per day. Occidental is looking to continue its investment strategy in the United States and globally. I believe, with recent exploration success, the company is poised for potential growth.
Above all, as an another representation of its strong financial situation, Occidental has recently announced a significant increase in dividends. The company announced an increase in its dividends by 18.5 percent to an annual rate of $2.56 per share over the past year's rate of $2.16 per share. This recent 18.5% increase brings its 11-year compounded dividend growth rate to 16% per year. Below is the brief history of its annual dividends.
| | | |
| --- | --- | --- |
| Year | Dividend Amount | Dividend Yield |
| 12/2008 | $1.21 | 2.02 % |
| 12/2009 | $1.31 | 1.61% |
| 12/2010 | $1.47 | 1.50% |
| 12/2011 | $1.84 | 1.96% |
| 12/2012 | $2.16 | 2.82% |
Morningstar.com
Total SA (NYSE:TOT) is an integrated international oil and gas company, which is engaged in all aspects of the petroleum industry, including upstream operations and downstream operations. Over the previous few years, the company has been experiencing difficulties in expanding production and reserves. Therefore, both its stock prices and its dividends went down from the previous high levels.
However, as the below chart demonstrates, the stock is back on a surge. At present, the stock is undervalued. At the time of writing, the stock was trading at $49.60, which is well below its mean target price of $58. In addition, the stock is trading at a discount based on P/E and P/S ratios of 8.04 and 0.49 respectively, which is below the ratios of its peer group.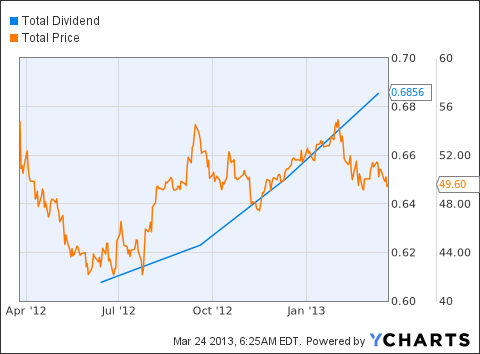 TOT Dividend data by YCharts
With its recent solid financial performance, the company was able to increase dividends over the past few quarters. At present, the company offers one of the best quarterly dividends of $0.80 cents per share, yielding at 5.17%. The company's dividend is strongly backed by its solid financial situation. Below are a few key metrics demonstrating its ability to steadily grow dividends.
Yearly revenue growth [past five years] 5.19%
Earnings Per Share [TTM] $6.17
EPS estimate for next year $6.47
Payout Ratio [TTM] 49.37%
Disclosure: I have no positions in any stocks mentioned, and no plans to initiate any positions within the next 72 hours.
Business relationship disclosure: Efsinvestment is a team of analysts. This article was written by Siraj Sarwar, one of our equity analysts. We did not receive compensation for this article (other than from Seeking Alpha), and we have no business relationship with any company whose stock is mentioned in this article.