It's official, in a Bloomberg interview several days ago, Samsung (OTC:SSNLF) said it has been preparing for a smartwatch device for some time now. Lee Young Hee, executive vice president of Samsung's mobile business, said:
We've been preparing the watch product for so long. We are working very hard to get ready for it. We are preparing products for the future, and the watch is definitely one of them.
While there is no official information on what this smart portable device might look like, or what features it will have, one thing is for sure, the Samsung smartwatch will definitely connect to Samsung phones - if not to the whole Android ecosystem - and will be able to sync information that users will want to have on their wrist. Reuters reported that an unidentified person with knowledge of Samsung's plans said that "the Samsung device will perform many of the tasks of a smartphone."
Apple (NASDAQ:AAPL) has also been preparing to make a smartwatch of its own for some time now. Rumors have it that it will roll out a smartwatch device this year. Among other iWatch rumors, the watch will run the full version of iOS and not a stripped-down version and will have many capabilities of the iPhone itself. Among those capabilities will be the ability to make a phone call. One important issue about the iWatch (assuming it will carry the full version of iOS) is that such a device might actually be a proxy for a much cheaper iPhone. Other rumors say that Apple has about 100 engineers working on the project. Another piece of speculation calls for the iWatch to debut when Apple unveils the iPhone 6, as more detailed engineering work needs to be done in order for the iWatch and the iPhone to work in perfect tune with each other.
But the big news of the day is that Google (NASDAQ:GOOG) is entering the smartwatch race also. A source told the Financial Times that the Google smartwatch will be developed by the company's Android unit and not by Google's X Lab unit that develops experimental projects.
Nothing else is known about Google's potential smartwatch offering, but rumors about its capabilities are bordering on science fiction. Many such rumors call for the Google smartwatch to work in tandem with Google Glass. The problem is that Google Glass is still far from becoming a commercial product.
China's Shanda (NASDAQ:GAME) is also making a smartwatch. According to Chinese reports it will be called the Bambook Smart Watch (picture below) and will run on Firefox OS.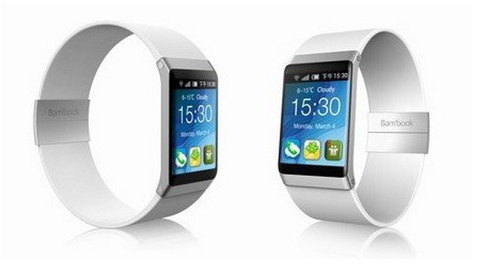 Sony already offers a smartwatch that runs on Android. The price is not bad, about $130. In fact here is a Sony smartwatch on sale in Athens for 99 euros.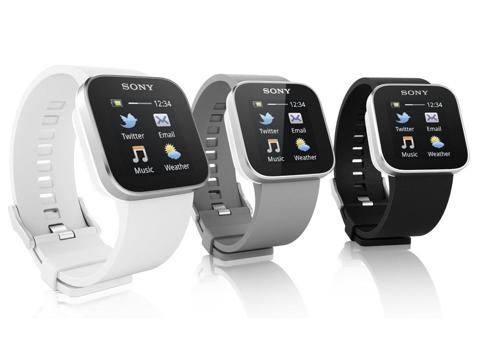 If all this is not enough, The Korea Times reports that LG Electronics is also entering the smartwatch race. According to the article, a source familiar with the matter said LG is developing a next-generation watch, along with an innovative smart product similar to Google's Glass. The company says it is part of its long-term strategy to keep its competitiveness in the volatile information technology industry.
In fact there are thoughts that LG's smartwatch product might not run on Google's Android OS but on the Firefox operating system. LG has already announced that it will make a smartphone running Firefox later this year.
Last but not least, let's not forget that Google's Motorola already has a smartwatch by the name of MOTOACTV, although it's more of a fitness watch than a smartwatch, as other companies are planning to offer.
In fact the only company that has not announced anything about a smartwatch offering is Blackberry (BBRY). And given the company's QNX division, I think if Blackberry actually gives it a try, they will come up with a pretty cool smartwatch.
So from what it seems, there is a big race among many companies to come up with the next generation watch device, with the hope it will be a game changer, similar to the way smartphones changed the way we do things.
Show me the money
All these bells and whistles are just fine, but the question is will companies make money?
According to Citigroup analyst Oliver Chen (via Bloomberg), the global watch industry will generate more than $60 billion in sales in 2013. While that's smaller than the pool of revenue that comes from TVs, gross margins on watches are about 60 percent, he said. That's four times bigger than for televisions, according to Anand Srinivasan, a Bloomberg Industries analyst.
So even if Apple and Google end up commanding 10% of total world market share each, $6 billion in revenue and $3.6 in gross margins are not exactly chump change. So there is money to be made in the space, even though nowhere near the sales that smartphones generate.
However, $60 billion in watch revenue does not mean that all those watch sales will end up going to the smartwatch sector. However, irrespective of what portion of wristwatch users migrate to the smartwatch space, one thing is for sure - the company that first brings to market a compelling product that consumers will buy, will command a big chunk of the market.
That's the reason why all of a sudden there is a race among high tech heavyweights to cross the finish line fist.
My hunch is that Apple and Google are the main contenders to dominate the space, assuming that expectations of a truly revolutionary product are delivered. And knowing both companies, I think we will be more than dazzled with whatever they come up with.
However, as the case Apple's iPhone proved, being the first does not guarantee that you will keep that market share indefinitely. There is always a smarter - not necessarily bigger - fish out there that will take that market share from you as Samsung has demonstrated.
In either case, the smartwatch race will be interesting to follow, and even more interesting will be to see if the space will produce enough revenue and profits to make a difference to companies' bottom line in the future.
Disclosure: I have no positions in any stocks mentioned, and no plans to initiate any positions within the next 72 hours. I wrote this article myself, and it expresses my own opinions. I am not receiving compensation for it (other than from Seeking Alpha). I have no business relationship with any company whose stock is mentioned in this article.