By Serkan Unal
Based on Moody's Investor Services survey of 1,141 companies, U.S. non-financial companies held a record $1.45 trillion in cash at the end of last year. Swelling cash piles and healthy cash flow have enabled many companies to raise dividends at robust rates. As recently reported by Investor's Business Daily, the S&P Dow Jones Indices analyst Howard Silverblatt estimates the S&P 500 companies will pay $300.2 billion in dividends this year, a projected 6.6% increase from last year's record. The latest projection of dividend growth in the S&P 500 Index represents an increase compared to Silverblatt's earlier estimate. Still, many companies are raising their dividends this year at much faster rates than the average for the S&P 500 Index. Below is a review of five companies with yields of at least 2.0% that have recently raised their dividends at double-digit rates.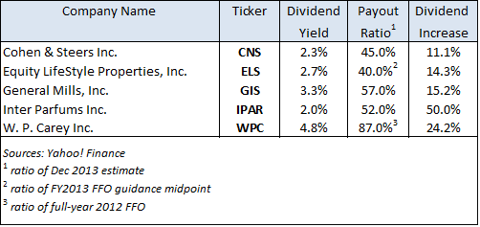 Cohen & Steers Inc. (NYSE:CNS), a global investment management firm with focus on investments in real estate securities and preferreds, recently hiked its quarterly payout from 18 cents to 20 cents per share. CNS recently beat analyst estimates of its fourth-quarter EPS, which increased 36.1% on a revenue gain of 19.7% year-over-year. Despite the strong performance and record AUM (driven by market appreciation), this asset manager has been reporting outflows, mainly from its global/international real estate strategies. Still, its open-end and closed-end funds have seen good inflows over the past year. The 2013 outlook for its primary investments, real estate, looks good due to low interest rates, improving fundamentals, and attractive valuation. However, there are some concerns about the impact on the company from an increasing indexation of real estate mutual funds. The rising popularity of ETFs suggests the indexation trend is likely to continue, which could adversely affect the company. In terms of valuation, CNS is trading at 19.5x forward earnings, well above the asset management's forward multiple of 16.0x. Last quarter, value investors Chuck Royce and Mario Gabelli each held little more than $37 million worth of this stock.
Equity LifeStyle Properties Inc. (NYSE:ELS), a lifestyle properties oriented REIT, hiked its quarterly payout by 14.3% from 43.75 cents to 50 cents per share. The REIT has been an avid dividend grower, boasting a five-year annualized dividend CAGR of 38%. ELS owns "383 properties containing over 142,000 sites in 32 states and British Columbia," according to the company. Last year, the REIT recorded a full-year 2012 FFO of $4.62 per share, an increase of 26.2% from the year earlier. This year, it projects its FFO per share to a range of $4.94-$5.14, potentially 11.3% higher than in 2012. As ELS owns and operates manufactured/resort home communities and RV resorts, trends in population aging and RV sales influence its prospects. Thus, the aging Baby Boom generation-with those aged 50 to 74 expected to grow by 24% from 2010 to 2025-is likely to have a positive effect on the company. Trends in the RV market are also favorable, as RV sales are expected to grow by 7.5% this year to more than 307,000 units, according to the Recreation Vehicle Industry Association. In terms of valuation, ELS is trading at a price-to-FFO (midpoint 2013 forecast) of 14.8x, compared to 13.3x for its peer Sun Communities (NYSE:SUI). Last quarter, billionaire D. E. Shaw and AEW Capital's Jeffrey Fuber were top two hedge fund investors in ELS.
General Mills (NYSE:GIS), the maker of branded consumer foods, increased its quarterly dividend by 15.2%, from 33 cents to 38 cents per share. The company has produced a consistently strong profitability. In its latest quarter, its adjusted EPS increased 16.4% from the year earlier, beating analyst estimates. Revenues increased 8% year-over-year, mainly driven by sales growth at the company's international operations, boosted by the sales at recently acquired Yoki Alimentos and Yoplait Canada. As Goldman Sachs analysts call General Mills' U.S. retail portfolio overextended, it appears obvious that international segments are driving growth at this market leader in key consumer staples such as cereal and yogurt. Even though the company is known for its best-in-industry margins, higher input costs have been hurting its margins. For fiscal 2013, the company sees its EPS in the range of $2.66-$2.68, which represents an increase of up to 4.7% from the fiscal-2012 EPS. Analysts forecast the company's long-term EPS CAGR at 8.0%. In terms of valuation, GIS is trading at 16.8x forward earnings, which is below the industry's 17.8x, despite the 23.6% surge in GIS's stock price over the past year. Last quarter, GIS was popular with Ric Dillon (Diamond Hill Capital) and Mario Gabelli.
Inter Parfums Inc. (NASDAQ:IPAR), the maker of fragrances and fragrance-related products, recently raised its quarterly dividend by 50%, from 8 cents to 12 cents per share. The company's annualized dividend CAGR over the past five years was 25.5%. The company reached record-high net sales last year. As Burberry terminated its license agreement with Inter Parfums last year, the fragrance maker added two new customers, Karl Lagerfeld and Alfred Dunhill. Its particularly profitable brands have been Montblanc, Jimmy Choo and Boucheron. Based on the new guidance for 2013, IPAR expects to achieve a mid-teens sales growth in its ex-Burberry portfolio, which, along with a strong margin expansion, has been a reason for some analysts to give the outperform rating to the stock. Analysts forecast the company's EPS CAGR at 12.0%. IPAR appears to be good value based on its price-to-book of 1.9 relative to its five-year average of 1.7 and its industry's ratio of 4.4. Last quarter, value investor Chuck Royce held nearly $58 million worth of IPAR stock.
W. P. Carey (NYSE:WPC) is a REIT that provides long-term sale-leaseback and build-to-suit financing for companies. It also manages some $14.1 billion worth of properties. WPC recently boosted its quarterly dividend by 24.2%, from 66 cents to 82 cents per share. The REIT has raised quarterly dividends for 48 consecutive quarters. Its expanding FFO and low debt-to-equity (35%) imply more room is available for dividend growth going forward, albeit that growth will likely be more measured. The stock is up 47% over the past year, and is trading at a trailing price-to-FFO of 18.0x. For the reference, its peers, on average, have a price-to-FFO of 18.4x, while Lexington Realty Trust (NYSE:LXP) has the multiple of 12.0x and National Retail Properties (NYSE:NNN) has the multiple of 19.0x. Billionaire John Paulson was bullish about WPC last quarter.
Disclosure: I have no positions in any stocks mentioned, and no plans to initiate any positions within the next 72 hours.
Business relationship disclosure: Dividendinvestr is a team of analysts. This article was written by Serkan Unal, one of our writers. We did not receive compensation for this article (other than from Seeking Alpha), and we have no business relationship with any company whose stock is mentioned in this article.