The homebuilder exchange traded funds are at the highest levels since the subprime bust in 2008. The housing market continues to rebound as current supply is not meeting the demand of eager home buyers who have been waiting on the sidelines.
"The housing turnaround seems to have caught almost everyone in the business by surprise. As desirable as the long-awaited improvement may be, the unusually low level of homes for sale is creating widespread problems for buyers and sellers alike, leading to bidding wars and bubblelike price jumps in places that not long ago were suffering from major declines," Catherine Rampell wrote for The New York Times.
In response to the housing market recovery, iShares Dow Jones US Home Construction (BATS:ITB) and SPDR S&P Homebuilders ETF (XHB) have climbed to their highest levels since 2007. The recent slate of positive data for the homebuilder sector has strengthened investor confidence. Housing and financials are commonly used as economic bellwethers for the health of the U.S. economy.
Housing starts were reported as up 0.8% in February, according to The Commerce Department, the highest level since 2008. This news came one day after the The National Association of Home Builders/Wells Fargo builder sentiment index released Monday, which fell to 44 from 46 in February. It was the second decline since January, which was preceded by eight straight monthly gains, reports Associated Press on USA Today. Readings under 50 are a sign of negative sentiment.
The National Association of Realtors said on Thursday existing home sales increased 0.8% to an annual rate of 4.98 million units last month, the highest level since November 2009, reports Lucia Mutikani for Reuters. Economists polled by Reuters had expected home resales to rise to a 5 million-unit rate. Homes took about 74 days to sell in February, according to the median estimate, down from 97 days from a year ago.
Meanwhile the Federal Housing Finance Agency reported the average home sales price is up 0.6% from December to January. The U.S. home price index is still 4.4% below the peak seen in April 2007 and national housing prices have not receded since January 2012, reports UPI.com.
"With buying conditions remaining very supportive to demand and overall economic fundamentals continuing to improve, we expect the momentum in housing activity to improve further, providing a supportive backdrop for the recovery more generally," said Millan Mulraine, a senior economist at TD Securities in New York.
Critics warn that the housing market did turn artificially fast. "The recovery is real," said John Burns, chief executive of John Burns Real Estate Consulting. "But the pace of the recovery has an artificial component to it."
iShares Dow Jones US Home Construction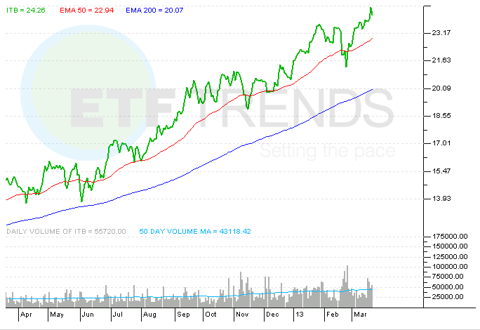 Tisha Guerrero contributed to this article.
Disclosure: I have no positions in any stocks mentioned, and no plans to initiate any positions within the next 72 hours. I wrote this article myself, and it expresses my own opinions. I am not receiving compensation for it. I have no business relationship with any company whose stock is mentioned in this article.