Following many months of discussions involving private energy companies operating in Alaska and the State's government, the giant Alaska Pipeline Project has a new strategic direction and seems to be gaining some momentum. Four energy giants - ExxonMobil (NYSE:XOM), ConocoPhillips (NYSE:COP), BP (NYSE:BP) and TransCanada (NYSE:TRP) - last year agreed to work together "on the next generation of resource development" in Alaska to commercialize North Slope Natural Gas. The Project currently focuses on the large-scale LNG exports alternative from south-central Alaska (the route is indicated with the green arrow on the map below), while the initial concept of a natural gas pipeline through Alberta (red arrow) has been shelved.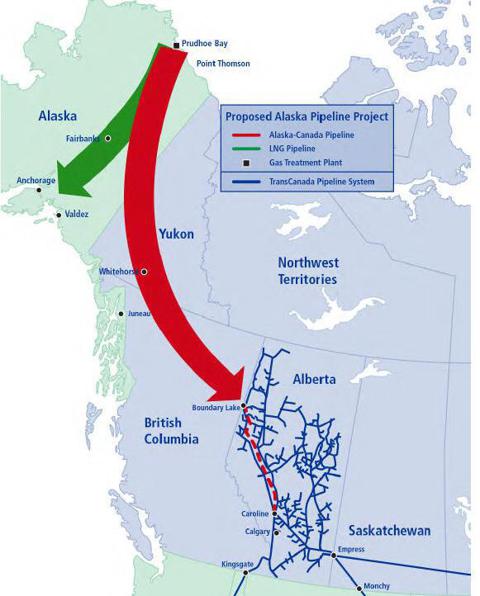 (Source: TransCanada, March 2013)
The abandonment of the Alberta route alternative for the pipeline has been almost inevitable. With the explosive growth of shale natural gas production in the Lower 48, Canadian producers have seen their traditional exports to the U.S. decline, despite steadily growing demand for natural gas in North America. Three LNG projects on the Pacific Coast of Canada are currently in early development to provide a much needed outlet for Canadian natural gas that is abundant, inexpensive but is increasingly "economically stranded." In that context, an extra 4.5 Bcf/d of potential supply from the North Slope that would be coming into Canada, and further on to the U.S., via the Alberta pipeline route no longer appeared sensible.
The massive 3 Bcf/d project to export LNG from Alaska to Asia is potentially a highly impactful addition to the already very long list of proposed North American LNG export facilities (see the final section of this note) and is one of few U.S. projects located on the Pacific Coast. The backing by some of the world's largest energy companies and enormous natural gas reserves stranded on the North Slope give the proposal credibility.
The Project
A project that would help to monetize huge quantities of stranded North Slope natural gas has tremendous conceptual appeal (various versions of an Alaska gas pipeline have been under consideration for over three decades). The North Slope of Alaska is estimated to have over 200 Tcf of conventional gas, of which 35 Tcf are "known reserves." The giant Prudhoe Bay oil field alone produces and re-injects up to 8 Bcf/d of natural gas, a truly staggering amount. Notably, North Slope gas is "wet," with high Btu content and significant amount of extractable NGLs. The reserve figures do not include the trillions of cubic feet of shale gas and gas hydrates estimated for the North Slope.
Much of the upstream infrastructure for the project is already in place, and hundreds of millions of dollars have been spent on engineering and environmental regulatory and commercial work required for a gas project.
In its new version, the route for the proposed natural gas pipeline from the North Slope would be the same or similar to the existing TAPS (Trans-Alaskan Pipeline System) route, the existing oil pipeline. This should reduce costs and have a limited impact on the environment. The 800-mile-long TAPS stretches from Prudhoe Bay on Alaska's North Slope to Valdez, the northernmost ice-free port in North America. More than half of the pipeline runs above ground - an engineering decision due to Alaska's prevalent permafrost terrain. Since its startup in 1977, TAPS has successfully transported more than 16 billion barrels of oil and loaded more than 19,000 tankers at the Valdez Marine Terminal. At peak flow in 1988, 11 pump stations helped to move 2.1 million barrels of oil a day. Throughput in 2011 averaged just 600,000 barrels a day, reflecting continued production decline in the mature Prudhoe Bay field. TAPS is owned by BP (46.9263%), ConocoPhillips (28.2953%), ExxonMobil (20.3378%), Koch (3.0845%), and Chevron (1.3561%).
The proposed natural gas commercialization project would include:
3.0-3.5 Bcf/d pipeline from North Slope;
A large-scale gas processing facility located either at North Slope or Southcentral LNG site;
15-18 mtpa, 3-train liquefaction plant and LNG loading and storage terminal (22 sites are currently being assessed, including one near the TAPS terminal near the Port of Valdez, as well as one on the Kenai Peninsula south of Anchorage, where ConocoPhillips owns and operates a small, 40-year-old LNG export facility that serves primarily Japanese customers).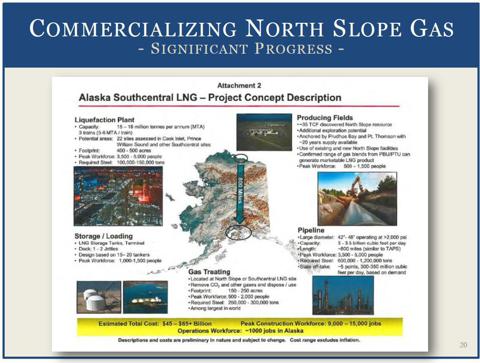 (Source: State of Alaska Gas Pipeline Project Office, February 2013)
The Project's preliminary cost estimate range is staggering: $45-$65+ billion.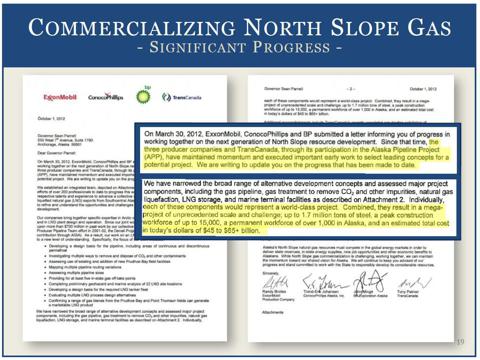 (Source: State of Alaska Gas Pipeline Project Office, February 2013)
The project may take a decade or more to complete, given the magnitude and complexity of proposed construction and, importantly, the many legal, political, fiscal, and environmental issues. The preliminary timeline communicated by Alaska Governor Parnell suggests an in-service date in 2022, which seems optimistic.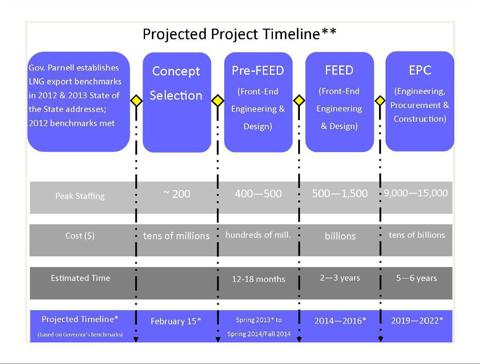 (Source: State of Alaska Gas Pipeline Project Office, September 2012)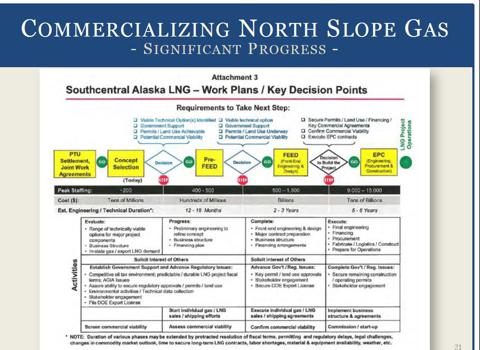 (Source: State of Alaska Gas Pipeline Project Office, February 2013)
The proposed LNG export facility would compete for customers in Asian markets with other LNG projects that are under construction or proposed in Australia and on Pacific Coast of Canada, in addition to dozens of other LNG projects worldwide. Alaska's proximity to the largest LNG consuming markets in Japan and South Korea provides the project with an obvious economic advantage.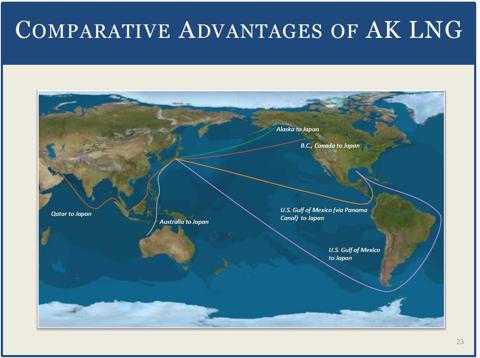 (Source: State of Alaska Gas Pipeline Project Office, February 2013)
The recent progress on the project follows a settlement in March of last year between the state of Alaska and the E&P operators over a long-running dispute over leases at the Point Thomson field, located east of the Prudhoe Bay field. The companies were allowed to keep their large leases in exchange for commitment to begin first oil production from Point Thomson by 2016. The operators also committed to work out a joint approach to natural gas commercialization. Prior to 2012, two pipeline projects - one backed by TransCanada and ExxonMobil and another backed by BP and ConocoPhillips - competed with each other. Under the new proposal, the four companies join their forces.
Many Challenges Remain
The initial joint press release by the four companies backing the project focused attention on some of the thorny issues that still remain:
"Commercializing Alaska natural gas resources will not be easy. There are many challenges and issues that must be resolved, and we cannot do it alone. Unprecedented commitments of capital for gas development will require competitive and stable fiscal terms with the State of Alaska first be established," the CEOs of ExxonMobil, ConocoPhillips and BP wrote in a joint letter to Governor Sean Parnell.

The producing companies support meaningful Alaska tax reform, such as the legislation introduced by Governor Parnell, which will encourage increased investment and establish an economic foundation for further commercialization of North Slope resources.

With Point Thomson legal issues now settled, the producers are moving forward with the initial development phase of the Point Thomson project. Alaska's North Slope holds more than 35 trillion cubic feet of discovered natural gas, and Point Thomson is a strategic investment to position Alaska gas commercialization.
The biggest source of optimism for the LNG Pipeline project and oil and gas activity in Alaska in general stems from the fact that Alaska's administration headed by Governor Parnell has been taking active steps to create more favorable environment for oil and gas business in the state.
Potential Impact on E&P Stocks
Despite its remote location, severe arctic climatic conditions and often challenging environmental issues, Alaska's North Slope remains one of the most promising and underdeveloped oil and gas provinces in North America. The proposed gas commercialization project, if successful, has the ability to serve as a catalyst for a further increase in oil & gas activity in the area.
North Slope is certainly not standing still. A large number of operators are currently actively pursuing North Slope exploration and development on state and federal leases.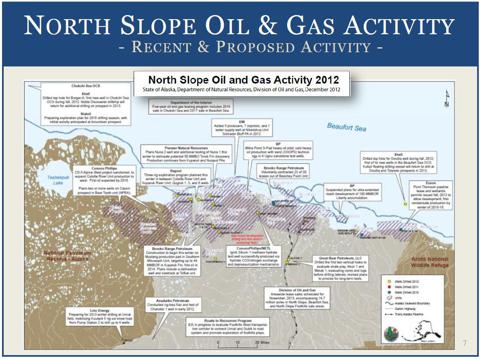 (Source: State of Alaska Gas Pipeline Project Office, February 2013)
Among large-cap stocks, operators include:
Royal Dutch Shell (NYSE:RDS.A)
Repsol (OTCQX:REPYY)
Pioneer Natural Resources (NYSE:PXD)
ConocoPhillips
ExxonMobil
BP
Anadarko Petroleum (NYSE:APC)
Eni (NYSE:E)
Apache (NYSE:APA)
Many small-cap companies and private operators are also increasingly visible in the North Slope area, including:
Among recent operating highlights: Shell began drilling exploration wells in the Beaufort and Chukchi seas in 2012; Eastern North Slope is open with Exxon's Point Thomson development; Linc Energy is pursuing drilling operations at Umiat; ConocoPhillips is proceeding with its CD-5 expansion in NPR-1. Operators are also expanding production outside of existing units (Pioneer at Ooogouruk and Eni at Nikaitchuq).
Private equity groups, such as Riverstone, are investing in Alaska.
Proposed North American LNG Export Projects
Disclaimer: This article is not an investment recommendation. Any analysis presented in this article is illustrative in nature, is based on an incomplete set of information and has limitations to its accuracy, and is not meant to be relied upon for investment decisions. Please consult a qualified investment advisor. The information upon which this material is based was obtained from sources believed to be reliable, but has not been independently verified. Therefore, the author cannot guarantee its accuracy. Any opinions or estimates constitute the author's best judgment as of the date of publication, and are subject to change without notice.
Disclosure: I have no positions in any stocks mentioned, and no plans to initiate any positions within the next 72 hours. I wrote this article myself, and it expresses my own opinions. I am not receiving compensation for it (other than from Seeking Alpha). I have no business relationship with any company whose stock is mentioned in this article.