Company Profile
TJX Companies, Inc. (NYSE:TJX) is a leading off-price retailer of apparel and home fashion stores in the U.S., with additional stores in Canada and Europe. Prices range 20% to 60% below department and specialty stores. TJX operates under four retail divisions: T.J. Maxx and Marshalls (Marmaxx Group) in the U.S.; Home Goods in the United States; TJX Canada; and TJX Europe. With close to 1,900 stores in the U.S., the Marmaxx Group is the nation's largest off-price retailer. In early FY2012, TJX completed its consolidation with A.J. Wright, and converted 90 of these stores to the Marshalls, HomeGoods and T.J. Maxx concepts.
TJX Segments % of total revenue, 2012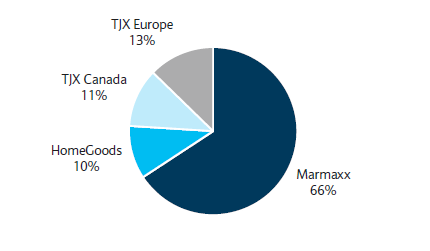 Source: Company annual reports
Keep an Eye on Housing: Outlook
A key industry theme to monitor among broadlines will be the potential for a U.S. housing recovery. TJX has excellent track record of navigating economic cycles. TJX' recent economic analysis showed that if a housing recovery gains traction, it could have a material benefit to the retailer, which derived 10% of revenue and 10% of operating profit from the HomeGoods segment in 2012.
A broad-base housing recovery could provide a tailwind to other discretionary retail spending including apparel, footwear and accessories, as property values increase and consumers' household balance sheets improve. Rising home values stimulate household spending through the wealth effect, as homes are typically the largest asset held by consumers (accounting for 29.5% of total family assets in 2010).
Peer Performance
An uptick in housing may also have a material benefit to other broadline stores that derive over 15% of annual sales from the home category, such as Kohl's (NYSE:KSS), Target (NYSE:TGT), Macy's (NYSE:M), and JC Penney (NYSE:JCP), based from Barclays' estimates.
US retail companies were able to benefit from Asian markets. Companies with the highest portion of revenue derived from Asia include Coach (COH) with 32%, Columbia with 21%, Nike (NYSE:NKE) with 16% and Dockers with 14%.
Industry Peers Revenues, 2013 Forecasts

Source: Barclays ResearchGlobal Trends
Asia remains a significant opportunity for TJX's international expansion. The market's size, population and economic growth bode well for the company. Many U.S. retail companies still have limited exposure to the region, or have limited their exposure by licensing to local operators. Major trends expected to play out retailers during 2013 include:
Ongoing retail growth in China and India offsetting softness in Korea (which has potential to recover) and muted growth in Japan.
Acquisition of franchisees and distributors in the area to regain direct control.
Brand repositioning to attract Asian customers domestically and abroad.
Slowing of domestic growth in China as consumers spend more overseas.
New store rollouts, particularly in China.
Financial Profit Model
TJX' new strategic profit model is expected to yield earnings growth above analysts' expectations and its peers. In 2012, the company generated $23.2 billion in sales. It aims to generate 10% to 13% EPS growth annually over the next three to five years, given the shift in value by consumers and TJX' compelling merchandise mix and brand offerings. It has a consistent track record of a 5-year EPS CAGR (compounded annual growth rate) of 21%. This new strategic profit model is anchored by four earnings drivers:
Comp-store sales growth of at least 2% (every comp point above plan will leverage expenses by 20 bps).
Square footage growth of 4%-5% per year.
Expand pre-tax profit margins (1% to 2% EPS growth).
Use excess cash for share repurchases (to benefit EPS growth by 4%).
TJX Financial Profit Model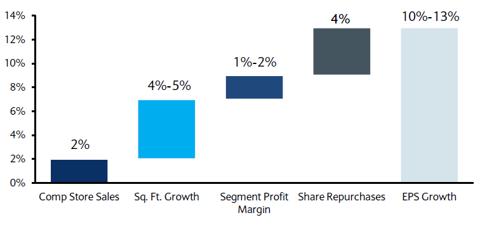 Source: Barclays Research
Stable Comparable Same Store Sales
The company has averaged a comp of 7.0% over the past 12 months, significantly greater than its five-year comp average of 3.4%, and average 10-year comps of 2.8%. Recently, comps have come primarily from traffic increases, driven by the following factors: (1) Quick reaction to trends enhances merchandise presentations and; (2) Low market share suggests opportunity to target new demographics.
TJX Quarterly Comparable Same Store Sales - 3 Yr Stack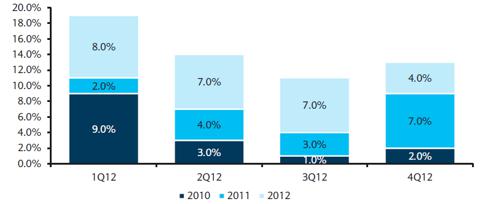 Source: Barclays Research
Balance Sheets and Financial Flexibility
TJX' balance sheet remains exceptionally strong, providing the company with financial flexibility to support growth and to return value to shareholders. TJX ended 2012 with cash and equivalents totaling $2.1 billion, free cash flow of $2.09 billion and a debt-to-equity ratio of just 21.1%, despite repurchasing $1.3 billion worth of stock and paying out $323.9 million in dividends. Over the past 17 years, dividends have grown at a CAGR of 20%. TJX could continue to have the financial flexibility to pursue growth, repurchase additional stock and increase quarterly dividend payments.
Annual Dividends per Share, 1996 - 2013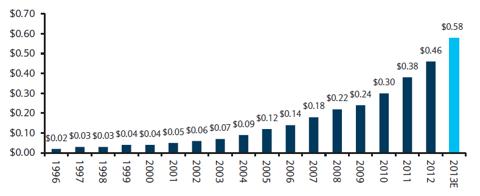 Source: Barclays Research
Conclusion and Valuation
TJX vs. Peers EBITDA Margins, 2013 Estimates

Source: Barclays Research
TJX is currently operating at peak sales productivity and operating margins. A slowdown in comps or poor off-price execution may adversely impact EBITDA (Earnings before Income Tax, Depreciation and Amortization) margins. Barclays initiated coverage of TJX with an Overweight rating and a price target of $55 for its shares, which factor in a double-digit growth expectation of EPS by 10% to 13% on current P/E of 17.6X.
Disclosure: I have no positions in any stocks mentioned, and no plans to initiate any positions within the next 72 hours.
Business relationship disclosure: Black Coral Research is a team of writers who provide unique perspective to help inspire investors. This article was written by Hans Centera, one of our Senior Analysts. We did not receive compensation for this article (other than from Seeking Alpha), and we have no business relationship with any company whose stock is mentioned in this article.
Disclaimer: Black Coral Research is not a registered investment advisor or broker/dealer. Readers are advised that the material contained herein should be used solely for informational purposes. Investing involves risk, including the loss of principal. Readers are solely responsible for their own investment decisions.