John Spence & Tom Lydon
Emerging market ETFs aren't participating in the equity rally in 2013 with the U.S. dollar strengthening since the beginning of February.
For example, iShares MSCI Emerging Markets (NYSEARCA:EEM) is down 5.4% year to date while SPDR S&P 500 ETF (NYSEARCA:SPY) has gained 9.8%, according to Morningstar performance data.
It has been the worst first quarter for emerging markets since 2008 and the asset class is trailing developed markets by the most in 15 years as economic growth stalls, according to Bloomberg. A stronger dollar has also weighed on the performance of emerging market ETFs.
Investors have pulled over $1 billion from EEM, the emerging markets ETF, so far this year.
"While higher volatility in developing countries led to outsized gains during the last six bull markets, this time is proving different," Bloomberg reports. "Bulls say emerging markets will lead the next stage of the global rally as record low interest rates send investors into riskier securities. Pessimists say the trend will continue as investors favor more transparent markets."
"The old rules of thumb may need to be questioned," said Wayne Lin, a money manager at Legg Mason, in the article. "It is surprising to many investors that emerging markets haven't participated in the rally."
For investors, the big question is how long emerging and developed market ETFs can diverge. Are developed markets due for a correction, or will emerging economy ETFs rally to catch up?
iShares MSCI Emerging Markets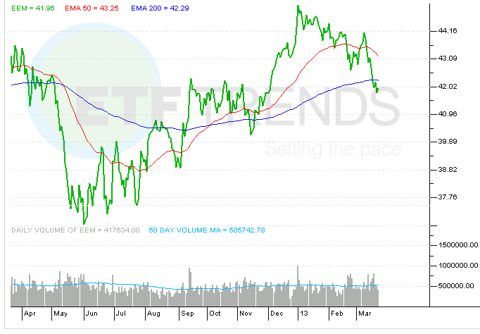 Full disclosure: Tom Lydon's clients own EEM.
Disclosure: I am long EEM. I wrote this article myself, and it expresses my own opinions. I am not receiving compensation for it. I have no business relationship with any company whose stock is mentioned in this article.