Since peaking at $42 in the fourth quarter of 2012, Freeport-McMoRan Copper & Gold (NYSE:FCX) dropped steadily, after announcing a transaction that would expose the company to the oil and gas market. Freeport has a healthy enough balance sheet to make the purchase. In Q4/2012, consolidated cash was $3.7 billion, while total debt was $3.5 billion. Operating cash flow, which includes net working capital sources and uses, improved to $1.26 billion, up from $746 million in the previous year. Operating cash flow was $3.8 billion.
There are 4 additional reasons to look favorably at Freeport shares again.
1) Financial Analysis
Freeport earned $0.78 per share in Q4, up 16.4% from the same quarter in 2011. The results include one-time benefits, such as credits associated with environmental obligations. The net benefits totaled $0.04 per share for the quarter. Year-over-year sales in gold and copper are comparatively favorable for 2012, since labor disruptions distorted output in 2011.
Copper was sold at $3.60 per pound, up from $3.42 per pound in 2011. Gold sales improved to $1,681 on average, per ounce, compared to $1,656 per ounce in Q4/2011.
2) Plains Exploration & Production Company and McMoRan Exploration Acquisition Priced in
The Freeport Board decided to enter the oil and gas business because beyond the Brownfield expansion investments in copper exploration projects to attain long term growth were limited. Investors should recognize that cash flow changes from crude oil correlate to copper. A rise or fall in crude prices normally correlates to copper price changes in the same direction.
Exploration in deep-water gas drilling offers additional growth opportunities for Freeport-McMoRan. To illustrate this, Transocean (NYSE:RIG) shares traded from $45 to nearly $60, though it gave back some of those gains recently: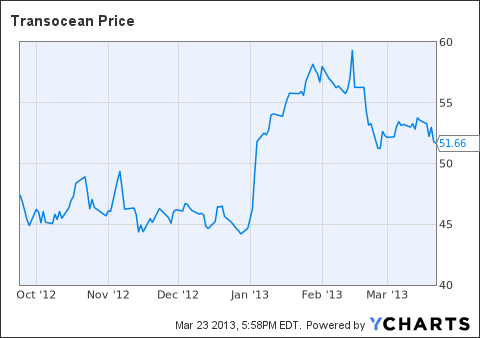 The EV/EBITDA for Transocean is nearly a two-fold higher than that of Freeport (see table below).
Combined with the oil and gas assets, Freeport expects to generate healthy cash flow which will be used to reduce its debt. Investors holding shares will continue to be paid a dividend of $1.25 per share.
3) Copper Demand Could be Stabilizing
Improving economic activity in the United States, the Middle East and China will reflect positive in the outlook for Freeport.
Freeport forecasts earning $405 million (EBITDA) from copper, assuming average prices for the metal will be in the range of $3 to $4. Combined with gold, EBITDA will be in the range of $7 billion to $11 billion. Cash flow will be between $5 billion and $8 billion.
A 5-year price chart for copper suggests that prices for the metal are stable: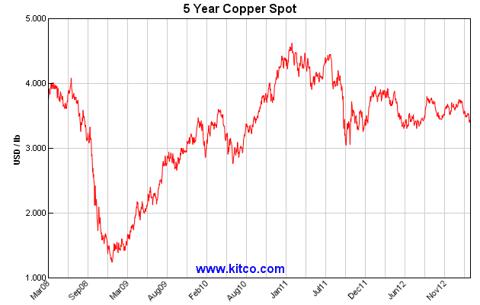 Chart Source: Kitco
The seasonal increase in copper warehouse stock appears to be consistent with past years, though it is higher than in 2011/12: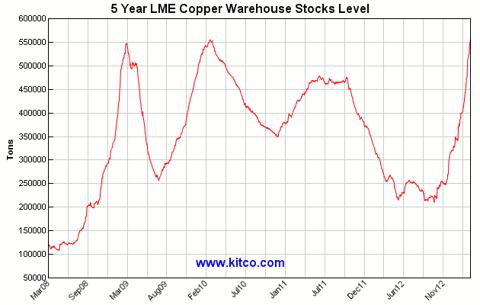 4) Gold Volumes Increasing
Freeport forecasts volume output in gold will improve by 40% at the Grasberg mine, while costs will decline to $1.35 per pound. This forecast assumes that average prices of gold will be $1,700 per ounce, and molybdenum prices will be $11 per pound. Freeport thinks costs will drop even further in 2014, resulting in a 60% increase in operating cash flow from between last year to the year 2014. For 2013, Freeport forecasts it will output 1.4 million ounces in gold.
Risks
An indebted leveraged balance sheet levers cash flow, but debt could hurt Freeport if commodity prices decline further than forecast. Freeport has nearly $20 billion in gross debt and $16 billion in net debt. In the shorter-term, the company aims to reduce the debt to $12 billion, a level at which the company will re-invest in growth projects.
Comparative Investments
Freeport has the smallest total Enterprise Value when compared to its competitors. A recent senior notes issue hurt shares in late-February. Future debt offerings could keep Freeport's forward P/E, Price/Sales, and EV/EBITDA levels below competitors.
| | | | | | | | |
| --- | --- | --- | --- | --- | --- | --- | --- |
| SYMBOL | TOTAL EV | FRWD P/E | P:SALES | P:BOOK | P:TANGBOOK | EV:EBITDA | DIV |
| Freeport-McMoRan | 31B | 7.5 | 1.74 | 1.79 | 1.8 | 4.51 | 3.80% |
| Transocean Ltd. | 26B | 11 | 1.93 | 1.18 | 1.5 | 9.39 | 0.00% |
| Rio Tinto (NYSE:RIO) | 108B | 8.1 | - | 1.88 | 2.4 | - | 3.90% |
| VALE (NYSE:VALE) | 110B | 8.5 | 2.63 | 1.35 | 1.4 | 6.75 | 4.50% |
Data Source: Seeking Alpha
Investors should also note from the table that Freeport-McMoRan could be assigned a higher enterprise value relative to earnings from its oil and gas acquisition. Rio Tinto is valued at nearly double that of Freeport's current EV/EBITDA.
Conclusion
Reaching lower debt-level targets for Freeport will take between 2.5 and 3 years. The leveraged balance sheet heightens risk for conservative shareholders, but Freeport-McMoRan is positioning itself for achieving a higher cash flow over the next few years. The company is forecasting rising cash flow while sustaining capital expenditure levels of over $1 billion each year until 2015.
Disclosure: I have no positions in any stocks mentioned, and no plans to initiate any positions within the next 72 hours. I wrote this article myself, and it expresses my own opinions. I am not receiving compensation for it (other than from Seeking Alpha). I have no business relationship with any company whose stock is mentioned in this article.