We entered into a long position in Cintas (NASDAQ:CTAS) in March 2012. Despite the market volatility having an impact on the company's share price, we are pleased that the company has been able to meet our expectations. We have been interested in Cintas for the longest time as it is the industry leader in the uniform rental business and we also like that the founding family (the Farmers) has transitioned its management and ownership interests to the third generation of family leadership (Scott Farmer). We are attracted to Cintas because not only does the company dominate its next two peers (Unifirst (NYSE:UNF) and G&K Services (NASDAQ:GK)), we find that there are operational execution barriers (economies of scale) to entry that will enable Cintas to maintain its lead and expand its business.
We like that Cintas has been repurchasing shares for the last 11 straight quarters. Cintas has been able to reduce its outstanding shares from 152.8M as of FY 2010 to 122.7M as of YTD 2013. The company has financed this through $422M of its free cash flows from business operations and $525M in newly issued debt. Cintas's board authorized a $500M share buyback program in October 2011 and repurchased $310M in the last 15 months, leaving $190M remaining on the program's authorization.
Cintas continues to generate steady performance and the Q3 2013 period was no exception. Despite facing a challenging macroeconomic environment, the company still registered 6.9% organic revenue growth on a year-over-year basis. Its core Rental Uniform and Ancillary Products Business segment represents the lion's share of revenue for the company and it generated 3.9% revenue growth (5.5% organic growth adjusted for the impact of 1 less workday in Q3 2013 versus Q3 2012. Pre-tax segment income slipped by 8.9% due to a narrower gross margin and higher SG&A expenses. This segment accounted for 71% of Cintas's revenue during the quarter and its gross margin eased downward by 120bp. The segment's gross margin declined due to the following factors:
1 less workday in Q3 2013 versus Q3 2012. Cintas's revenue for this division is based on workdays during the quarterly period.
Increased materials costs due to garment injections associated with new business.
Weak customer hiring demand constraining its ability to utilize existing inventory.
Expansions of its route capacity in order to serve new customers.
Cintas's fastest growing segment is the First Aid, Safety and Fire Protection segment. This segment enjoyed the fastest revenue and profit growth of all of Cintas's business segments for the last two quarters and for the 2012 fiscal year. Q3 2013 segment revenue grew by 11.3% while positive leverage in its gross margin and SG&A operating expenses resulted in 36.3% segment profit growth. Organic growth for this segment was 6.9% and its gross margin increased by 82.5bp year-over-year. This increase was due to continued efficiencies gained by the good performance in this business. The segment accounted for 10.5% of CTAS's revenue during the quarter and it is steadily increasing its share of the company's revenue each quarter. This segment also saw $2.5M in CapEx during the quarter.
Cintas also has a Uniform Direct Sales segment. This segment had flat sales performance during Q1 2013 and Q2 2013, but saw solid revenue and operating income growth in Q3 2013. Q3 2013 operating income grew by 10.8% on the strength of 15.6% revenue growth. We agree with the cautious tone for this segment articulated by Cintas's management, but were displeased to see its soft gross margin performance. We were pleased that the large strategic product rollouts that were previously announced at the Q2 2013 conference call helped restore growth in this business segment. This segment generated just over 10% of the company's revenue and is its 2nd largest business segment in terms of revenues and profits. The business segment's gross margin decreased by 126bp in Q3 2013 due to the change of the segment's product mix as well as due to the timing of new product rollouts, but this was better than the 220bp decline in Q2 2013.
Cintas's last business segment is the Document Management segment. This business segment continues to see weak performance, however, we believe that it hit a bottom in Q2 2013. Q3 2013 profits increased by 36% versus Q3 2012 levels, however, Q3 2012 profits declined 54.65% versus Q3 2011 levels. The primary cause of revenue and profit weakness in this business is due to the ongoing weakness in recycled paper prices realized by the business. Recycled paper prices were $140 per ton in Q3 2013, and this was worse than the $150 per ton in Q2 2013, $170 in Q1 2013 and the $220 per ton in Q2 2012.
Although the decline in recycled paper prices continues to serve as a negative impact on segment revenue and the bottom line of the division, Cintas was able to manage 8.9% revenue growth year-over-year during the quarter. This business segment managed 5.8% organic revenue growth during the period while acquisitions helped contribute 3.1%. We were disappointed that the $140/ton price realized during the quarter was less than the $160/ton that Cintas's management projected for the period. Cintas spent $10.5M in capital expenditures on behalf of the Document Management business.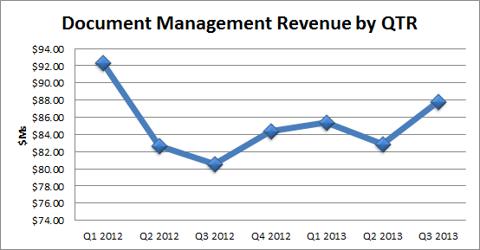 Source: Cintas's last seven earnings calls
Cintas focuses on the shredding side of the document management industry. We are expecting to see growth in the service side of this business, which will be offset by the headwinds from reduced recycled paper prices. This segment is also exposed to Europe; however, its total European exposure to the company only represents 1% of total company revenue. Because recycled paper prices began collapsing in Q2 2012 and bottomed out in Q3 2012, we believe that the worst is over for this segment with regards to year-over-year quarterly results comparisons.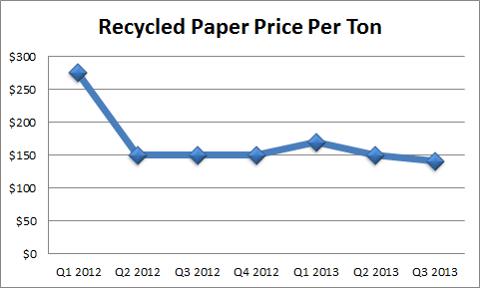 Source: Cintas's last seven earnings calls
We shared a similar cautious outlook as management for FY2013. Management projected that the company will generate annual revenue in the range of $4.25-$4.35B (3-6% growth) at the beginning of FY2013 and it narrowed this guidance to $4.275B-$4.325B after the Q2 2013 earnings call and further narrowed it to $4.3B-$4.325B after Q3 2013. Management raised EPS guidance from the range of $2.47-$2.55 (9%-12.3% growth) to $2.50-$2.58 (10%-13.7%) after Q1 2013 and it reiterated this guidance in Q2 2013 but lowered it to $2.50-$2.54 (10%-12%) after Q3 2013.
We are also glad to see that management's guidance for FY 2013 assumes that the company will not be making additional share repurchases during the rest of the year, which in our opinion is very conservative and provides us with a small margin of safety. We believe that despite the weak economy, the company can easily increase its dividend and or repurchase additional shares. Management maintained its projections of $190M-$210M in capital expenditures, which is only $23.4M more than what was spent in FY 2012 for CapEx and acquisitions.
We expect the company to generate at least $285M in free cash flow for FY2013 since that was what the company generated in FY2012, and the company has been making investments to rationalize its working capital needs. The company has $245.7M in cash offsetting $1.31B in long-term debt. However, Cintas can certainly service it with its strong level of free cash flows as its Interest Coverage Ratio for FY2012 was 7.67 Times Interest Earned and 8.46X in H1 2013. Considering Cintas's low debt costs and the dearth of high-grade credit opportunities for lenders, we believe that Cintas will certainly be able to refinance its debt when it matures and based on its solid ROE of 14.3% and 46.8% return on tangible equity, we believe it would be foolhardy for the company to try to pay down its low cost, tax-deductible debt financing.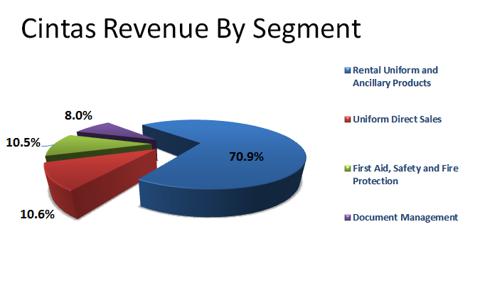 Source: Cintas Q3 2013 Press Release
In conclusion, we were not happy to see Cintas's share price decline by 6% in the wake of its earnings miss. However, we believe that investors should look to take advantage of weakness in the market as well as Cintas's share price in order to steadily accumulate shares of Cintas. We're looking to add to our position in Cintas if the share price declines to $40/share. Cintas possesses industry-leading dominance in the uniform services and related products industry and we believe that the document management business can either be turned around or sold. We are glad to see that Cintas management has a prudent outlook for the company and in addition to generating higher levels of revenue than its immediate competitors, but also has significantly stronger economies of scale which enable Cintas to convert its net income into free cash flows and enjoy above average Returns on Shareholders Equity versus its peers.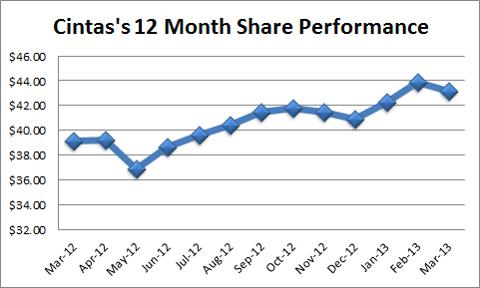 Source: Morningstar Direct
Disclosure: I am long CTAS. I wrote this article myself, and it expresses my own opinions. I am not receiving compensation for it (other than from Seeking Alpha). I have no business relationship with any company whose stock is mentioned in this article.
Additional disclosure: This article was written by an analyst at Saibus Research. Saibus Research has not received compensation directly or indirectly for expressing the recommendation in this article. We have no business relationship with any company whose stock is mentioned in this article. Under no circumstances must this report be considered an offer to buy, sell, subscribe for or trade securities or other instruments.