Introduction
We often talk about cell phones and the increasingly fierce rivalry between manufacturers, but the technology carriers, which allow these cellphones to communicate, are often overlooked. Today, I will be comparing three of the biggest wireless communications service providers in the United States: Verizon Communications (NYSE:VZ), AT&T (NYSE:T) and Sprint Nextel (NYSE:S). Over the past decade, the communication services sector has boomed on the back of strong smartphone sales across the United Sales. While the primary drivers of growth were expansive network coverage and data options, the trend has recently completely changed with the prospective introduction of LTE technology.
Currently, Verizon leads the U.S. market for LTE coverage, with its coverage being the most dense on the east coast. The pictures below are from Root's crowdsourced data. AT&T announced an addition of LTE cell sites across the San Francisco area after this data was compiled. While AT&T misses out on coverage, it still has the fastest data transfer speed of the three. Sprint, meanwhile, is not yet competition for Verizon or AT&T, due to its recent conversion to LTE. However, with Japan's Softbank (OTCPK:SFTBY) buying 70.1% of Sprint Nextel, I expect it to rapidly develop its network coverage in LTE.

Over the past five years, Verizon has come out as the winner, improving its value by 42.40%, while AT&T and Sprint have lost value, performing below the moving market averages of the S&P 500 and DJIA. Safe to say, AT&T and Sprint have been bad investments over the past five years. Furthermore, Sprint's extremely volatile trend is also a concern for future investors, which desire stability and consistent upwards growth, something which has eluded Sprint until now.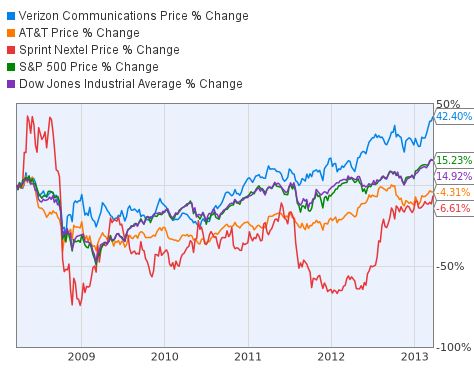 However, all is not lost. Looking at the past year paints a completely different picture. For the past three quarters, Sprint has outperformed its rivals by running rings around them. Such has been the confidence in Sprint stock due to Softbank's expected involvement in the company that investors have made major moves on Sprint, and all this at a time when its rivals are struggling to find traction and increase their market share.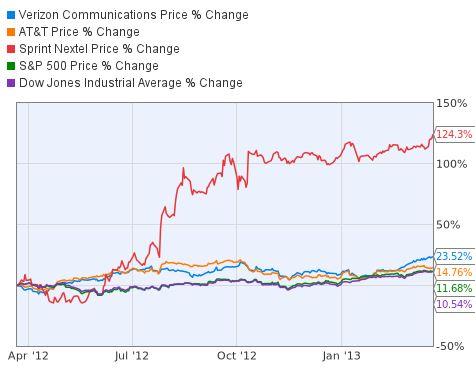 Financial Analysis and Stock Valuation
Verizon Communications is currently trading at $48.93 with a 52 week range starting from $36.80 and ending at $49.17. AT&T's stock price is $36.18 and the 52 week range is from $29.95 to $38.58. Sprint's current stock price is $6.06, which makes it the cheapest buy among its competitors by a large margin. Its 52 week range is from $2.30 to $6.22.
There are many ways to estimate the fair stock value of a company. For this purpose, we applied the discounted-earnings-plus-equity model developed by EFS Investment analysts to these competitors.
Indicator

Price/Earnings ttm

158.13

30.11

N/A

Price/Book

4.2

2.2

2.6

EPS Growth

(3 Year Avg.)

-43.2

-15.2

0.0

Dividend Yield, %

4.20

4.94

-

Debt/Equity

1.4

0.7

3.4

Return on Equity

2.5

7.3

-46.7

Current Price

$49.02

$36.43

$6.06

$24-$35

$23-$39

N/A

Stock Valuation

Overvalued

Fairly Valued

N/A

Upside Potential (Premium) to Reach a Fair Value

28%

--

N/A
Data from Morningstar and Financial Visualizations on March 24, 2013
The calculations based on this model allow us to suggest the following: currently, VZ stock is well overvalued and trading at least 28% premium over the fair value. In addition, EFS's fair stock price valuation indicates that AT&T is fairly valued.
The metrics for Verizon Communications do not speak well for the company. The highly inflated P/E shows a stock with an overvalued price, which is not expected to drive its price in the future. Furthermore, a negative EPS growth average for the past three years also gives no reason for an investor to be attracted to buy Verizon. The company started 2012 with approximately $13 billion, but a string of bad ventures helped it end up with just over $3 billion. Furthermore, its net operating cash flow fell by 18.62% in the fourth quarter, compared with the previous year. The only thing going for the company is the 4.16% yield, which is attractive, but it would be more attractive if Verizon did not have a negative EPS growth. The company's ability to turn over a profit is relatively low and it needs to improve its margins, while its debt/equity ratio is twice that of its primary rival, AT&T. Recently, Verizon's stock has been buoyed by rumors of a Vodafone (NASDAQ:VOD) buyout. Vodafone currently holds a 45% stake in Verizon and is experiencing difficulties operating in the troubled economies of Europe. At the same time, there are also talks of Verizon buying out Vodafone altogether, which, in my opinion, is not favorable for Verizon. Vodafone has wanted to up its stake in Verizon not long after the company started showing a positive outlook on the back of strong sales (data from Verizon Q4 2012 conference call).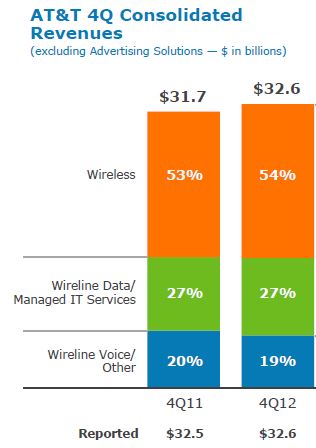 AT&T looks fairly valued, according to its P/E, as the industry P/E stands at 28.9. The negative EPS trend continues to hamper AT&T alongside Verizon. AT&T's revenues experienced stagnation in Q4 of 2012 compared to Q4 of 2011, which is perhaps why the EPS has been so sluggish. The company did, however, pay dividends worth $10.2 billion to shareholders and repurchased more than 371 million shares for $12.8 billion in 2012. Furthermore, cash from operating activities increased by 13% on a year to year basis (data from AT&T Q4 2012 conference call).
Sprint Nextel, on the other hand, has metrics which are completely different from its rivals, be it market capitalization, P/E, EPS or even the debt to equity. Why? Sprint Nextel is relatively a new entrant into the wireless business. Sprint announced last year that Japan's Softbank plans to acquire a 70% stake. This will allow Sprint to spend the required cash to widen its services and provide a higher level of competition for its competitors, turning this duopoly into a much more open market. Sprint now sells Apple's (NASDAQ:AAPL) iPhone, and the company is developing its infrastructure on its new product strategy. This includes the shutting down of the old Nextel. This is easier said than done, as this resulted in an estimated $3 billion of debt added to the company's financials. Last year, Sprint announced a new debt issue of $1.5 billion, due in 2020, carrying a 7% interest rate. Furthermore, it is also retiring $472.9 million of the 6.875% notes due 2013, and $1 billion of the 7.375% notes due in 2015. This leaves the company with a due debt of only $300 million for 2013.
Conclusion
After looking at all three stocks - I find Verizon's recent price fluctuations to be down to the speculation provided by Vodafone's potential buyout. Unless the company innovates and finds new avenues to gain market share from AT&T, its stock growth rate will be limited. AT&T, on the other hand, is likely to lag behind on the stock market, as its annual earnings are not expected to keep up with the market pace. However, for both, Verizon and AT&T, their high percentages of dividends make these stocks very attractive for dividend investors. What worries me, however, is the high payout ratio for Verizon and AT&T, 488.7% and 141.6%, respectively.
High dividends set aside, if Softbank's Sprint takeover does indeed go ahead, then expect this stock to provide serious competition for its competitors and experience massive growth over the next five years. Sprint's growth potential is impressive. All it needs is cash, which is why I choose Sprint over AT&T and Verizon.
Disclosure: I have no positions in any stocks mentioned, and no plans to initiate any positions within the next 72 hours. I wrote this article myself, and it expresses my own opinions. I am not receiving compensation for it (other than from Seeking Alpha). I have no business relationship with any company whose stock is mentioned in this article.