Several small cap regional banks are declaring dividends on April 3rd, and one would be remiss to overlook these three simply due to their small size. Despite their relative smallness, these companies have been posting respectable gains and a savvy investor should consider if one of these stocks is right for them.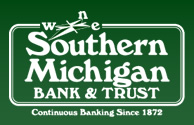 Southern Michigan Bancorp (OTCPK:SOMC) is the smallest of the three banks to consider, in terms of market cap. It currently has a $41.9 million market cap, with 2.4 million shares outstanding. It is currently trading at a 52-week high, and with good reason. Its earnings per share increased 26% from 2011 to 2012 and its net income was up 28%. Its loan portfolios and deposit totals were also reported to be at all-time highs at the end of 2012.

(Southern Michigan Bancorp's past year; image from Scottrade.com)
The relatively small bank operates fifteen branches, located within four different counties in southern Michigan. It provides the usual range of consumer, business, and wealth management services that one would expect. Its price has been riding nice and high ever since it increased its dividend from $0.09/share to $0.12/share back in December 2012. With its projected annualized dividend rate increasing from $0.37/share in 2012 to $0.48/share for this year, much higher than the $0.22/share given out in 2011, investors have responded accordingly.
Will Southern Michigan be able to pay out this increased dividend? That appears to be the case. In 2011, its EPS was $1.46/share and in 2012 its EPS was $1.84/share. One word of caution when approaching this stock: it's traded on the pink sheets, so liquidity could be an issue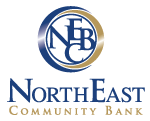 Northeast Community Bancorp (NASDAQ:NECB) is a bit bigger in terms of market cap, compared to Southern Michigan, but it does have fewer branches. Its market cap is $69.5 million with 12.6 million shares outstanding. The share price has declined 6% over the past year, as it has maintained the $0.03/share quarterly dividend. This dividend has been in place since at least 2007, so there's something to be said here if you're looking for stability.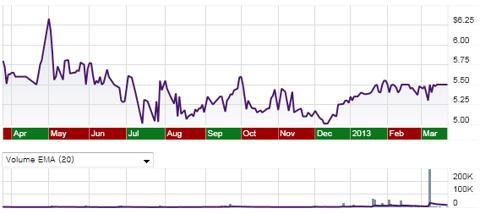 (Northeast Community Bancorp's past year; image from Scottrade.com)
Northeast Community Bank operates four branches in New York and four branches in Massachusetts. It has a full range of services as well. Its quarterly dividend of $0.03/share represents a yield of about 2.2% at current prices. While this dividend has been sustained since 2007, it's a little hard to gauge the likelihood that such a dividend will continue as its investors relations page isn't updated all that often. Going to the public information on its finance.google.com page shows that for the quarter ending on September 2012 it had an EPS of $-0.08, while its quarter ending June 2012 saw an EPS of $0.04.
NECB is traded on the NASDAQ, so liquidity might not be as much of an issue as with Southern Michigan. Although, it is still lightly traded, with only around two thousand shares switching hands on a given day.

First Bancorp (NASDAQ:FNLC) is the largest of the three companies discussed here. Its market cap is a bit bigger at $176.1 million and 9.9 million shares outstanding. The stock has been inching upward since February and is nearing its 52-week high. Investors have been fairly interested in this stock ever since it announced that its annual EPS grew 7% from 2011 to 2012. It earned $1.22/share for the year. Its net income was also up 3.4%

(First Bancorp's past year; image from Scottrade.com)
First Bancorp also maintains a steady dividend, although its dividend is a bit higher at $0.195/share per quarter. They've maintained this 19.5 cent dividend since 2008, so there is an expectation of reliability. The annualized dividend represents a 4.3% yield at a $17.80/share market price. Increasing earnings per share coupled with no long-term debt makes this regional bank a very attractive prospect for investors.
The Maine-based bank, as do all the other, offers a full range of services. It has 15 offices and its net income is at a three-year high.
Liquidity shouldn't be an issue as this is traded on the NASDAQ, although trading could be a little light at 15,000 volume on daily average.
Bottom Line
All three of these banks are regionally-based in different parts of the country. They all go ex-dividend on April 3rd. I would first recommend First Bancorp, then Southern Michigan, and finally NorthEast Community. I would do this based upon the size of the yield balanced against liquidity issues. While liquidity isn't as important for those seeking dividends, it should still remain a consideration when investing in less well-known companies.
Disclosure: I have no positions in any stocks mentioned, and no plans to initiate any positions within the next 72 hours. I wrote this article myself, and it expresses my own opinions. I am not receiving compensation for it (other than from Seeking Alpha). I have no business relationship with any company whose stock is mentioned in this article.