If you asked me a couple of months ago about Parkervision (NASDAQ:PRKR), I would have had no clue as to what you were talking about. Because there are thousands of different stocks out there, it's nearly impossible to keep up to date with all of them. After shares of Parkervision spiked over 60% in February due to the Markman hearing, it has been on my radar ever since.

Parkervision engages in the design, development, and marketing of proprietary radio frequency technologies and products for use in semiconductor circuits for wireless communication products in the United States. Parkervision is suing Qualcomm (NASDAQ:QCOM), for its alleged infringement on seven of its patents that relates to radio-frequency. Parkervision alleges that Qualcomm has utilized and continues to utilize devices, systems, or methods that directly or indirectly infringes upon one or more of its patents.
Parkervision didn't catch my attention just because of its huge share spike in February. What caught my attention was that it's a company that engages in protecting and profiting off patents, just like one of my other investments in Vringo (VRNG). After extensive research, I have come to find many similarities between the patent companies in Parkervision, Vringo and VirnetX Holding (NYSEMKT:VHC), and today I would like to talk about some of them. I've mentioned other similarities in a recent Seeking Alpha article called Correlation: A New Strategy Is Emerging In Patent Plays.
Earnings Season
On March 18, 2013, Parkervision delivered its earnings report as well as an overview of where the company currently stands. Parkervision reported a net loss of $6.2 million during the most recent quarter and for the full year of 2012, had a net loss of $20.3 million compared to $14.6 million in 2011. The earnings report shows us that they are still losing money and are losing even more money than they were a year ago. Not exactly a great sign for a company that doesn't have a lot of cash.
However, Jeffrey Parker, Chairman and Chief Executive Officer of Parkervision had this to say during the conference call, "I believe we've made significant progress towards a number of key objectives. We received a number of favorable rulings as our patent infringement case against Qualcomm moves closer to trial. We reached a new agreement with VIA Telecom that enables us to move forward in our pursuit of sales of our RF chipsets for incorporation into CDMA mobile handsets and other devices. And we made positive strides towards expanding the business opportunities for our patented innovations.
The Financials
Looking over the balance sheet of a company specifically looking over the total cash on hand or debt of the company isn't usually the first thing investors look at when investing. However, when you are dealing with patent companies like Vringo, VirnetX Holding and Parkervision, that should be one of the bigger areas investors need to be paying attention to. Why is this so?
The businesses of Vringo, Parkervision, and VirnetX Holding depends a great deal on their abilities to generate revenue through intellectual property and patents. Because of this, these companies spend a substantial amount of money on legal and litigation fees. In order to pay these fees, they have to have cash, and they have to have a lot of it.
Because of this I looked at Parkervision in greater detail with a particular interest on its balance sheet. So how much cash does Parkervision actually have? The table below gives us a better understanding of Parkervision, and the financial state the company is in.
Balance Sheet
Total Cash (mrq):
8.34M
Total Cash Per Share (mrq):
0.10
Total Debt (mrq):
33.91K
Total Debt/Equity (mrq):
0.21
Current Ratio (mrq):
4.35
Book Value Per Share (mrq):
0.20
Cash Flow Statement
Operating Cash Flow (TTM:)
-14.66M
Levered Free Cash Flow :
-8.65M
* Data Taken From Yahoo!Finance
From the conference call Cynthia Poehlman, Parkervision's Chief Financial Officer and Corporate Secretary said, "We used cash for operations at an average rate of approximately $1.2 million per month in 2012. This average usage increased to approximately $1.6 million per month during the fourth quarter due to the increases in litigation and other expenses I discussed. We ended the year with $8.3 million in cash and available-for-sale securities."
This means that with Parkervision's $8.3 million dollars and with a burn rate of $1.6 million per month, Parkervision would run out of money within the next five to six months. Considering how much it costs in legal fees once the trial begins let alone lasts, even if the plaintiffs are given a favorable ruling, investors should know that the defendants would most certainly appeal the decision which adds even more time and money involved (just look at the Vringo vs Google case).
Going bankrupt is every companies worst nightmare. It became obvious to me that Parkervision wouldn't want to run into that situation, after all they really like their chances going into the case against Qualcomm. So what do companies do when they need to raise cash? Yup, you got that right, by issuing a stock offering.
Secondary Offerings
Well It didn't take long for Parkervision to issue a secondary offering as it came just two days after its earnings report and conference call. Investors were taken back as shares of Parkervision slid more than 7% in after hours trading last Wednesday after the news hit. During regular trading hours on Thursday, shares of Parkervision regained its mojo closing up at $3.51 after it was announced that the 4.1 million offering would be priced at $3.25. This amounts to just over $13 million dollars that the company raised.
One of the things that first set me back was how fast the secondary offering came to be. During the conference call an investor asked a question regarding a secondary offering. Here's one of the question and answer sessions from the conference call.
Unknown Analyst
Okay. And do we need to raise any money for the company until the trial?
Jeffrey L. Parker - Chairman and Chief Executive Officer
Well, there's a likelihood that we will need to raise or add capital to the company before the trial. There's a number of things that we're looking at and a couple of different things that we think would satisfy those needs, but nothing that we're ready to talk about right now.
I find it funny that management wasn't ready to talk about the offering during the conference call but then just two days later they were fine talking about it. One would think that putting together an offering would take careful planning and time. Did they really do all of this in two short days? Probably not. So much for 'just looking" into things.
So with the $13 million that they raised plus the $8.3 million they already had, Parkervision now has over $21 million on its books. This should be more than enough to last them through the trial and will help strengthen their balance sheet and to pay off any debt.
Secondary Offering Trends: Let's take a look at another Patent company in Vringo. Vringo, operates together with its subsidiaries, engages in the innovation, development and monetization of its mobile technologies as well as its intellectual property.
Vringo issued two secondary offerings last year and just like Parkervision, issued them right before they went into trial. Are secondary offerings becoming a trend now and if so why?
Vringo Issues Secondary Offering (Round 1)
In August of 2012, Vringo issued a secondary offering of 9.6 million shares @ $3.25 for a total of $31.2 million dollars. One of the purposes of the offering was to raise cash to pay $22 million for the 500 patents and patent applications worldwide that Vringo bought from Nokia.
Vringo Issues Secondary Offering (Round 2)
Then in October of 2012, Vringo issued another secondary offering of 10.3 million shares @ $4.35 for a total of $45 million dollars. One of the purposes of the offering was to raise cash for the trial against Google (NASDAQ:GOOG).
Heading into the trial against Google, Vringo had around $10 million in cash. Vringo knew that Google would drag out the trial (which we can all see now) and so they needed to raise more cash in order to show Google that they could fight to the end. The secondary offering showed Google that they would not be able to drag out the trail in hopes Vringo would run out of cash. Vringo was locked and loaded.
This example shows investors that depending on how much cash a company has on hand heading into trial, they should be aware that most likely a company will issue an offering to raise more cash. By knowing this, investors can play the patent game of getting shares cheaper or by flipping their shares and buying back in at a cheaper price, thus acquiring more shares.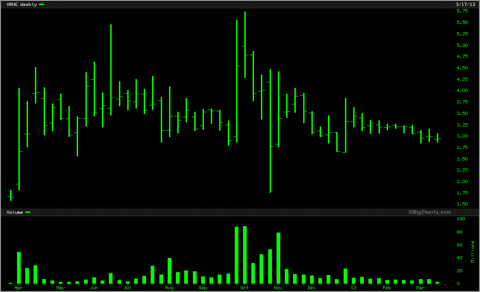 On August 7, 2012, Vringo closed the day at $3.90. Two days later on August 9, 2012, Vringo announced a $31.2 Million Registered Direct Offering of Common Stock. After the announcement shares of Vringo closed down at $3.34 for a loss of 15%.
On October 4, 2012, Vringo closed the day at $5.25. The next day Vringo announced a $45 Million Registered Direct offering of common stock of 10.3 million shares at $4.35. After the announcement shares of Vringo closed the day at $4.54 for also a loss of 15%.
This example can add to the many strategies that investors can play when dealing with patent companies. However, once companies can execute and establish a revenue source like VirnetX is doing with its ruling against Apple (NASDAQ:AAPL) upheld; they will not have to raise cash through stock offerings like Vringo and Parkervision have done, because they will soon be rewarded millions from Apple after winning the case.
Investors are always reminded that before making any investment, you should do your own proper diligence on any stock mentioned in this article. Any material in this article should be considered general information, and not relied on as a formal investment recommendation. I hope this article was helpful to you and I look forward to all of your comments and insight.
Disclosure: I am long VRNG. I wrote this article myself, and it expresses my own opinions. I am not receiving compensation for it (other than from Seeking Alpha). I have no business relationship with any company whose stock is mentioned in this article.