On March 25, 2013, Revolution Lighting Technologies (NASDAQ:RVLT) announced that they have produced a breakthrough product in the tube lighting market. Tube lights are the most commonly used lighting type in buildings around the world. RVLT's new "Seesmart Tube Light" produces the highest light output while using the lowest wattage in the tube light category. RVLT, previously known as Nexxus Lighting has been under the radar thus far, but is poised to breakout.
RVLT specializes in LED lighting technology, an industry that has seen huge growth over the last five years and shows potential to grow even faster in the next five. Current projections show the LED lighting industry growing 34% annually in the future, reaching $159 billion by 2020. With an industry experiencing strong growth and showing exciting potential, the answer to the question of who will be the benefactor of this transitioning market will offer some investors exponential returns.
RVLT's Leadership and Their Prior Successes
The most important, fundamental aspect of a growing company, is leadership. RVLT rises above the competition because it has one of the most capable CEO's in the technology industry. Led by Robert LaPenta, the management team of RVLT brings the necessary leadership to Nexxus Lighting.
Robert LaPenta, CEO of RVLT, has a remarkable history for not only leading but investing in companies that produced remarkable returns. LaPenta started as Vice President of Lockheed Martin (NYSE:LMT) and used his experience to start several technology companies in industries that he felt would have great future growth.
In 1997, the market for intelligence and communications was pinpointed by LaPenta as a possible future growth industry. Based on this foresight, in 1997 Robert LaPenta cofounded a company called L-3 Communications Holdings (NYSE:LLL). Today, has become an industry leading, $7.23 billion company specializing in communications, intelligence, and other types of aircraft modernization for the militaries of the US and its allies. LLL boasts over 51,000 employees and $13 billion in sales, which illustrates LaPenta's expertise in effectively building a company.
In 2005, LaPenta's skill was proven once again as he founded L-1 Identity Solutions which specialized in defense contracts concerning individual identity recognition and other recognition devices. This proved to be a growth industry as well, as Safran, a French security company, saw the potential in L-1, and bought out the company for $1.6 billion just six years later.
Charles Schafer, president and CFO of RVLT has followed LaPenta from Loral Corporation, to Lockheed Martin, to L-3, and finally to RVLT. Schafer was President of Tactical Defense Systems while at Lockheed Martin, and was Senior Vice President during his time at L-3. In addition to Schafer, LaPenta brought several other members to RVLT's board of directors from his previous business endeavors. Robert Basil and James DePalma, are partners in LaPenta's private investment group Aston Capital, and both served with LaPenta on the boards of L-1 Identity Solutions and LLL. In addition, William Ingram is a director on RVLT's board who currently works alongside LaPenta on the board of Leap Wireless (LEAP).
RVLT's Recent Investors
Aston Capital's investment in RVLT confirms Robert LaPenta's confidence in RVLT's success. Aston Capital is a private equity firm headed by Robert LaPenta, based in Stamford, Connecticut. Aston Capital has a history of investment in RVLT starting in September of 2012 with an initial $6 million investment. Additionally, on February 21 of this year, RVLT announced that Aston Capital had invested another $5 million.
The only investment in RVLT outside of LaPenta or his affiliates was on March 11, 2013, when an additional $5 million was invested by an unnamed "highly regarded Midwest financial institution" recently revealed as Great American Insurance Company. Great American Insurance Company's investment should raise excitement as it shows RVLT has gained attention from an institutional investor.
RVLT's Acquisition of Seesmart Technologies
On December 20, 2012, RVLT acquired Seesmart Technologies, a company that is an LED solutions provider, for $10 million plus 10 million shares. Seesmart brought more than its current business to the RVLT team. It has been reported that they have more than 50 exclusive distributors throughout the U.S. and a pipeline of business in excess of $50 million. Seesmart provides the connections for future distributions and expands RVLT's target market. The distributors bring with them 300 agents who are able to educate and train the end users in LED technology and its benefits.
Robert LaPenta describes Seesmart as having a "unique and extensive distributor network" as well as having a "large pipeline for potential business prospects." In January, Seesmart validated their worth by receiving an order that could be worth as much as $10 million in the near future.
Why the LED Market is Expected to Grow
The most exciting aspect of new LED technology is how much more energy efficient it has become compared to traditional lighting. LED lighting is 80%-90% more efficient than traditional lighting and is being utilized as a way to not only "Go Green" but also to save money on electric bills. Most LED lighting is 100% recyclable and when combined with its 80%-90% greater efficiency, LED lighting has become the new standard for companies and individuals around the world. The lighting market has only begun evolving as only 20% of the market is using by LED lighting.
US Legislation such as the Energy Independence and Security Act of 2007, mandates more energy efficient lighting as an effort to encourage consumers to use less energy and to consume fewer fossil fuels. Specifically, the legislation prohibits the use of fluorescent tube lighting after June 2013. Scheduled to be voted on in 2014, additional legislation concerning even stricter energy efficiency requirements may be placed on the lighting industry. These requirements may force the US lighting market to turn exclusively to LED lighting as traditional lighting methods have not been remotely as efficient as LED lighting.
Technical Outlook By Harry Boxer
The following technical analysis of the Company's shares is by the renowned Harry Boxer, who has published The Tech Trader for 25 years.
Low priced and thinly traded RVLT has emerged since last September when it exploded on heavy relative volume, moving from just $0.11 to $1.08, a nearly 10 fold move in just 2 weeks! A move of those proportions is very often followed by a long period of consolidation and that's exactly what occurred over the following 3 months as the stock got very quiet before the next move which was triggered late January when it nearly tripled from $0.65 to $1.74 in just 8 sessions.

By now you can see how explosive this stock can be when it does move. Since then the stock has consolidated bullishly in a wedge type pattern as underlying technicals held up very well, actually improving! The stock is now in a 4th wave consolidation that has lasted 3 weeks and action last week in particular got very quiet as the stock price movement narrowed substantially with volume decreasing to a low ebb, perhaps a precursor to an imminent move.

We often see just this type of action before another move takes place which could be a substantial 5th wave up. Price resistance appears to be near the $1.75-.85 zone, but a move over that especially with volume could trigger the next leg up we are looking for. Price projections/targets going forward are $2.50, $3.65 & $4.40.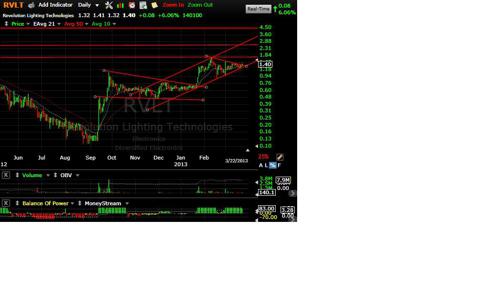 -- Harry Boxer, THE TECHNICAL TRADER (www.thetechtrader.com)
Conclusion
According to RVLT's November 14, 2012 press release, the market for LED lighting is projected to control 70% of the lighting market by 2020. With an industry sector growing so rapidly, the best way to find the greatest returns is to focus on the company whose operations are focused solely on the growth industry itself. In RVLT's case, their operations are focused solely on the development and production of LED lighting and will see growth proportional to the LED market growth at the very least.
The growing market for LED technology plus a strong, growth driven management team, makes RVLT a potentially huge 2013 breakout company. Headed by Robert LaPenta, RVLT has a management team unmatched in the industry that has chosen RVLT as their next project to make into a multi-billion dollar industry powerhouse.
Disclosure: I have no positions in any stocks mentioned, but may initiate a long position in RVLT over the next 72 hours. I wrote this article myself, and it expresses my own opinions. I am not receiving compensation for it (other than from Seeking Alpha). I have no business relationship with any company whose stock is mentioned in this article.
Additional disclosure: Business relationship disclosure: The Focused Stock Trader is a team of investment researchers focusing on the production of TheFocusedStockTrader.com newsletter. This article was written by Kyle Coker, our Editor. We did not receive compensation for this article (other than from Seeking Alpha), and we have no business relationship with any company whose stock is mentioned in this article.