Wheeeee!
Wasn't that fun yesterday? There's nothing like a cool, refreshing dip to wake up a trader on a Monday morning. I'm sure there were many, many newsletters that gave you trade ideas pre-market to short the Nikkei Futures at 12,600 that ended up being a $1,250 PER CONTRACT on the dip (12,350) and those guys probably also tweeted out, just like I did, at 1:21, that we shouldn't be greedy as we zipped past $1,000 profits in 4 hours, catching the final dip to 12,350 within 5 minutes - so I'm not going to brag about it.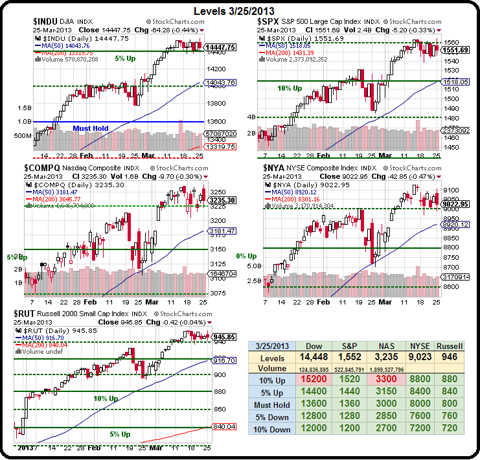 This morning, our trade idea in early Member Chat was to short oil (/CL) at $95.50 as no good pre-market pump job at the NYMEX goes unpunished by us these days. We caught a nice ride yesterday from $95.50 to $94, but only after being burned on two crosses on the way up. Still, these are very nice ways to pick up a few bucks in a market downturn without having to scramble in and out of your main positions - especially in this crazy market where the drops tend to get reset in 24 hours or less.
As you can see from our Big Chart, our premise that we're simply consolidating into the end of quarter on Thursday remains sound with all of our 5% Rule levels holding up so far. Bad news for the Bulls is that the S&P is having trouble with it's 7.5% line on the way up - and that's not a good thing.
Our other indices are holding on like champs with the Russell just over the 7.5% line, the Dow over it's 5% line and both the Russell and the NYSE right on top of their 12.5% lines so, in general, still very strong looking and still amazingly accurate for lines we predicted way back in March of 2009 - especially in light of these consolidations, which only serve to confirm the strength of our 5% Rule.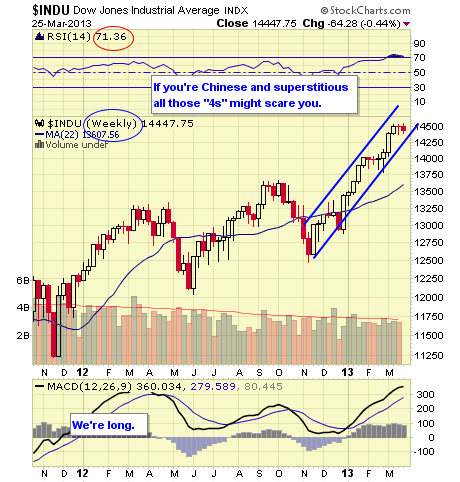 We'll continue to call this "healthy" consolidation but that S&P needs to get over before one of the others gets dragged down by its weight. Keep in mind, not all indices are equal and we already predicted the Dow would top out and struggle along the 14,400 line way back on March 7th, when we did a full analysis of the Dow components. Our conclusion at the time was for consolidation into earnings:
So, we're just finding $105 of likely improvements in the near future and that's just 5.6% up from here - not exactly rally fuel is it? No wonder the Dow is having so much trouble getting over the 5% line (14,400) - it's already exhausted and 10% is very likely to be its limit! But, on the other hand, we don't have any particular reason to short it at the moment - so we'll just have to watch earnings very, very closely in the month ahead as there will have to be substantial reasons to get us past 15,200, which is EXACTLY where that +$105 would take us.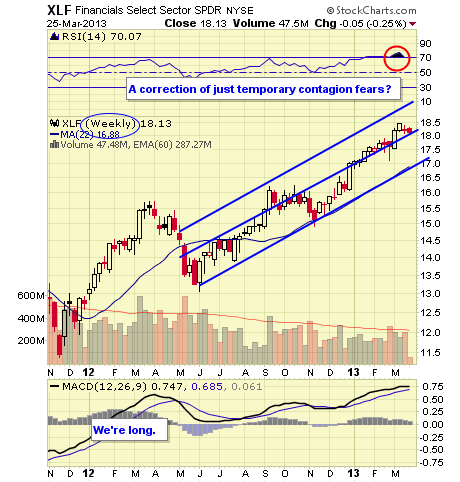 Note the rising channel Dave Fry is drawing on the Dow chart. This is why we keep raising our stops during a rally as the definition of violating the trend (or at least the target) changes daily. Without any sort of correction along the way, you tend to form "air pockets" of little support underneath the rally - and keep in mind that's a WEEKLY chart!
Dave's XLF chart clearly shows what we need to watch closely this week as XLF is very likely to show us which way things are going as we wrap up the quarter. EU banks took a big hit as newbie EU Finance Minister Jeroen Dijsselbloem got a fine lesson in learning NEVER to speak the truth in front of the media when he let slip to the FT and Reuters:
Now we're going down the bail-in track and I'm pretty confident that the markets will see this as a sensible, very concentrated and direct approach instead of a more general approach…It will force all financial institutions, as well as investors, to think about the risks they are taking on because they will now have to realize that it may also hurt them. The risks might come towards them.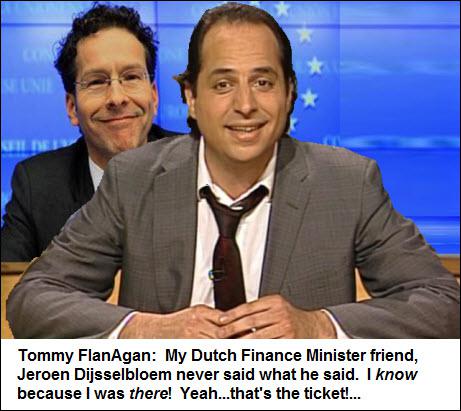 What did he say?!? Investors may have risks and it's NOT the responsibility of the EU to bail them out of their poor investing choices? That fiend! Well, don't worry folks, Jerry was quickly yanked into a darkened room to have his chip replaced and he came back later, not just to clarify his statement, but to deny he ever said it at all - Now THAT's politics!
Meanwhile, back in the US Economy (remember that?), Durable Goods popped 5.7% in February and that's pretty good for the month that is 10% short on days! It was all Boeing, however as, ex-Transport, we were down 0.5% vs up 2.9% in the January Report (one of the things that started this rally). Of course, one report does not make or break a trend but we need to start making a list (and checking it twice) to see which economic factors are naughty or nice into earnings.
Cold weather is being blamed for the 1.7% drop in weekly Retail Store Sales but, as we wait for the 8:55 Redbook Sales Report, I will tell you that you can't get by on excuses when you're in an index (NYSEARCA:XRT) that's up 17% in 3 months and 34% up from last January. OK, here's the Redbook number and that one is better, at +2.6%. The Redbook number compares the current month (as of 3/23) with the average of previous month while the GS report is simply week to week. So, it sounds more accurate but, unfortunately, Redbook only looks at "general merchandise," which is only 10% of the sector.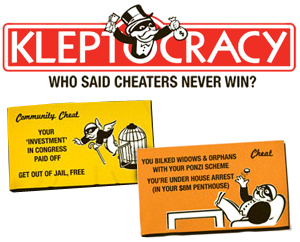 Yes, "THEY" love to have you compare apples to oranges and, of course, the clueless MSM doesn't have the skill, the staff or the time to explain the difference to you so you end up making an investment decision based on the haphazard information you are fed, which puts you at a severe disadvantage to the top 1% investors and their armies of analysts. Isn't Capitalism fantastic?
As Kudlow says: "WE believe that free-market Capitalism is the best path to prosperity." Kudlow should know, as he's based a career on being a non-stop propaganda machine for the top 1% and the agenda of the Corporate Kleptocracy that pays his bills (because it sure ain't the ratings!).
A CNBC spokesman responds: "The Nielsen measurement is focused on the distant periphery of CNBC's core audience. They don't measure the wealthiest American homes or people who watch CNBC out of home on trading floors or in executive offices, country clubs" or "five star hotels."
Disclosure: I am long AAPL, GDX, TZA, GLD, ALU, DBA, GLW, FCX. I wrote this article myself, and it expresses my own opinions. I am not receiving compensation for it (other than from Seeking Alpha). I have no business relationship with any company whose stock is mentioned in this article.
Additional disclosure: Positions as indicated but subject to change (fairly neutral mix of long and short positions - see previous posts for other trade ideas). Commodity positions are very short-term and not tradeable by the time you read this.