The FOMC released its central tendency predictions for GDP, unemployment, and inflation along with its estimates for what the fed funds rate will be in the future at the conclusion of the March 20, 2013, meeting.
Interestingly, the fed funds rate predictions are more dovish in the intermediate term than what the Taylor Rule implies using the FOMC's own central tendency forecasts.
Those Taylor Rule results, however, are predicated upon relatively optimistic GDP forecasts (2.6% in 2013, 3.2% in 2014, and 3.3% in 2015) from the FOMC. Using our projections for those three years -- which was last updated in our Economic Outlook that was published on Feb. 8, 2013 -- (1.6% in 2013, 1.7% in 2014, and 2.5% in 2015), our fed funds forecasts are significantly more dovish than the FOMC.
Another look using the economic consensus view, which is taken from the Q1 2013 release of the Philadelphia Fed's Survey of Professional Forecasters (SPF), is more bearish than the both the FOMC's expected fed funds path and our own but are clearly more dovish than the forecasts using the Taylor Rule.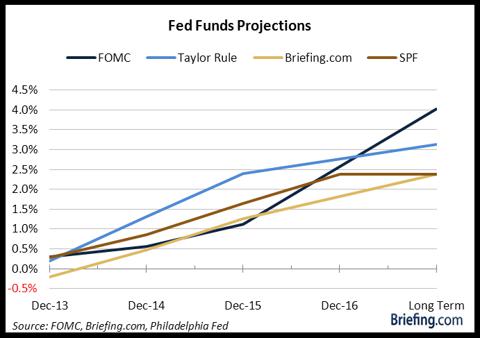 What does all this mean?
If the Fed is correct in their assessment of economic growth over the next few years, then monetary tightening will likely occur faster than what the Fed currently expects. The same holds true if economic growth follows the economic consensus. The fed funds rates will increase at a slower pace than what is implied by the Taylor Rule using the FOMC central tendency projections but still faster than what the Fed currently projects.
In fact, unless economic growth travels along our meek path, interest rates will likely rise faster than what the Fed is currently communicating.
There is one commonality among the forecasts. In all four cases, the projections show that the FOMC will not tighten short-term rates until 2014. Thus, there is little to reason to fear higher interest rates in the very near-term.
Disclosure: I have no positions in any stocks mentioned, and no plans to initiate any positions within the next 72 hours. I wrote this article myself, and it expresses my own opinions. I am not receiving compensation for it. I have no business relationship with any company whose stock is mentioned in this article.