This enterprise storage maker continues to struggle as major customers pulled back on short-term orders to end 2012. This caused the stock of Fusion-io (NYSE:FIO) to crater back to all-time lows below $16.
The company is a leader in delivering storage solutions that accelerate virtualization, databases, cloud computing, and big data. It is a play on the trend of storage conversion from hard disk drives to solid state drives (SSDs) or flash memory. SSDs have advantages that include immediate start-up, energy efficiency, faster, and no movable parts making them less breakable.
The sector is one of the fastest growing around, but the leading public companies continue to struggle with all of the stocks trading near lows. Both OCZ Technology Group (NASDAQ:OCZ) and STEC (NASDAQ:STEC) have had issues either with past executives or financial reporting.
Fusion-io remains the leading high-end provider for both Apple (NASDAQ:AAPL) and Facebook (NASDAQ:FB), but if growth stalls at Apple does that portend bad news for the company? Does the supposedly short-term timing issue turn into a long-term problem?
Competitive Pressure
The biggest issue remains that competitors will be able to undercut the price/performance offered by Fusion-io. It might not cause the company to lose Apple or Facebook, which prefer the ultimate performance, but more price conscious customers might prefer the new offerings from troubled OCZ or private firms Virident or Violin Memory.
Violin is bringing out a Velocity line of PCIe server flash cards that it recently claimed has a 2-4x price advantage for the same performance and is run by former Fusion-io CEO Don Basile. In addition, the company has a partnership with Toshiba to attack the data-center server space.
StorageSearch.com places Violin Memory right behind Fusion-io in terms of importance in the sector. If it is successful in convincing the market of a price and performance advantage, Fusion-io might have a difficult time maintaining high 50% gross margins.
Back To Q3 Guidance
Anybody following the stock knows that Fusion-io solidly smashed Q2 estimates, but guided towards a weak 1H of 2013 due to the timing issues of the big customers.
The company provided the following guidance for Q3 2013:
Revenue is expected to be approximately $80 million.
Non-GAAP gross margin is expected to be in the range of 58 to 60%.
Non-GAAP operating loss of approximately $10 to $15 million.
Diluted shares outstanding are expected to be approximately 111 million shares.
Earnings estimates for the quarter plunged from positive $0.09 to a loss of $0.08. The yearly earnings dropped from $0.41 to only $0.18. The company announced that the major customers had shifted purchases two quarters due to timing issues surrounding new data centers. This caused the revenue outlook to plunge from the $120M reported during Q2 to only $80M for Q3.
Will ioScale Make A Difference?
Fusion-io is in great need of an expanded customer base. The Q3 guidance highlights how the reliance on only two major clients isn't ideal. Nobody would suggest turning down that business, though the bottom line on the income statement might question the real benefits of those clients. Earnings per share of only $0.35 last year falling to $0.18 this year doesn't provide an overly bullish view.
Back in January, the company introduced the ioScale product to attract the hyperscale and cloud customers that need high performance, but only the 'good enough' flash storage offering as opposed to a premium service that has the cost that goes along with it. The company suggests that the pricing allows for such customers to displace disk drives in the datacenter with ioMemory Flash at attractive prices. The hope is that this product will allow Fusion-io to reach a broader range of customers previously priced out of the ioDrive products.
Double Bottom?
The next few days or weeks will likely tell the story on this stock's future. The $16 level will be very pivotal and the current valuation could get a lot worst before it moves higher again.
Stock Chart - Fusion-io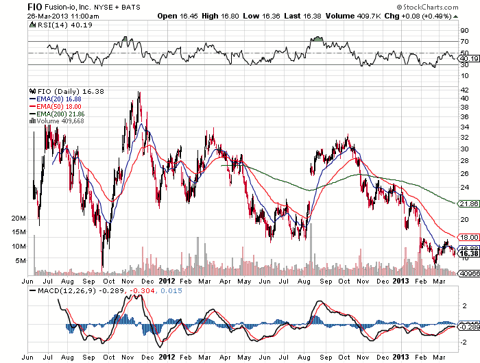 Conclusion
Lots of questions exist on whether Fusion-io will be able to attract enough customers outside the premium performance minority. The competitive pressures are relentless and the existing mega customers haven't exactly led to mega profits. With doubt existing as to at least whether Apple will be a major growth company in the future, Fusion-io needs to prove to the market that it has potential outside that customer. Even with $365M in cash, the company still has an enterprise value of just south of $1.5B with only $80M in unprofitable revenue expected for the March quarter.
Ultimately, the stock might provide the best clue on whether insiders are comfortable on the return of Apple and Facebook buying in bulk. If the stock is able to hold $16, a double bottom will be in place. Bullish investors should use that price as a reference point. If it doesn't hold, investors better watch out for much lower prices. As the sector matures, customers might be more comfortable with the offerings of OCZ and STEC at more attractive prices or Violin Memory with its claimed performance advantage.
Disclosure: I have no positions in any stocks mentioned, and no plans to initiate any positions within the next 72 hours. I wrote this article myself, and it expresses my own opinions. I am not receiving compensation for it (other than from Seeking Alpha). I have no business relationship with any company whose stock is mentioned in this article.
Additional disclosure: The information contained herein is for informational purposes only. Nothing in this article should be taken as a solicitation to purchase or sell securities. Before buying or selling any stock you should do your own research and reach your own conclusion or consult a financial advisor. Investing includes risks, including loss of principal.