After starting 2013 with a 5% slide, the Canadian dollar has found its footing. It's up 1.5% in recent weeks, and as I'm writing, we're trading above the 34-EMA for the first time since early February. Adding further confirmation to my bullish bias, prices have broken above the down sloping trend line that had previously capped the loonie's brief upside rallies.
I don't see prices returning to levels from the fall of last year -- about 4.6% overhead. I do think it's feasible for prices to approach par (1.00, between the 50% and 61.8% Fibonacci levels) in the coming weeks.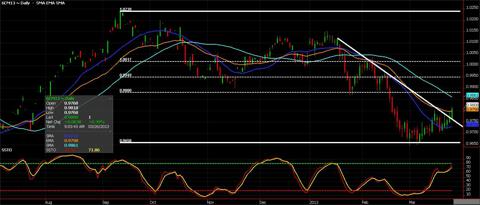 Canada's CPI comes out tomorrow. The forecast is a 1% gain and without a surprise, it should be a non-event. I'm looking to action in the metals and energy markets for a clearer picture of the loonie's direction in the immediate future. Gold is now trading just under $1600/ounce, but I see limited downside from here, and will likely be re-establishing bullish gold trades for my clients. Silver held above $28.50 on all attempts made in the last five weeks. Crude oil futures have picked up just better than $5/barrel in the last three weeks, carrying prices above their 100-day MA for the first time in five weeks. I expect an uptick in metals, assuming we see short-term follow through, to be supportive of a strengthening loonie moving forward.
My favored play is buying Canadian dollar futures while selling out-of-the-money calls 1:1.
Here's how this would work… If you sell the June 0.9900 calls, you'll collect roughly $650 in premium. This $650 will be yours for the keeping if prices drop, cushioning about half of the roughly $1,400 a long futures contract would lose if prices return to recent lows (0.9650) -- Read: a net loss of ~$850 per 1:1 plus any fees.
Of course, selling these calls will reduce our gains if my bullish thesis plays out. The short calls will lose roughly 40 cents for every $1 we gain on a long futures contract. That's acceptable… we'll still net about 60% of the gains.
As always, I'm here to discuss specifics and give guidance. Give me a call.
Risk Disclaimer: The opinions contained herein are for general information only and not tailored to any specific investor's needs or investment goals. Any opinions expressed in this article are as of the date indicated. Trading futures, options, and Forex involves substantial risk of loss and is not suitable for all investors. Past performance is not necessarily indicative of future results.
Disclosure: I have no positions in any stocks mentioned, and no plans to initiate any positions within the next 72 hours. I wrote this article myself, and it expresses my own opinions. I am not receiving compensation for it. I have no business relationship with any company whose stock is mentioned in this article.