British Petroleum (NYSE:BP) has been much maligned since the deepwater horizon incident. Not only is it big oil - which the public generally dislikes - but it also caused one of the worst environmental disasters of the 21st century. Consequently, because of the Department of Justice lawsuit and the uncertainty that comes with it, BP stock has been in a range between 35 and 48 while other oil companies have all seen their stocks rally.
But not all of this is bad news. Take a look at the most hated companies of 2012 (pdf), their stock price at the time of publication (February 12, 2012) and where they are now.
| | | | | |
| --- | --- | --- | --- | --- |
| Symbol | 2012 Harris RQ | Stock Price Then | Stock Price Now | Percent Change |
| Citigroup (NYSE:C) | 57.45 | $32.88 | $45.23 | +37.56% |
| Goldman Sachs (NYSE:GS) | 53.9 | $114.53 | $146.60 | +28% |
| BP | 49.82 | $47.37 | $42.00 | -11.34% |
| AIG | 47.77 | $26.82 | $37.79 | +40.9% |
The list includes Goldman Sachs, Citigroup, AIG and BP. If an investor bought any of the out-of-favor stocks (except BP) during the time of publication, they would be doing quite well. In fact, that investor would have handily beaten the S&P's return of + 15%.
I'm here to argue that just as market sentiment changed on the financial sector, it will change on BP soon. The following reasons are why:
BP's fundamentals are good.
Since Deepwater Horizon, BP has divested many of its riskier assets (to the tune of 38 billion) to fortify the balance sheet. It is no longer in danger of a liquidity crisis with a quick ratio of 1.07 and current ratio of 1.43. With a book value of $37.12 and cash on hand is $6.30, BP's balance sheet is now set up such that it can pay the 17.6 billion dollars in fines should it lose the U.S. DOJ court case.
BP earnings is solidly in the black now with EPS of $3.62 [TTM] and a forecast of $5.10 for 2013. With those solid earnings, BP has managed to reinstated the dividend, which is currently yielding 5.15%. Shareholders can get paid to wait if necessary.
With TNK-BP, British Petroleum has shown that it can navigate the tricky straits of Russian politics and produce significant shareholder returns. With an 8 billion dollar investment a decade ago on TNK-BP, BP has received $19 billion in dividends, $12 billion in cash, and 20 percent of the world's largest oil producer.
I see no reason why Rosneft will not be any different. With huge arctic reserves waiting to be unlocked, BP's future could be a rosy one.
BP is cheap relative to other oil companies.
Below is a graph of the forward p/e for the three supermajors.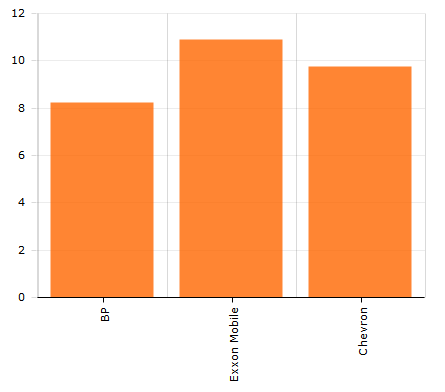 As you can see, BP has a forward p/e of 8.24 vs 10.92 for Exxon and 9.77 for Chevron.
BP is even cheaper if you look at price to book.
| | |
| --- | --- |
| Company | Price to Book |
| BP | 1.13 |
| XOM | 2.42 |
| CVX | 1.73 |
Positive catalyst now.
After spending two years dealing with the Deepwater Horizon fallout, repairing the balance sheet, and negotiating with Russian partners on TNK-BP, BP is starting to refocus on shareholders.
While BP has announced buybacks before, 2013 is the year when share count actually goes down. The 8 billion dollar buyback recently announced was twice what analysts were expecting and should reduce the float by 6%. The buyback should also bump up EPS and EPS growth. Most importantly, it shows that the Obama administration is okay with BP allocating capital for share appreciation. With a payout ratio of only 55%, BP can do a lot more to appreciate its stock with buybacks or dividend bumps in both the short term and long term.
Conclusion
Every dog has it's day in the sun. BP is a quality company, and in bull markets such as these, where animal spirits awaken, BP will be on the move. With a catalyst such as a big stock buyback and dividend yield of 5%, BP is a strong buy.
Disclosure: I am long BP. I wrote this article myself, and it expresses my own opinions. I am not receiving compensation for it (other than from Seeking Alpha). I have no business relationship with any company whose stock is mentioned in this article.
Additional disclosure: I am short spy. The above is for informational purposes only.