The belief that America is losing its economic edge is pervasive. Americans are more pessimistic about their country's prospects than at any point since Gallup, a polling firm, first started asking them in 1959. The World Economic Forum, which draws up international rankings on competitiveness, considers the United States only the world's seventh-fittest economy, a big slide from first place just four years ago. It faults America's infrastructure (14th out of the 144 countries it assesses), its primary education and health care (34th), its institutions (41st) and above all its macroeconomic environment (111th, mainly because of the ballooning public debt). The only category in which the country still ranks first is market size, a slot it is destined to lose to China sooner or later. The misgivings are easy to understand. Growth is sluggish, unemployment is high and investors are wary. America's public debt is approaching $17 trillion, more than 100% of GDP, and it has been growing fast. Much of this stems from the transitory effects of the recession, but it will get worse rather than better.
A vibrant U.S. economy has led to a strong external demand for major Emerging Market [EM] economies over the past five decades. However the trend is expected to reverse, with the U.S. on a path to reindustrialize its economy. In the 2000s, U.S. manufacturing suffered its worst performance in American history in terms of jobs. Not only did America lose 5.7 million manufacturing jobs, but the decline as a share of total manufacturing jobs (33 percent) exceeded the rate of loss in the Great Depression. One of the main reasons for this has been the outsourcing of manufacturing to the EM, mainly China (NYSEARCA:FXI) due to cost reasons.
Percent Change in Manufacturing Employment During the Great Depression and the 2000s

The combination of dysfunctional politics and empty coffers, in turn, is preventing Congress from dealing with the economy's other obvious shortcomings. In 2010, President Obama set an ambitious goal to double U.S. export growth over the next five years. This would mean increasing exports to $2 trillion by 2015 and creating around 2 million local jobs. As households continue to delever, it could be the manufacturing sector that would sustain future growth for the U.S. Now let us look into the factors that are driving the re-industrialization of the U.S. economy.
i) Corporate sector in good shape: Though sequester could be a fiscal drag in the coming years, the U.S. private sector still has some silver linings for a rebound in corporate investment. Conditions that favor higher investments in the coming years are:
U.S private sector is generating significant amount of free-cash flow
Returns on assets and cash on the balance sheet are all at an all-time high
Corporate leverage and financing costs are at multi-year low
Old capital stock means an increased need for investment to replace ageing assets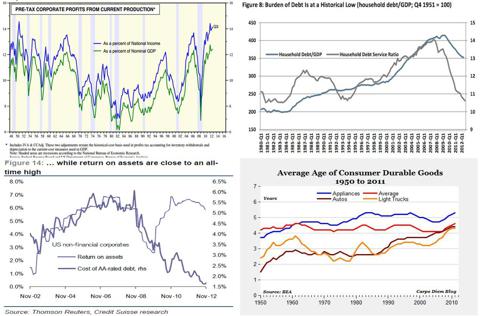 ii) Increasing Competitiveness: Nominal exchange rate between the U.S. dollar and the basket of Emerging market currencies has gone back to levels that were seen some 12 years ago. According to Morgan Stanley, the real value of the U.S. dollar had fallen by ~35% over the period. The trend is expected to continue on the back of rising productivity and increasing per capita income in the EM.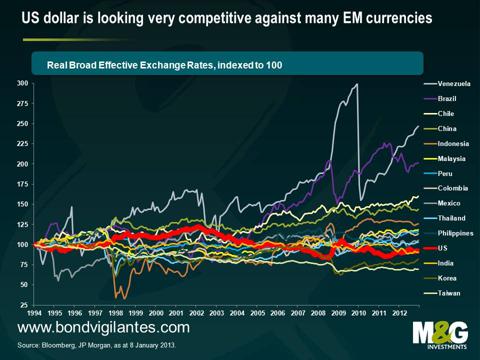 Emerging markets with a booming commodity sector would suffer from "Dutch disease," wherein currency inflows would put upward pressure on the REER. This along with diversion of resources away from productive manufacturing sector toward the more lucrative returns in the resource sector would affect their manufacturing competitiveness. China needs a strong consumption boom to re-balance itself from excess dependence on investment-led export growth, which needs higher wage growth. The U.S. stands to benefit as heightened levels of unemployment would keep wages low in the next decade domestically.
The effect of quantitative easing would also have adverse effects on the EM currency appreciation. Rising inflation and wages should favor the U.S. over the long term. Refer to my previous article "Is Japan Prompting A 1930s-Like Currency War?" to learn more about the effects of a looming currency war.
iii) Shale Gas boom: For the first time in more than a decade, due to the recent discoveries and development of domestic shale gas, natural gas prices are affordable and relatively stable, especially when compared with oil. In fact, global oil is more than five times as expensive as domestic natural gas on a thermal basis. This disparity between expensive, volatile global crude oil and affordable, competitive domestic natural gas is fueling lower utility bills for individuals, greater national energy security and billions of dollars in new investments.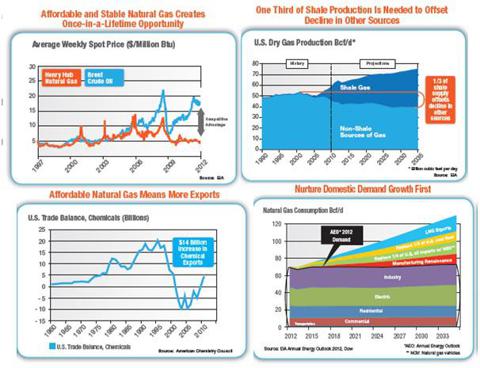 These investments are already making an impact by creating new manufacturing jobs, increasing exports of value-added products, sparking stronger economic growth and fueling high-tech industries like clean energy innovation.
Investment Implications: Now let us look into a research work done by Shirley E. Mills of the Boston Company Asset Management to analyze the investment implication of this theme. Growth in manufacturing production in the U.S. could increase the size of industrial markets, which could lead to positive operating leverage and therefore improved profitability and returns on capital for suppliers. Potential winners include small and midsize U.S.-based suppliers to manufacturing, U.S.-focused industrial distributors and U.S.-focused automation companies.
Domestic manufacturing activity would drive growth in U.S. freight volumes, leading to more intra-national movements of goods. This could benefit trucking companies like J.B. Hunt Transportation Services (NASDAQ:JBHT), Landstar (NASDAQ:LSTR) and C.H. Robinson (NASDAQ:CHRW). Some rail firms such as Union Pacific (NYSE:UNP) and CSX can also be looked into.
Increase in allocation of capital toward exploration and production of natural gas liquids coupled with higher crude oil prices ($100+ per barrel) bodes well for oilfield service companies like Halliburton (NYSE:HAL), Schlumberger (NYSE:SLB), Weatherford (NYSE:WFT) and Baker Hughes (BHI).
Lower natural gas prices will help U.S.-based manufacturing companies in the form of lower energy input costs. This should help improve profits of chemicals-ethylene producers like Dow (DOW), Chevron Phillips (NYSE:CVX), Westlake Chemical (NYSE:WLK), Lyondell (NYSE:LYB) and Nova Chemicals (NCX). Natural gas companies that would benefit from higher production include Range Resources (NYSE:RRC), Chesapeake (NYSE:CHK), Encana (NYSE:ECA), Devon (NYSE:DVN), Anadarko (NYSE:APC), Apache (NYSE:APA), Marathon Oil (NYSE:MRO), EOG Resouces (NYSE:EOG), ConocoPhillips (NYSE:COP) and SandRidge (NYSE:SD). Fertilizer and industrial gases companies like Agrium (AGU), Mosaic (NYSE:MOS), Potash (POT), CF Industries (NYSE:CF), Air Products (NYSE:APD) and Praxair (NYSE:PX) are other sectors that could see some benefits accruing.
The benefits of more U.S. manufacturing production, higher manufacturing employment and lower natural gas prices are likely to be found in pockets of regional strength. This could create opportunity for small regional retailers and banks, which may see higher sales and improved profitability. Regional banks (NYSEARCA:KRE) like BB&T Corp (NYSE:BBT), PNC Financial (NYSE:PNC), Regions Financial (NYSE:RF), Fifth Third (NASDAQ:FITB), New York Community Bank (NYB) and US Bancorp (NYSE:USB) may see lower losses and better loan growth.
Disclosure: I have no positions in any stocks mentioned, and no plans to initiate any positions within the next 72 hours. I wrote this article myself, and it expresses my own opinions. I am not receiving compensation for it (other than from Seeking Alpha). I have no business relationship with any company whose stock is mentioned in this article.